More meeting and exhibition facilities are needed in the SAR
Updated: 2016-05-04 08:04
By Ho Lok-sang(HK Edition)
| | | | | | | | | |
| --- | --- | --- | --- | --- | --- | --- | --- | --- |
|   | | Print | | Mail | | Large Medium  Small | 分享按钮 | 0 |
I have been talking to various people in the tourism and MICE (Meetings, Incentives, Conferences and Exhibitions) industries lately, and many agreed that Hong Kong badly needs more MICE facilities. Now that our tourist numbers are falling, it is even more important to boost the number of premier tourists coming to Hong Kong. These are the people who will stay overnight and will spend money.
Hong Kong was recently named as the recipient of the prestigious award of Asia's Leading Meetings and Conference Destination for 2015. Meetings and exhibitions (ME) have recently become an important focus for the Hong Kong Tourism Board's promoting activities. An online platform, MEHK, or Meetings and Exhibitions Hong Kong, has been created to impress conference and exhibition organizers that Hong Kong is the destination of choice. Unfortunately, Hong Kong is really short of space in premier locations. Currently, in town we only have the Hong Kong Convention and Exhibition Centre (HKCEC) run by the Trade Development Council. The other major facility is the AsiaWorld-Expo, located close to the Hong Kong International Airport, which, though well connected to transportation networks, is far from the town center. There are plans to expand the HKCEC facility. But apart from having to overcome various challenges including possible objections from different groups, it is never going to meet demand. Unmet demand is as likely to spill over to other cities as to the AsiaWorld-Expo.
For this reason and before it is too late, I would like to propose that part of the land in the West Kowloon Cultural District (WKCD) area be reserved for MICE activities. The WKCD will be too small to accommodate a venue to host major exhibitions that require a lot of space. However, smaller, boutique-type exhibitions are now getting more popular and conventions generally require just a big meeting place and some function rooms. A convention center with exhibition halls for boutique-type exhibitions need not require too much land. I would argue that with good planning this is a feasible addition to what had already been planned and will offer many benefits. It will not only help fill nearby hotel rooms, but will also help raise attendance at cultural activities which will be held year-round within the WKCD.
Given that the WKCD is centrally located and close to the high-speed rail terminus, its attraction as a site of MICE activities is irresistible. If these facilities are (as expected) heavily booked, we can reasonably assume there will be demand for the year-round cultural activities to be held nearby.
Moreover, just as the HKCEC and AsiaWorld-Expo have become favorite sites for some concerts and cultural events, the MICE facilities can also be designed to support concerts and cultural events. Thus a MICE facility in the WKCD matches very well with the original intention of the cultural district. It will certainly be complementary with all the activities that will take place there.
Plans and designs for the main facilities to be built on the WKCD site of 40 hectares have mostly been completed. There will be two key components on the site: the M+ Museum and the performing arts facilities. The M+ Museum will focus on four elements - design, popular culture, moving image and visual art, and it has already procured a large collection of contemporary Chinese art and other works. The performing arts venues include the Xiqu Centre, a Freespace with an outdoor stage, a Lyric Theatre, a Centre for Contemporary Performance, Medium Theatre I, a Music Centre with a Concert and Recital Hall, a Musical Theatre, a Mega Performance Venue and an Exhibition Centre. There will not be a need, nor is it possible, to make major changes to what has already been planned carefully over the years by many experts and stakeholders. However, by adding a convention center, with meeting places of different sizes and adding additional exhibition facilities, some of which can also be used for rehearsal purposes, additional MICE tourists may be attracted to Hong Kong. They are also likely to attend the activities held at the WKCD. Since these tourists tend to be well educated and have high incomes, they probably also tend to spend more.
One disadvantage of the AsiaWorld-Expo is its distance from the city center. But this disadvantage is offset by its advantage of size. It has the capacity to host really big exhibitions. For such exhibitions, distance is really not a problem. This is because a visitor expects to spend a whole day or even several days in the exhibition. MICE facilities in the WKCD have the disadvantage of having to be much smaller, but they will enjoy the advantage of being in the city center. They can target small exhibitions which attract specialized audiences. For these smaller exhibitions, many visitors will find traveling a long way is not worth the cost. International participants at conventions would certainly prefer central locations. An important benefit of a convention venue is that there are also lots of things to see within walking distance. The WKCD site will have much to offer in this respect. Even more importantly, with various performances on-site the WKCD will need their patronage.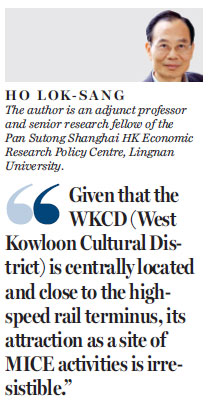 (HK Edition 05/04/2016 page10)