Everyone must respect Basic Law
Updated: 2016-04-26 07:13
By Ho Lok-Sang(HK Edition)
| | | | | | | | | |
| --- | --- | --- | --- | --- | --- | --- | --- | --- |
|   | | Print | | Mail | | Large Medium  Small | 分享按钮 | 0 |
Ho Lok-sang questions the tactics of 'pro-democracy' activists, warning that any challenge to China's sovereignty over Hong Kong will have disastrous consequences
'Pro-democracy" activists have argued that since their campaign for their brand of political reform was not successful, they now have little choice but to advocate self-determination. Most of them have stopped short of calling for independence, but they are now saying they need to seek self-determination outside the framework of the Basic Law.
One of the leaders in this camp is Brian Fong of the Hong Kong Institute of Education. He claims that the Aug 31, 2014 decision from Beijing was the last straw. He is disappointed that his moderate proposal - one that merely proposed "public recommendation" and not "public nomination" - was rejected. But I also have my own share of frustration. I proposed a moderate political reform package, one that was considered consistent with "international standards" by the panel of international experts that vetted various proposals under the Design Democracy project at the University of Hong Kong. But it was still rejected by the Design Democracy organizers as an option. All three packages presented to the Hong Kong public to solicit their preferences included public nomination. But this was in direct defiance of the Basic Law.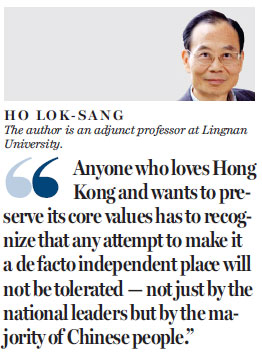 The August 31 decision was indeed a disappointment to some Hong Kong people. But rather than being outraged, I waited to see what the SAR government would propose under the terms required by that decree. I was quite pleased with the latitude allowed for aspiring candidates to express their views to the public before the Nominating Committee was to vote. The threshold for entering the race was only 120 votes from the Nominating Committee, while the presence of a ceiling of 240 votes guarantees there would be competition. Prospective candidates could express their views in public. Polls would indicate how popular they are. The committee would take into consideration all the information they had collected to officially nominate two to three candidates for an open election among all eligible voters. However, this political reform package, which would have given the Hong Kong public the first chance ever to elect the Chief Executive, was blocked in the Legislative Council.
Although I do not fully agree with the August 31 decision, I can understand why Beijing reacted this way. The "pro-democracy" activists had wanted to put the SAR government and Beijing on the spot by launching an "Occupy Central" movement. They have also threatened to rock Hong Kong to its foundations if Beijing will not yield to their demands. Obviously, Beijing would not accede to such extortion. Instead of learning from their miscalculation, they are now proposing to dump the Basic Law altogether. They argue that the Basic Law has been enacted without consulting Hong Kong people. This is untrue. Hong Kong people including Martin Lee Chu-ming, Reverend Peter Kwong, and Venerable Sik Kok-kwong were on the Basic Law Drafting Committee. Some 180 Hong Kong people were listed in the Basic Law Consultative Committee formed in 1985 to solicit views from the Hong Kong public.
Anyone who loves Hong Kong and wants to preserve its core values has to recognize that any attempt to make it a de facto independent place will not be tolerated - not just by the national leaders but by the majority of Chinese people. Indeed, all central government leaders make it their paramount responsibility to preserve the territorial integrity of China and assert sovereignty over its lands. Abandoning the Basic Law, which is enacted by the National People's Congress, will be considered as directly challenging Beijing's sovereignty.
Brian Fong cited Lu Ping, then director of the Hong Kong and Macao Affairs Office of the State Council, as having said: "How Hong Kong develops its democracy is entirely Hong Kong's prerogative. The central government will not interfere." I am sure Lu Ping meant it when he said it. Yet this must be based on Hong Kong people respecting the national Constitution and respecting the authority of the central government. Lu Ping would never have offered independence.
It is unfortunate that since around 2008, some Hong Kong people have increasingly grown distrustful of the central government. This is quite unlike the early post-handover years, when trust in the Beijing government kept increasing. This does not augur well for Hong Kong's future. Both Hong Kong people and the central government need to ask themselves: What can be done to rebuild this trust? Talk of self-determination or independence will not help.
The Western media likes to portray China's rule as authoritarian, even dictatorial. But facts speak for themselves. There is rotation of leadership in China, and the mainland has a rigorous system, which ensures a peaceful transition of leadership based on merit. What is even more important is that the Communist Party of China does show considerable ability to learn from past errors. As far as I can see, Beijing does allow Hong Kong to run its own affairs as long as it does not cause problems for Beijing. But challenging Beijing's sovereignty over Hong Kong will surely invite intervention.
(HK Edition 04/26/2016 page8)