EV owners still getting the gas on maintenance costs
Updated: 2016-04-06 08:16
By Wang Yuke(HK Edition)
| | | | | | | | | |
| --- | --- | --- | --- | --- | --- | --- | --- | --- |
|   | | Print | | Mail | | Large Medium  Small | 分享按钮 | 0 |
HK is running out of qualified mechanics to service electric cars, leaving owners to pay premium prices at 'authorized dealerships'. Wang Yuke reports.
As the number of electric vehicles on the roads in Hong Kong grows, the city is facing a serious shortage of qualified mechanics to service them. It's a serious issue for consumers contemplating a switch to an EV. The absence of qualified mechanics raises concerns over convenience, cost and safety.
In the first place, a shortage of qualified mechanics leads undoubtedly to poor maintenance and poor performance, worried Fung Man-keung, head of the Department of Automotive Engineering at the Institute of Vocational Education. He checked off some potential dangers that are of real concern to mechanics, vehicle operators and the public at large, once the cars, billed as environmentally friendly, have been in the shop for servicing. Electric cars are not for the weekend mechanic, accustomed to tinkering with his old internal combustion vehicles, cautioned Fung. The AC batteries at the heart of EVs, run at between 400-600 volts, can deliver a lethal shock. The DC batteries on gas powered cars carry only 12 to 24 volts. Consumers considering making a switch must take into account the maintenance cost of responsible ownership.
A study led by Sunny Lam of Civic Exchange, a local think tank, reveals that over the last couple of decades, while the vehicle population on the roads has been increasing, qualified manpower to inspect and maintain all types of vehicles has been unable to keep pace. EV sales, in particular, started climbing steadily before the Millennium. The crisis over skilled workers to service electric vehicles is growing even more acute as the alternative engines become more popular, says the report released in January.
The fatal car accident involving an electric BYD E6 taxi in Shenzhen in May 2012 raised an early alarm about whether electric cars were safe. The BYD taxi was hit by a drunk driver and almost instantaneously erupted in flames, killing the driver and two passengers. The widely publicized tragedy, prompted the Chairman of the Legislative Council's Panel on Environmental Affairs, Chan Hak-kan, to join with other members in urging the government to reconsider its initiative to introduce the BYD K9 series electric bus and E6 model taxi to Hong Kong streets.
Mechanical failures of conventional vehicles usually are relatively easy to identify, by way of an inspection of its mechanical components. Failures of EVs are more difficult to isolate. Some may be invisible, said Fung. The components and systems of EVs are subject to mechanical breakdowns, same as regular cars. Breakdowns of EVs, however, equally may originate in the electronic circuitry, said Fung.
An issue that bedevils the automotive repair industry concerns the patented technologies of the manufacturers. The make of EVs may differ substantially from another. Even though there are some common technologies to all EVs, there are no universal standards relating to how the cars are put together, Fung noted. Even the tools used on one type of electronic car may not be appropriate for another. Choosing the right battery pack for any particular vehicle is crucial, a task demanding advanced skill, said Lam. The battery pack, he underlines, is the most vital component of an EV.
Decode the secret codes
He compared EV inspection procedures to decoding. A computer-controled monitor is mounted on the panel of each electric automobile. When there are glitches in the system, cues pop up on screen, showing the error codes. Only technicians familiar with that model of EV can "decode" the issues and pinpoint the source. He hastened to stress the importance of the mechanic's knowing how to disable the battery network safely. Mistakes, literally, can be fatal.
The solution is not as simple as "just qualify more mechanics to service EVs". These patented technologies used by different manufacturers are the bread and butter of the manufacturers and may give their vehicles competitive edge. Electric car makers don't hand out blueprints and schematics to just any old garage mechanic.
The mechanics qualified to repair different brands of vehicles work for the authorized dealerships. Any car owner knows dealerships charge premium rates for service and maintenance work. Inconvenient though that may seem to the budget-minded motorist, there is no satisfactory alternative. The new car buyer who is considering a switch to EVs must accept that the necessary higher service costs charged by dealerships are part of the deal.
Tesla Motors, the world's leading maker of EVs, has a direct-to-consumer approach to after sales service. Its only service center in Hong Kong is in Tsuen Wan. Tesla offers a range of service plans for its Model S customers, priced from HK$9,100 for a three-year contract to HK$26,700 for an eight-year package. A spokesperson for Tesla in Hong Kong, Scarlett Au, said the question isn't about monopolizing after sales service. It's a question of consistent and premium maintenance by mechanics trained to repair the company's patented components. Au said Tesla has no confidence in auto mechanics at regular service garages. "Most of them in Hong Kong are unqualified for EV servicing," she concluded.
A dried-up talent pool
That issue presents a problem for consumers, the industry and the automotive servicing industry, said Fung. What will happen if the skills of mechanics trained on standard automobiles become obsolete, and there are no universal standards for a market in which manufacturers' secrets are closely guarded? Where will the industry find new qualified mechanics? Regular infusions of fresh talent will simply dry up.
He called for improved training, to give students in automotives better grounding through early exposure to new EV technologies. Fung noted that the curriculum for the Higher Diploma at the Automotive Engineering Programme is reviewed every two years. Recently, students have been trained on alternating current motors, now essential components of EVs.
The technology is going through fast generational evolutions as sales momentum increases. The lithium ion batteries of today are replacing the nickel metal hybrids that ran EVs a decade ago.
Enrollment in automotives training actually is growing at a healthy rate. In Hong Kong, the over-enrollment rate in 2014-15 academic year stood at 28 percent, and that number increased to 48 percent for 2015-16. Fung said he was gratified to see that youngsters are turning to automotive engineering for career training. The chronically entrenched stigma that has surrounded vehicle maintenance workers appears to be going away. He said that can be attributed, in part, to the introduction of the Voluntary Registration Scheme for Vehicle Mechanics in 2007, so that mechanics can provide certified proof of competency.
Mechanics must renew certification every three years. But to do so, requires that they attend 20 hours of continuing professional development. Lam argued that still isn't enough. The generational changes in EV design technology are getting shorter every year. That demands the practitioners keep abreast and update their skill sets.
VTC's in-service training course provides training to working mechanics with dated skills and need to get up-to-date with current technology. Mechanics have several options they can choose. "The lack of EV specialists creates a hindrance for the evolution of the EV market. The problem is not acute for the time being in Hong Kong, because our EV market is still young. But it will loom large in the coming years. We must take action beginning now, or it will be too late," remarked Lam.
Fung said that there are many opportunities for young people including abundant internships. He said many graduates from the automotives program are hired right away by authorized auto dealerships. There's also such a demand for instructors that many graduates head back to school to become instructors themselves.
The statistics emphasize the need for trained technicians. At the end of October last year, EVs on the city roads were reported to number about 3,000. That's a big jump over five years from 2010, when there were only 100 in use in Hong Kong.
Contact the writer at jenny@chinadailyhk.com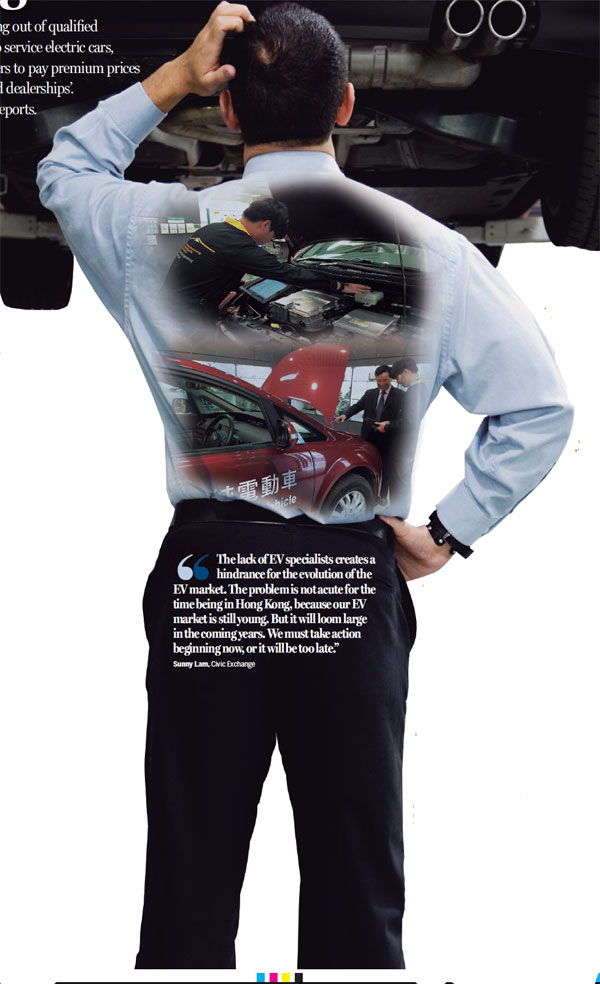 (HK Edition 04/06/2016 page8)