Chinese queen of Italian opera
Updated: 2016-03-25 07:59
(HK Edition)
| | | | | | | | | |
| --- | --- | --- | --- | --- | --- | --- | --- | --- |
|   | | Print | | Mail | | Large Medium  Small | 分享按钮 | 0 |
He Hui, familiar to HK's opera-goers, recently played the lead in Verdi's Il Trovatore in Paris. Peter Gordon meets the Chinese soprano who has made her mark in the homeland of Western opera.
Paris has been a place of rendezvous for Chinese artists for a century. Chinese painters, writers and thinkers - and more recently classical performers - have found inspiration and creative sustenance in Europe's City of Light. So it was not a huge surprise to come across Chinese soprano He Hui finishing up a run as the lead in Giuseppe Verdi's Il Trovatore at the Paris National Opera.
This new production transposes the action from medieval Spain to the trenches of last century's world wars. The Conte de Luna is decked out as a German officer and the gypsies become refugees, a poignant touch in the light of the dilemmas facing contemporary Europe. The avant-garde set consists of movable blocks and holes that alternatively form foxholes, tombstones and walls. He Hui was - literally, culturally and figuratively - a long way from home.
Not that the audience minded. Opera-goers tend not to pay much attention to a singer's provenance. He Hui's curtain calls were greeted with applause and the audience calling out brava.
He Hui's journey started in a conservatory in her hometown of Xi'an. "I first heard opera - a recording of La Bohme by Giacomo Puccini - when I was 18," she said. "I didn't understand the words, but the tears just came anyway."
She was noticed at an early performance of Aida in Beijing and invited to compete in Placido Domingo's Operalia competition in 2000. On the strength of this performance - she finished second - He Hui was brought to Italy. Auditions followed auditions. In 2002 she landed the lead in Puccini's Tosca at the prestigious Teatro Regio di Parma. The great soprano Raina Kabaivanska came forward to mentor her.
While she's not the first Chinese soprano to sing Western opera in its home continent, He Hui has managed an impressive list of accomplishments. She was the first Chinese soprano signed up to play the lead in Tosca at Milan's renowned Teatro alla Scala - a role she reprised with Opera Hong Kong just last year. She was also the first Chinese Aida ever at the Vienna State Opera and New York's Metropolitan.
Although He Hui settled down in Italy, France has also been good to her. She debuted Madama Butterfly at the Opera National de Bordeaux in 2003, playing the title role which along with that in Aida now figures among her best-known performances. "I have sung both Madama Butterfly and Aida," she says, "more than 140 times".
Her Hong Kong debut in 2006 was in the role of Cio Cio San in Madama Butterfly. I remember watching that performance and referring to it as "jaw-dropping" in a newspaper review.
Giving back to China
China has recently placed a great deal of political and commercial focus on reinvigorating the ancient Silk Road. He Hui has been something of a pioneer along its modern incarnation. Originally from one end of the Silk Road, He Hui's career has taken her to the other. Indeed, an Italian documentary about her - called, not coincidentally, Soprano from the Silk Road - is in the process of being wrapped up.
He Hui also travels the Silk Road in the opposite direction, bringing Western culture back East. She sings regularly in China and says, she "would like to teach there eventually". Although Chinese singers have begun to follow in her footsteps, He Hui notes that a good voice isn't enough. "It's also necessary to master the language, characterization and culture," she adds.
Opera, as the Italian Consul General in Hong Kong and Macao, Antonello de Riu, notes, is one of "Italy's key avenues of soft power", not least because it "has long been welcoming of any nationality and race. And to be an opera singer, one must learn Italian".
He Hui learned Italian on her own, she says, "by ear", the result of living and working in Italy for more than 13 years. "None of this is easy," she says.
Kept on her toes
He Hui has been busy since her acclaimed performances, playing the lead in Tosca with Opera Hong Kong in October. She debuted the challenging role of Leonora in Verdi's La Forza del Destino in her adopted home of Verona, Italy; sang the Nubian princess Aida in Salerno and completed a new CD of Verdi arias before leaving for an eight-week stay in Paris.
The applause and reviews in the newspapers and magazines may seem glamorous, but it isn't an easy life. "There was the time," she recalls, "when I finished a performance past midnight at the Arena in Verona, got up at 5 the next morning to fly to Plovdiv in Bulgaria to sing that night."
That may be an unusually extreme case, but He Hui is nothing if not peripatetic. After just a week at home in Verona following the Paris stint, she is off again to Berlin to sing in Tosca. "The life of a singer is full of sacrifice as well as success; loneliness along with happiness; living out of suitcases and leaving family and Chinese culture behind," says He Hui.
In spite of all that, there are new roles to sing. "I will be singing Elvira from Ernani in Marseille next year," she says, "and I would like to sing I Due Foscari." She specializes in Verdi - "I have a Verdi voice," she says - but also excels in roles created by Puccini such as Tosca and Butterfly. "I would like to sing a French opera but the opportunity hasn't yet presented itself."
And will she back in Hong Kong?
"We'll see," she says.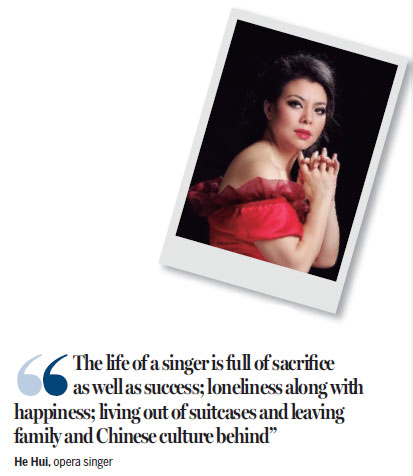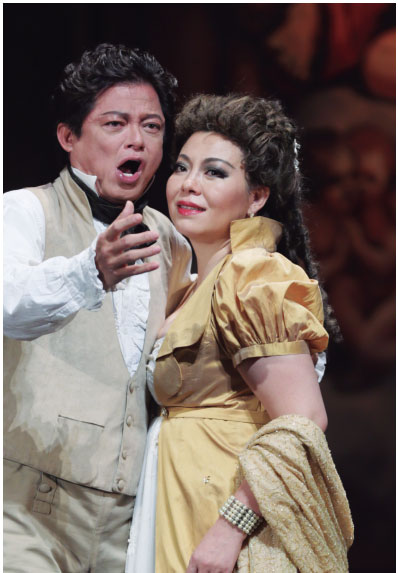 He Hui as Tosca with Warren Mok, artistic director of Opera Hong Kong, as Cavaradossi. The Puccini opera was staged in Hong Kong last October. photos provided to China Daily
(HK Edition 03/25/2016 page9)