A last great hope for indie music
Updated: 2016-03-03 07:51
By Agnes Lu writes(HK Edition)
| | | | | | | | | |
| --- | --- | --- | --- | --- | --- | --- | --- | --- |
|   | | Print | | Mail | | Large Medium  Small | 分享按钮 | 0 |
It's tough breaking into mainstream recording companies. So rather than bear the competition and the rejection, aspiring musicians are turning to other solutions. Agnes Lu writes.
Siu Yuen, guitar on his back, and toting a trolley packed with sound equipment, headed to Causeway Bay. He's become a familiar sight outside Times Square and Hysan Place, a 24-year-old busker, but not just any busker. He has fans. More than 5,000 "likes" on his Facebook Wall are accompanied by messages from fans recounting how they were moved by his music.
The final day of 2015 opened a new door for Siu Yuen, with the successful completion of his crowdfunding campaign. He had acquired the resources to record his first EP, To myself. He mounted his successful 58-day campaign on Music Bee, a crowdfunding website geared specifically to music projects.
Siu Yuen surpassed his target of HK$30,000, raising HK$31,120 from 178 backers.
Siu Yuen said he felt like a giant stone having been lifted from his heart, when he learned he had reached his target.
"Finally I'm going to have my own music CD, which says I have much more to offer than just being a boy singing cover songs on the street," said Siu Yuen, fresh out of college.
Music Bee is one of several crowdfunding websites that have blossomed in Hong Kong over the past few years. FringeBacker and Dreamna came first, but Music Bee is focused strictly on music projects like albums and live shows, or related products, such as music software. Music Bee's startup last March was the inspiration of several local musicians, including renowned independent singer-songwriter, Chet Lam.
Another site launched in June 2014, 330ipo, founded by Leslie Ching, a man with over 20 years in music copyright administration, focuses more on services in marketing, distribution, sales and copyright administration, once a music project has been successfully crowdfunded on the website.
Backers who contribute to music projects become stakeholders, if the projects prove successful. Rewards may include a share of royalties on copyrights and music sales. The website calls it a "fan-sharing model".
Music Bee has taken up 34 projects, 20 of which have been successful. One is ongoing. The projects cover Canto-pop, through instrumental rock and farewell gigs. In the meantime 330ipo, temporarily closed for upgrading, has completed 10 projects, seven of which were successful.
Crowdfunding or fan-sharing gives independent musicians like Siu Yuen a chance to move up from street musician to studio recording artist, without the grind of trying to break into mainstream record labels. The new avenue also gives more freedom for musicians to play their own music in the genre they choose, in a market inundated with mainstream Canto-pop.
Before his crowdfunding effort, Siu Yuen entered singing contests, won some awards, and played on the streets in the hope of being spotted one day by a talent agent, who could make him a star. It didn't happen. He thought about crowdfunding on Kickstarter but decided his chances as a Cantonese singer on an English language website were pretty poor. Then, he discovered Music Bee.
On his campaign page Siu Yuen and his team offered six reward options - MP3 download of the EP, concert tickets, rewards based on the size of the contribution. The Web presentation was designed meticulously to ensure effective distribution of space for videos, photos and text. It was a pitch that allowed potential backers to get to know Siu Yuen right away.
Siu Yuen raised his profile on the street, appearing more often while the campaign was underway, with the QR Code for his campaign posted beside him. He handed leaflets to those who stopped to listen, posted more often on Facebook and wrote to people who "liked" his page.
On Jan 16, he played his first EP release concert at a 200-seat venue in Kowloon Bay. He was so elated, tears came to his eyes, because he had realized his dream.
"Crowdfunding creates a triple win situation. Musicians get the funds to make their own music; backers or fans support their favorite musicians; the platform sustains by charging a fee on successful projects," said music producer Victor Tse, another Music Bee co-founder. The site has recently successfully completed the city's largest crowdfunding campaign for a live show ever, as a first anniversary celebration.
Music has value
Music critic Wong Chi-chung is one of Music Bee's backers. He's funded several projects through the platform. His rewards have included souvenirs, such as a booklet of handwritten lyrics and even a guitar strap.
He noted the genesis of crowdfunding for Hong Kong musicians nearly six years ago, but the campaigns were all on overseas sites. The trend didn't really catch on until the local sites came on the scene.
"Comparatively, overseas websites for musicians have more variety, cater to larger populations and communities and offer more diverse music styles. Hong Kong, with only two years in this particular field and a much smaller market, will need more projects of different styles, combinations and regional collaboration. The websites can even pitch projects and talents themselves," Wong said.
The uprising of local crowdfunding or fan-sharing websites for musicians is closely tied to the market domination of mainstream Canto-pop, declining sales of recorded media, and the influence of social media. The situation has created a demand, as well as opportunities for Hong Kong to develop more channels to fund small-scale music production. It's arguably the only alternative to mainstream music companies.
Another challenge for independent local performers is the decline in the number of live houses which makes it more difficult to build a following, and gather funds from live shows, according to Anthony Fung Ying-him, director and professor at the School of Journalism and Communication, Chinese University of Hong Kong (CUHK).
At least two live houses closed last year, because of big rents and small audiences wanting to hear independent live music. Over the past decade, the International Federation of the Phonographic Industry (Hong Kong Group) has lowered twice its criteria for gold and platinum recognition in the local pop album category. Now, sales of 15,000 qualify for a gold disc and 30,000 for a platinum. Before 2006 the respective numbers were 25,000 and 50,000.
The pressure on mainstream recording sales nowadays is a result of pervasive music streaming services. Music fans can go to online channels or mobile applications to hear music for little cost. Often enough the services are free. All of this makes crowdfunding or fan-sharing even more vital for independent musicians, since it's getting more difficult to profit from recording sales, said Fung.
Neither Music Bee nor 330ipo consider themselves in conflict with mainstream players. Big record companies play safe and produce music for the mass market. Crowdfunding or fan-sharing websites help to diversify the market with new sounds and business models. "We won't have the advantages big companies have, such as powerful marketing. It's more like we have expanded the market together instead of competing," said Tse.
Michael Lai, a singer-songwriter, might have set the example. He reached the peak of his three-year busking career, by launching a crowdfunding campaign on Music Bee last April. He got the money he needed, released his first album, was nominated for some awards and won a few. At the beginning of January this year, he was given the high distinction of "Best New Singers Award" in the 38th RTHK Top Ten Chinese Gold Songs Award, one of the highest-level award events in Hong Kong's music industry.
"Supporting a music crowdfunding project is not just 'buying the music'. It tells people music does have value, and it needs money to produce every track. I hope my experience can help more people recognize the effort behind music production and inspire other musicians," Lai said.
330ipo's founder Leslie Ching believes the fan-sharing model will also help people learn to respect music copyrights. Audiences in Asia lack the motivation to pay for music due to the fast penetration of music streaming. But when they become the stakeholders for potential profit, they understand how free downloads can have a huge impact on a musician's survival, he said.
Contact the writer at agnes@chinadailyhk.com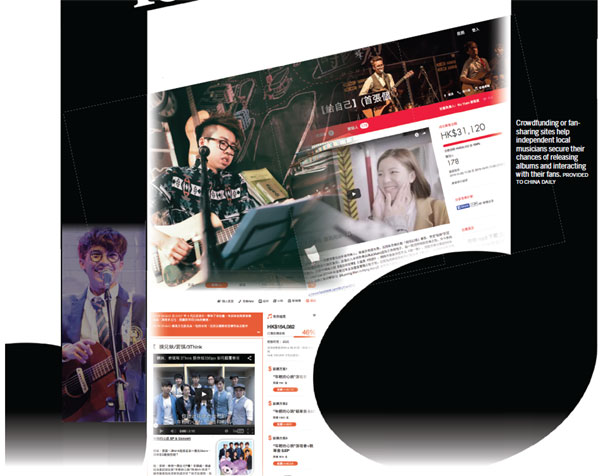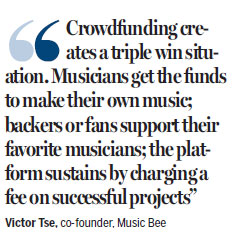 (HK Edition 03/03/2016 page11)