Life education will make our children healthier and happier
Updated: 2016-01-26 08:15
By Ho Lok-Sang(HK Edition)
| | | | | | | | | |
| --- | --- | --- | --- | --- | --- | --- | --- | --- |
|   | | Print | | Mail | | Large Medium  Small | 分享按钮 | 0 |
Lingnan University's annual schoolchildren happiness survey last year revealed an important fact: Life education means a lot to children and will make them happier. Students who "very much agree" that their school offers life education reported an average happiness score of 7.48 on a zero to 10 scale. Those who "agree" reported an average happiness score of 6.73. Those who are torn between agree or disagree ("half half") reported an average happiness score of 6.29. Those who "disagree" reported an average happiness score of 5.35. Those who very much disagree reported an average happiness score of 5.19. I think this is really the most important finding of the survey.
The survey was conducted from October to November 2014, and covered 10 primary schools and 10 secondary schools. We cannot claim random sampling because the survey is subject to the willingness of schools to participate. We thanked all the participating schools. We are convinced that these are all run by people who care for the welfare of their schoolchildren. While students' perceptions about whether their school offers life education may not necessarily reflect the reality - and children from the same school may indeed report quite differently about how much life education is reflected in their school curricula - the glaring fact is the monotonously increasing happiness score along with the increasing perception that the school offers life education.
Some people may ask, what exactly is life education? Since 2008, the Centre for Public Policy Studies of Lingnan University has been trying to promote life education by reporting the LIFE scores of Hong Kong people in our annual territory-wide happiness survey. The LIFE scores refer to love, insight, fortitude and engagement. Each component of the LIFE scores is based on questions that reflect love, insight (wisdom), fortitude (resilience), and engagement (purposeful living). The idea is that people who have a reverence for life, who care for their family members and for others, who have a good sense of balance and who understand the difference between means and ends, who have a strong will to face challenges and thus will not easily give up, and who have a sense of engagement in things that they do, are expected to be happier individuals. A respect for life is basic to life education. When a person has learned to respect other people's well-being and to see life with reverence he will have achieved good life education.
For many years I have been struck with how many young people have lost a sense of direction, and have put themselves and their friends in jeopardy through substance abuse, unsafe sex, bullying, and even killing. It is easy to put the blame on others and on "the system" and "society at large". There is little doubt that "others", "the system", and "society at large" all have problems. The world has many pitfalls. Sometimes in the face of some developments we feel helpless. For example, we are powerless against the ongoing terrorist attacks that keep recurring around the world and the conflicts in the Middle East which seem unstoppable. But all this does not mean each of us should not take good care of our own thoughts, words and acts. To me, the worse the world gets, the more important it is for me to conduct my life in a manner that might help, even in a miniscule way.
Sadly, the Chinese University of Hong Kong recently lost another student through suicide - the fourth during this current academic year. There have also been a number of teenagers committing suicide over the last few months. According to the World Health Organization, depression is a common illness worldwide, with an estimated 350 million people affected worldwide, and suicide is the second leading cause of death in 15-29-year-olds. My own survey shows that while the 2015 Fortitude index fell significantly, the drop for the 21-29 age group was much sharper, from 7.18 to 6.75. The recent spate of suicides tells us that it is very important to promote life education in Hong Kong.
Handling personal relationships, coping with stress, dealing with financial pressures, are all big challenges. Yet there are methods of dealing with these matters that can be taught. Unfortunately, while sex education is compulsory in Hong Kong's schools, life education is not. A well-designed life education curriculum actually can cover sex education at the same time. Indeed, sex education without including a respect for life and for the well-being of others cannot be good sex education. Good life education will save lives.
"Personal Development and Interpersonal Relationships" is one of the modules of Liberal Studies in Hong Kong schools, and in principle can serve as a conduit for life education. The pervasiveness of anxiety and high incidence of depression among our schoolchildren and youth suggests that this module has not really served the purpose of life education. In our sample of 10 secondary schools, none had 50 percent of its students agreeing very much that their school offered life education, and only one school had 40 percent of its students agreeing very much that their school offered life education. It is perhaps time to review what is being taught and also how the curriculum is being taught.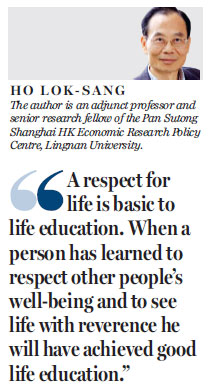 (HK Edition 01/26/2016 page10)