Developing a better pension scheme for our elderly citizens

Updated: 2016-01-06 09:56
By Zhou Bajun(HK Edition)
| | | | | | | | | |
| --- | --- | --- | --- | --- | --- | --- | --- | --- |
|   | | Print | | Mail | | Large Medium  Small | 分享按钮 | 0 |
When Chris Patten, the last British governor of Hong Kong, raised the issue of introducing a universal pension system in Hong Kong shortly before the handover, the move was widely perceived as being politically motivated. It was, therefore, quickly rejected by many people in society. Back then, those born after World War II were in their prime and the problem of the growing aging population was not so serious. With the local economy doing well, the incomes of most employees and their families were still rising. People were much more concerned about the establishment of a citywide mandatory pension fund system than some half-hearted gesture.
Today, however, it is a completely different situation after the SAR government launched the first round of public consultation on improving Hong Kong's retirement pension system last month. Psychologically, people could not be more eager to have some kind of old-age financial assurance in place before retirement. This is because the growing aging population problem persists while the income gap keeps growing. The Mandatory Provident Fund, set up in December 2000, has fallen far behind the rising cost of living for the great majority of retirees.
A "universal" pension system for everybody, regardless of financial means, had already dominated public opinion before the government launched its consultation exercise. This consists of two options for the public to consider. Obviously, the opposition camp will find fault with the details of the government's plan even if it leans toward being a "universal pension". So it is little wonder their reaction to the government's consultation paper has been so uniformly negative - as the opposition favors retirement protection for the "poor" only.
The two competing options are fundamentally different from the beginning. One is for everybody (regardless of financial means) and is undoubtedly oriented toward people's right to a retirement pension. But the other is welfare-oriented and requires a means test to determine whether a person qualifies for it or not. The government told the public it favors the welfare-oriented option before it launched the consultation drive.
Respecting and caring for senior citizens is a Chinese tradition. Mencius (372-289 BC) famously said in one of his teachings that people should treat old people like family. We as a nation also believe people should be cared for when they are old. This is so they do not feel forgotten and feel they can still be useful. Retirement protection is, therefore, a common way for societies to care for their old people.
When discussing material provisions, a pension scheme should not just be limited to "poverty alleviation" for poor senior citizens. The current SAR government, by assigning the universal pension scheme consultation to the Commission on Poverty made a wrong start. It ultimately reduced retirement protection to just another charity fund. I do not think the government can talk itself out of this blunder.
The true intent of a universal pension scheme is to ensure all retirees live with dignity and are cared for. Such care should not differentiate between the "poor" and other people. Society must show respect and gratitude to all those who have contributed to it.
I understand the current SAR government's concerns about the public coffers if a universal pension scheme is adopted. Legitimate as these concerns are, they should not be used as an excuse to dominate the public consultation. Instead, the government should respect the true intent of retirement protection and highlight the compassionate aspect of this. It has to do whatever is necessary so retirees feel they are receiving the help they deserve. This must not be just some gesture of pity for the needy.
Do not forget there are many retirees whose means are not low enough to qualify for the government-favored pension scheme or high enough to live comfortably without it. This "middle group" deserves attention also. The government should add an in-between option to ensure that "well-to-do" retirees are not just left to their own means for the sake of the public coffers. It is a good thing that the government plans to help retirees secure a stable income one way or another. They should just not take too long to reveal their plans.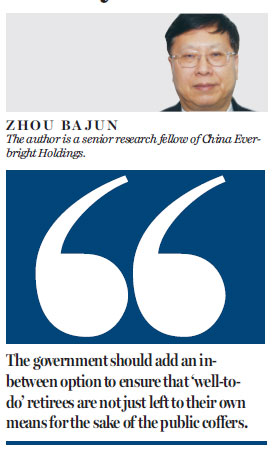 (HK Edition 01/06/2016 page9)