Collector is king
Updated: 2015-12-29 07:48
By Chitralekha Basu in Hong Kong(HK Edition)
| | | | | | | | | |
| --- | --- | --- | --- | --- | --- | --- | --- | --- |
|   | | Print | | Mail | | Large Medium  Small | 分享按钮 | 0 |
Editor's note: In the second installment in an ongoing series on Hong Kong's art world, we shift the focus from auction houses playing a role in public education (see China Daily, Nov 19) to re-packaging themselves as entertainment zones.
On Dec 7, the sprawling 1,100 square meter space on the 20th floor of One Pacific Place, where Bonhams holds its previews and auctions, was the site of a different kind of event. It was the launch of Knight Frank Luxury Investment Index (KFLII) - a database recording the swings of the market vis--vis high-end products, from gemstones to property. Dispelling the notion that the luxury market is slowing down, Andrew Shirley, the compiler of KFLII, held forth on how ultra-high-net worth (UHNW) individuals the world over are splurging like never before, on items that many people covet but only a few can afford.
Not surprisingly, auction houses are going out on a limb to court those with an eye on the goods of desire. They are dabbling in activities unrelated to auctions, re-packaging their spaces to cater to the diverse and disparate interest ranges of their customers. Their target demographic now extends beyond the UHNW to include what Rebecca Wei, president of Christie's Asia, calls "the middle class". The massive 4,500 square meter space at Hong Kong Convention and Exhibition Centre, where Christie's held its autumn auctions between Nov 28 and Dec 2, had sections dedicated to Hermes bags and designer jewelry by Wallace Chan - the latter only as a diversion and not part of the auction or even private sales.
"Auctions seem to go on forever. People wishing to bid for just three to five lots have to sit around the whole day," says Wei, who has put in a lot of effort to liven up the atmosphere. "I wanted to give them some fun things to do."
Living with Art - a cluster of cubicles done up like the interior of a home, with a semi lived-in feel - was one of the "fun" add-ons. The idea was to give the audience a combination of something both quirky and relatable. It was a cozy niche where one could lounge on a horseshoe-back armchair, or sit upright on a bench with a base resembling a golden crocodile by French artist Claude Lalanne, admiring a Joan Miro or a Xu Beihong on the wall.
A prominent spot at Christie's autumn auctions was reserved for Collectrium, a digital management service offered to collectors of fine art, antiques and luxury items. Boris Pevzner, CEO of the company, tirelessly demonstrated to each intrigued visitor how a subscriber could "try out artworks spotted at auction previews on a wall of his home, frame it in virtual reality using different kinds of frames, and send it to an interior decorator, designer or art advisor who is helping you to decorate the house".
Cynics might contend the apparatus places greater focus on the wall than the artwork in question. Pevzner, on his part, insists that the power of the digital art management system he has developed "doesn't replace a collector's interaction with real art, it enhances it, adds more context to one's collection". Its many features, he says, are either educational, such as exhibition history or citation history of the artwork, "or information on dimensions which could be useful when you are shipping it, or finance-centric, such as current valuation in the art market".
The other cool features like an app offering simulations of what a Damien Hirst might look like in one's living room, he says, "is just the icing on the cake to most of our clients. The cake is the ability to organize one's collection, enjoy it more, learn more about it and have an enhanced experience."
The pleasure principle
Collectrium has accumulated over 27,000 clients in six years, proof enough that collectors want more than a sound investment opportunity when they visit auctions. They are also looking to have a luxury experience. It shows in the increasing number of value additions auction houses are trying to bring into their spaces. Gone are the days when auctions were mainly about a man in a pressed suit calling out the bids without raising his voice and sealing deals worth millions with a light click of the gavel against the table. The spotlight now is firmly on the collector. If affluence, combined with understated elegance was the hallmark of the conventional model, today auctions are about clients with big money and limited attention spans. The new generation of collectors wants to enjoy the stuff they pay to acquire, not hesitating to ditch items of high artistic merit and proven historical value in favor of what brings them pleasure. For instance, the Hermes bags display at Christie's was a big hit with one section of the audience. "People tell me walking into that area feels like walking into a department store. It makes them feel very relaxed," says Wei.
Indeed, art connoisseurs might be forgiven if stepping into the Living with Art section reminds them of a high-end home dcor store. However, Elaine Holt, who curated the Living with Art section, would like to differ. Each piece, from the hand-knotted silk carpet to the vintage Qianlong clock on the mantle, she says, is a limited edition artwork. It's a way of breaking away from the conventional model of displaying exhibits according to categories. "Throwing in elements from our daily lives is a brilliant idea to merge art pieces from different genres so that the space becomes something of an artwork itself," she adds.
Unlikely combinations
Cross-category shows and in-branding are fast becoming the norm on the auction scene. Last August some 100 highlight items from Bonhams' Hong Kong Autumn auctions were showcased at the Bund Classic car show in Shanghai. The logic behind clubbing the two together, says Bonhams Hong Kong Managing Director Alexi Fung, was that collectors of luxury cars sometimes overlapped with those of art. "Collectors of cars are often drawn to collecting watches because both are essentially mechanical contraptions," he points out. "Often, it so happens, that while the husband is drawn to Chinese paintings, the wife might drift off to the jewelry or watches department. The idea is to enjoy and have a good time."
The Print Bakery series, launched by Seoul Auction, Hong Kong, in May, too emerged as part of the perennial search to find newer ways of bringing joy and comfort to customers. Limited edition prints of works by major Korean artists, Kim Whan Ki and Chang UcChin, for example, were arranged on shelves with the image of a confectionery shop in the background, the idea being shopping for art could be as regular as going out to pick up a loaf of bread. Bong Lee, chief consultant with Seoul Auction in Hong Kong, informs tie-ups with restaurant chains and cafes to market Print Bakery items are on the anvil.
Currently Lee has put his energy into evolving newer apps to help collectors track major auction events the world over. Although, at the end of the day, he says gadgets cannot help notch up sales, "unless you have the right work to sell".
While relatively-smaller auction houses like his struggle to compete with the giants in the industry; Christie's, Sotheby's and Bonhams, with more than 200 years of proven credentials, have a reputation to live up to even as they experiment with new ideas. "The big auction houses are concerned with holding on to their centuries-old identities and branding," says art advisor Jehan Chu, director of Vermillion Art Collections. "They are faced with the task of sheathing the new products into their old-world charm."
The urge to evolve newer business models, he contends, cannot be as simplistic as trying to cash in on Hong Kong people's natural affinity to a shopping mall culture. "What's driving auction houses is the search for ever more revenue and margins to justify the percentages they are taking for their services. The cut that some of the top auction houses get is somewhere between 25 to 30 percent of the selling price of a piece of art. That's massive. If they are not making the numbers in that arena with those kinds of margins, the model's really changed. And that's what is driving this search," Chu says.
basu@chinadailyhk.com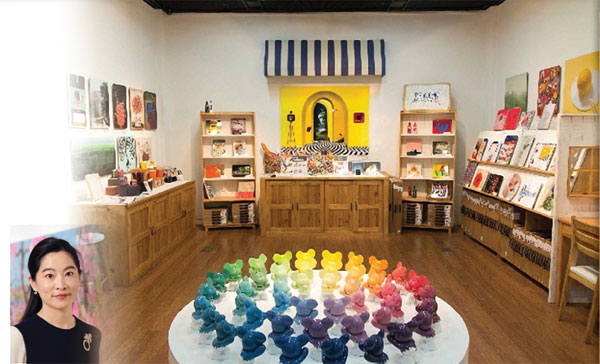 At Seoul Auction Hong Kong's Print Bakery section, buying art could be as casual and affordable an experience as picking up a loaf of bread. Photos Provided to China Daily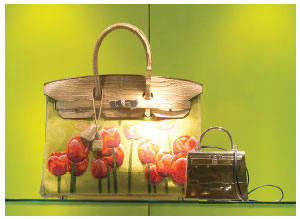 The Hermes bags section has proved to be a major hit with the audiences at Christie's autumn auctions.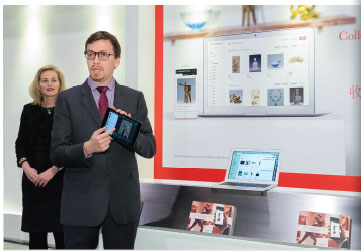 Collectrium CEO Boris Pevzner has created a digital platform for collectors, enabling them to access their collection in augmented reality.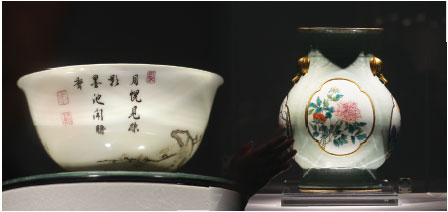 Christie's held art forums during its autumn auctions, where experts talked on the finer points of Qianlong-era (1736-1795) porcelain among other antiquities.
(HK Edition 12/29/2015 page10)