Give students less homework and more creative challenges
Updated: 2015-11-30 07:58
By Stefan Dalton(HK Edition)
| | | | | | | | | |
| --- | --- | --- | --- | --- | --- | --- | --- | --- |
|   | | Print | | Mail | | Large Medium  Small | 分享按钮 | 0 |
'Superman" Li Ka-shing, chairman of the board of CK Hutchison Holdings, is the richest man in Asia - according to the Bloomberg Billionaires Index. But with his less than impressive formal education, how is it possible that this man can possess such intelligence which enables such extraordinary success?
Book-feeding our children from a young age is advised to promote Intelligence Quotient (IQ). The information being force-fed into our children is questionable, however. It overlooks critical aspects of learning such as independent thinking, decision-making and problem-solving. It is often belatedly discovered that these are the skills most valued in the workplace, where no successful CEO can do without them.
Li's younger son and PCCW Executive Director Richard Li Tzar-kai is reported as saying, "I don't need people with grand academic credentials and extensive knowledge - which are just a few clicks away. I want problem-solvers, and I can't find them!"
Within the psychological realm, IQ is not the only area of interest when faced with the intelligence paradigm. In the real world, Adversity Quotient (AQ) and Emotional Quotient (EQ) probably are more decisive contributing factors to a person's career success and personal happiness.
Creativity is often overlooked under the traditional school curricula. But now more than ever, with the breeding of like-minded academic "robots", our focus should be placed more on students who can think outside the box, and less on mindless regurgitation of facts. If not, it is clear the future may be uniformity of thinking among most of our university graduates, when what we need most are people who can come up with original ideas and are capable of approaching problems with a creative mindset.
Evidently the youth of Hong Kong are well informed because of their affinity with information technology and the amount of academic material they are required to commit to memory. But this regimen does not seem to help them when it comes to tackling real-world problems. Many of them also "suffer" from hovering, overprotective parents.
Unfortunately, most Hong Kong parents have yet to differentiate book learning from creativeness and a nimble intellect. Creativeness involves the development of autonomous thinking and analytical skills. Perhaps practice at challenging the status quo through regular school debates and mock projects mimicking the real world would help.
Anybody who boasts original ideas has more to bring to the table than just "book knowledge". This explains why despite the impressive rankings of Hong Kong/mainland children in international academic surveys, they lag behind their US and European counterparts in the creative paradigm.
Interestingly, old-fashioned "free play" - where children are left to their own devices to mingle among themselves and work out their differences as they arise - has come in vogue again, according to leading child development experts.
Free play - along with other tasks or school projects - with no set rules challenges the creative mind. The brain thereby charts new independent thought patterns while it searches for solutions.
While book learning is important, our educators and parents should sit back and review the amount of schoolwork our children are expected to swallow hook, line and sinker. Too much of it and we are probably stunting their intellectual growth in the process by not giving them breathing space to think, challenge, question, research and make conclusions on their own. Let us try to provide more of such opportunities for our youngsters, for their intellectual growth, emotional satisfaction and psychological well-being.
We want our children to do well, but unknowingly we are pushing them to fail by burdening them with excessive homework - and robbing many of them of a happy childhood to boot. Not a few of them also suffer psychologically from such constant pressure, as is evident in my practice, where child depression is commonplace and even suicidal tendencies are apparent.
Parents must honestly ask themselves if they are pushing their children to excel in academic examinations for their own pride or for their children's true welfare. Such uncomfortable issues need to be answered with candor.
They may wish to reflect that Li Ka-shing's success hinges not on his scholastic achievements but on his nimble mind, ability to think outside the box, entrepreneurial skills, vision, and yes, his high AQ and EQ - as undoubtedly he must have suffered his share of setbacks. But more importantly, he manages to bounce back with more vigor and greater success.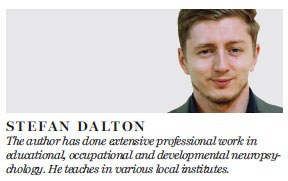 (HK Edition 11/30/2015 page8)