The new share market
Updated: 2015-10-28 07:36
(HK Edition)
| | | | | | | | | |
| --- | --- | --- | --- | --- | --- | --- | --- | --- |
|   | | Print | | Mail | | Large Medium  Small | 分享按钮 | 0 |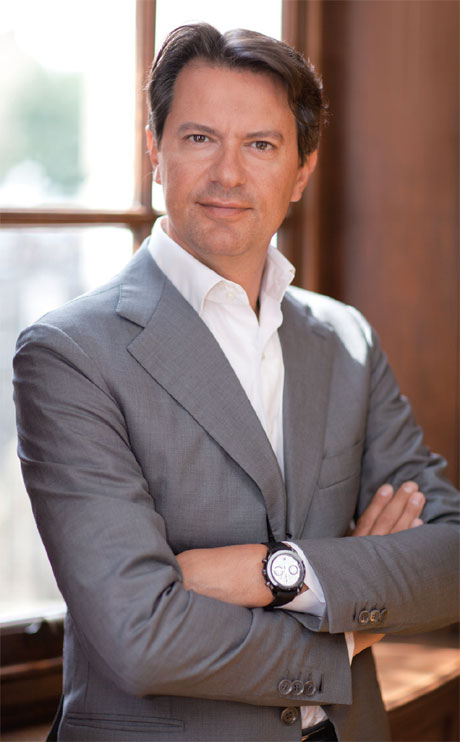 Giustino de Sanctis believes in the value of sharing innovation as it distinguishes them from the traditional IP-based licensing models.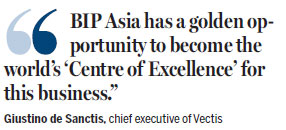 The future of IP licensing, says Giustino de Sanctis, lies in the industry recognizing that the benefits and the costs of innovation have to be shared.
Giustino de Sanctis is a notable participant at this year's Business of IP Asia Forum (BIP Asia) to be held in December. He is one of the masterminds behind certain rather significant joint-licensing programs in consumer electronics.
He structured and managed the licensing program for Audio MPEG's MP3 audio format, often referred to as one of the most successful efforts to licence a consumer electronics innovation. He also launched joint-licensing programs for 4G LTE and 802.11, or Wi-Fi.
Having spent more than two decades working in licensing, earlier this year, the former IP lawyer established Vectis, an IP technology and licensing business. He is the firm's chief executive.
Experience, says de Sanctis, has taught him the importance of simplifying access to IP rights for widely-adopted, standardised technology.
The aggregation of patents was one added-value solution for companies working with technology, he says. "Patent aggregation clearly helps implementers access relevant IP while reducing transaction costs for all parties involved," he said.
He said Vectis has recently started working on a Wi-Fi licensing program which includes patents originally filed by Ericsson and Panasonic that are now owned by WiFi One.
"This program runs in the context of a patent aggregation format and a great deal of time has been spent to carefully design a licensing program which offers a non-exclusive, royalty-bearing license to third parties on fair, reasonable, and non-discriminatory terms," he said.
"Efforts are ongoing to further aggregate and offer licensees an even greater value."
"We believe in the value of sharing innovation. This simple, yet very powerful statement, distinguishes us from the traditional IP-based licensing models that focuses on the monetization of IP," said de Sanctis, adding, "Vectis was founded on the belief that innovation represents one of the core values and true potentials of our economy and that sharing of innovation and sharing of the costs of innovation are both essential for the technology's continued advancement."
"We are working to connect patent owners with product makers, forging long-lasting, mutually beneficial collaborations, and bringing added value to every party involved in the process," he said.
"Throughout this process we continue to work with licensees for licensors and with licensors for licensees and to design balanced programmes with the right terms for the specific market addressed to that specific IP."
When it comes to the key issue in IP-licensing strategies in technology, de Sanctis says a complex global market and a switched-on world means there is an increasing complexity vis-a-vis the rights a company has to acquire, to design and sell a product or service.
"Some have referred to this phenomenon as a 'patent thicket', highlighting the difficulties of obtaining the necessary licenses and putting a negative spin on it," he said.
"The reality is that products today are extremely rich in technology and as a consequence the technology utilized is covered by many patents.
"There is a real need for a new approach to address this complexity. For me, the particular issues that need to be confronted are lack of clarity, fragmentation, and often, absence of transparency or asymmetric information sharing in the IP-licensing industry."
The future of IP licensing, says de Sanctis, lies in the industry recognizing that the benefits and the costs of innovation have to be shared.
"We have to take a step back and not just focus on IP, but rather on the technology itself and also on the processes that regulate the commercial success of the technology in the market," he said.
"The key is to design the programme with a 'technology transfer' program, rather than exclusively as an IP-licensing program."
Himself the inventor of a patent on how to allocate revenues among different patent owners in joint-licensing deals, de Sanctis is moderating one of the plenary sessions at this year's BIP Asia on the theme of "Global Trends for IP-Licensing Strategies".
Vectis is the gold sponsor of BIP Asia, to be held from December 3 to 4 at the Hong Kong Convention and Exhibition Centre.
BIP Asia - jointly organised by the Hong Kong SAR Government, Hong Kong Trade Development Council and Hong Kong Design Centre - will see IP professionals and leaders from around the world gather in Hong Kong to discuss key IP issues and trends.
Hong Kong's position as the business hub of Asia, said de Sanctis, made it an ideal focal point for IP professionals to meet and help facilitate the discussion among key stake-holders to find balance in licensing solutions.
"BIP Asia has a golden opportunity to become the world's 'Centre of Excellence' for this business," he said.
"This best practice or 'Centre of Excellence' platform can only be a positive move for Hong Kong and the whole of the region with respect to the business of IP licensing and trade."
"Knowledge-based capital is the cornerstone of technological advancement. When handled fairly and shared equally, the whole of this dynamic region will benefit economically."
(HK Edition 10/28/2015 page1)