Culture makes all the difference
Updated: 2015-10-27 08:45
By Ho Lok-sang(HK Edition)
| | | | | | | | | |
| --- | --- | --- | --- | --- | --- | --- | --- | --- |
|   | | Print | | Mail | | Large Medium  Small | 分享按钮 | 0 |
Ho Lok-sang cites the global livability rankings to caution that adversarial ways could take Hong Kong down the same path to social decline as the United States
We all aspire for peace and prosperity. For a city with very little resources but a large population like Hong Kong, prosperity must be built on competitiveness and competitiveness must be based on peace. But the creation of peace, competitiveness, and prosperity requires a culture that will breed a fighting spirit to realize the potential of the community and a mindset that fosters social harmony and cohesion.
Hong Kong boasts fine legal institutions, superb infrastructure, and efficient government. Hong Kong is also uniquely and favorably located. It has a long history as an international trading post and as a gateway to the mainland. The international networks of Hong Kong people are unparalleled, giving the global city huge advantages in a globalized world. Under the "One Country, Two Systems" framework, Hong Kong enjoys the best of both worlds. It is at the same time part of China, which for decades has been the fastest-growing economy in the world, and is also part of the world that practices common law, which is a requirement for a global financial center. However, all this is not enough to secure Hong Kong's long-term future, which must be grounded on strong social cohesion and the stamina of its people.
Consider this excerpt from the Economist Intelligence Unit's 2015 Global Liveability Ranking report: "North American cities have largely seen declines. Part of this stems from unrest related to a number of high-profile deaths of black people in police custody, but there have also been escalations in crime rates in some locations, coupled with a number of incidences of religious or politically motivated attacks Hong Kong has notably fallen in the ranking owing to mass protests and clashes with the police in the past year."
The "North American cities", whose livability rankings have declined, referred to here are exclusively in the US. Actually, just north of the US, three Canadian cities are among the top five in livability (on a list of 140): Vancouver, Toronto, and Calgary. The list is topped by the city of Melbourne in Australia, a country that also saw the city of Adelaide tie with Calgary for fifth spot in the rankings. The one US city to have shown a big jump in the livability score over five years is Honolulu. These results give rise to the question that why did the US, a common law country like Canada and Australia, and also a kind of "spin-off" from the British Empire, post such a dismal performance? My hypothesis is that the difference in culture makes all the difference.
My worry is that an adversarial and polarizing culture that is emerging rapidly in Hong Kong will take the city on the road to decline like the US. The hallmark of this adversarial and polarizing culture is a focus on factional interests, which could be any special interest group that may be defined along political lines, commercial or business lines, ethnic or religious lines, and so on. Each faction just wants to achieve its goals, ignoring the public interest. There is no regard for the interests of others. Each faction simply will not put itself in the shoes of others.
A symptom of this polarizing culture is that meaningful dialogue between people holding different beliefs or belonging to different factions has become increasingly difficult. Members of a family could avoid talking about sensitive issues altogether, because any attempt to establish a dialogue could lead to red faces. A 2010 paper, "When Corrections Fail: The Persistence of Political Misperceptions" by US academics Brendan Nyhan and Jason Reifler found that when challenged with facts debunking various points of view, the more partisan subjects would become even more sure of their original beliefs. A 2012 joint study by scholars in Australia and the US found that pointing out the mistake in the debunked information could serve to reinforce the original lie as that is easier to do than challenge existing misinformation.
When people are like this, several things happen. First, they fight with one another, wasting precious energy that otherwise could be put to better use. As a result, it would be more and more difficult to get things done. Second, because each side wants to defend its position rather than seek the best solution, the best solution would be that much more difficult to discover. Third, violence and disruptions to day-to-day activities would become more likely. Economic activities could be disrupted. Tourists would avoid coming. Business activities would be adversely affected. Income and jobs would be lost. Fourth, investors and talents would avoid the city. When this happens, decline would accelerate, and a vicious circle once formed would be very difficult to reverse.
Thus, we need to build a culture of "seeking the commonality; preserving the differences" (qiutong cunyi) and "putting oneself in the shoes of others" (yidi erchu). With this mentality, there will be less focus on oneself or on factional interests. There will be more respect for the rights and interests of others. There will be more trust, which is the foundation of business and the essence of social capital. With this mentality, the ability of Hong Kong people as a community to work together will be enhanced. Livability will get better. Our competitiveness will improve, and achieving peace and prosperity will not be difficult.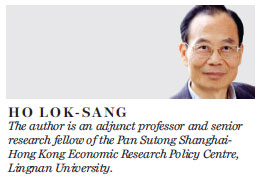 (HK Edition 10/27/2015 page9)