A Japanese war orphan's Chinese love story
Updated: 2015-09-11 08:02
By Guo Shuhan(HK Edition)
| | | | | | | | | |
| --- | --- | --- | --- | --- | --- | --- | --- | --- |
|   | | Print | | Mail | | Large Medium  Small | 分享按钮 | 0 |
He is a man of multiple identities. Born with the name Nakajima Yohachi, he was subsequently known as Chen Qinghe, Li Chenglin and Zhao Chenglin. He was a war orphan, one of the millions of victims of the Japanese War of Aggression against China (1931-1945).
Adopted by Chinese foster parents, he spent his childhood and junior middle school years in Shalan county, Heilongjiang province, Northeast China.
His adoptive mother Sun Zhenqin remarried after her husband Chen Yugui died in an accident. Later, looking to change Nakajima's hukou, i.e. right of residence, from a rural area to an urban one to give him better career prospects, Sun divorced and married again, to a man working on a forest farm.
The 73-year-old says it was "his merciful Chinese parents and other ordinary villagers who gave him a second life". He regards his life as a rare legacy that "must be noted down fairly so that Japanese people can acknowledge how kind Chinese people are".
His memoir, He You Ci Sheng (Holding On To Life), was already published in Japanese. Nakajima was keen to have the Chinese version published this year, marking the 70th anniversary of victory against Japanese fascism. He sold some items from his calligraphy and paintings collection to raise the publication costs.
Nakajima describes himself as "born Japanese, but growing up Chinese". Living in Japan for more than half a century has failed to erase a strong Northeast China accent in his speech.
His father was inveigled to join a development group being sent to Manchuria. In 1943, 1-year-old Nakajima sailed to the occupied territory with his parents and an elder sister.
Less than two years later, Japan surrendered unconditionally. Nakajima's family was among the 4,000 prisoners held in a concentration camp for two months. The weather was freezing cold and food was scarce. People died of starvation every day. Nakajima's mother begged a peddler to spirit the severely malnourished infant away and try to find a foster family for him.
The boy's foster parents cared for him very well. Nakajima says he can still sense the touch of his foster mother, rubbing his belly every morning and evening to treat his indigestion.
His birth mother and elder sister returned to Japan in September 1946, but Nakajima stayed on in China, as he had grown too fond of his foster mother.
When Nakajima turned 14 he was given another chance to return to Japan but declined once again. He had little memory of his biological parents and had long since forgotten his mother tongue. He told government officers that if he was forced to leave, he would jump out of the train.
Eventually, at 16, he did sail back to Japan in July 1958. The decision issued more out of a sense of duty to help foster the friendship between China and Japan, inspired by his favorite teacher Liang Zhijie, rather than an overwhelming desire to be reunited with his birth mother.
His hasty departure left him no time to formally say goodbye to his foster parents, an eventuality he has always regretted. He met his second foster father once, in 1976, but he can only pay respects to his foster mother and the third foster father at their graves.
Nakajima has devoted his life to promoting understanding between Japanese and Chinese people. He joined the Japan China Friendship Association as an interpreter in 1966 and later set up his own translation company.
Once when Deng Yingchao, wife of the late Premier Zhou Enlai, praised Nakajima's ability to sound like a native Chinese speaker, he proudly told her he was brought up in China.
"This (Nakajima's) memoir is unique," says Li Xin, former editor-in-chief of the SDX Joint Publishing Company, which has published the Chinese edition.
"At least 3,000 Japanese war orphans finally went back. But perhaps Nakajima is the only who dedicated himself to building a friendship between the two countries."
Li says the book is a valuable first-hand historical record. It recounts objectively, from a Japanese person's view, how Chinese people responded to suffering with benevolence.
More than 3,000 copies of the Japanese edition have been sold, most of the readers being elderly people. Nakajima says he hopes more young Japanese can read the book to get a feel for real history.
"The anguish and pain that war orphans went through ought never to be repeated."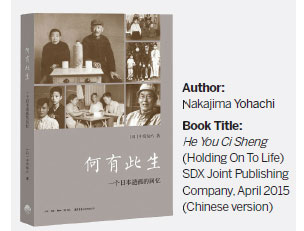 (HK Edition 09/11/2015 page11)