Education can help minorities
Updated: 2015-08-14 07:52
By Fung Keung(HK Edition)
| | | | | | | | | |
| --- | --- | --- | --- | --- | --- | --- | --- | --- |
|   | | Print | | Mail | | Large Medium  Small | 分享按钮 | 0 |
Fung Keung argues that the diminished success rate some ethnic groups experience in Hong Kong is largely due to a lack of Chinese language skills
On Aug 11, 2015 a concern group called Unison, which aims to promote minorities' rights in Hong Kong, released a report blaming society for the poverty suffered by minorities in Hong Kong. It is nonetheless unfair to blame the government or the system generally for a lack of opportunities. Unison is misguided.
Unison cited the unemployment rate of minorities, mostly Sikh Indians and Pakistanis, to prove its case. Unemployment among minorities in 2014 was 7.2 percent, double the overall rate for Hong Kong.
A lack of educational opportunities is a key factor for the poverty of minorities, the group argued. It cited a study it did recently to bring home its point. It found out that 71 percent of tertiary programs (non-degree), such as higher diplomas or associate-degree courses, are not suitable for minority students because of the requirement of the Chinese language. The picture improves to 50 percent from 71 percent if minority students can speak some Chinese (albeit without writing skills).
Unison said the lack of educational opportunities prevents non-Chinese-speaking students from pursuing what they are interested in and has limited their chances of getting high-paid jobs or even securing work at all. It seems unfair and unjustified to call this lack of educational opportunities "discrimination".
Hong Kong is a Chinese society. One cannot blame the educational institutions for asking applicants to its programs to have Chinese proficiency. If you live in London, you cannot expect Londoners to speak Chinese to you. By the same token, it is absurd to ask the University of Paris to use Chinese as a teaching medium. If you do not speak French, you simply cannot enter the University of Paris. Period.
Hong Kong's degree programs offered by the eight universities that are publicly funded by the government have crystal clear guidelines. All applicants must pass the Chinese, English, Mathematics and Liberal Studies subjects. Without Chinese proficiency, applicants will not be considered. This rule applies to Chinese and non-Chinese applicants.
Sikh Indians, Pakistanis and other minorities in Hong Kong are well advised to ask their children to learn Chinese when they are young. Sending them to Chinese schools is a smart move. They should also encourage their young to mix with Chinese friends more, such as playing basketball together or singing Chinese songs in karaoke.
There are numerous successful stories about minorities in Hong Kong. They are successful because they learned Chinese when they were young. They or their parents knew well that in order to prosper in a Chinese society, they should speak the language and stop blaming the government or the system. Such people know well that moaning is no use.
These successful people include Gill Mohindepaul Singh, an actor who is said to earn HK$800,000 a month, and comedian Vivek Mahbubani.
A Pakistani reporter with TVB Chinese news, Nabela Qoser, is the most talked about minority personality in the city. Qoser's Chinese is perfect, without any trace of an accent at all - i.e., If you did not watch her on the news broadcast, you would presume that the reporter was a native Chinese. Moreover, one cannot help noticing that there are many minority people in Hong Kong's police force.
In a nutshell, instead of blaming the system or the Hong Kong government, minorities in Hong Kong are well advised to teach Chinese to their young themselves, or send them to Chinese schools. Most people in Hong Kong believe that if one wants to excel in this city, one must speak both Chinese and English well.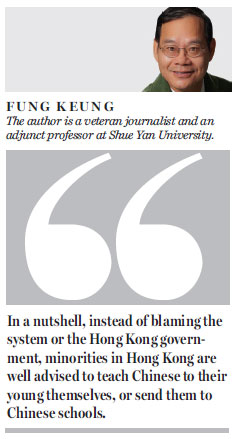 (HK Edition 08/14/2015 page9)