Ways to solve cross-border crime
Updated: 2015-08-05 08:49
By Song Sio-chong(HK Edition)
| | | | | | | | | |
| --- | --- | --- | --- | --- | --- | --- | --- | --- |
|   | | Print | | Mail | | Large Medium  Small | 分享按钮 | 0 |
Song Sio-chong argues that crimes like phone fraud can only be combated when Hong Kong gains a better understanding of the mainland legal system
Recently, Hong Kong witnessed a rise in the number of cross-border phone fraud cases. In these cases, swindlers from the mainland acted as express delivery companies. They even impersonated mainland police officers. Not only are such fraudsters able to create a sophisticated cover story, they can appear very plausible. They are also good at targeting the right victims. Their clever strategy in some cases involved roughly four steps:
First, pretending to be a mainland delivery company, fraudsters called and alleged that a parcel delivered under the victim's name contained illegal items (e.g. forged passports). Second, fraudsters forwarded the call to a police station on the mainland. This was followed by questioning. After a long conversation, the victim was told they could also be involved in another serious crime (e.g. money laundering) and that a national arrest warrant had been issued against them. Third, a copy of the arrest warrant was e-mailed to them; a police officer pretending to believe in the victim's innocence spoke to them in kind manner. But the police officer sought financial information from the victim saying this was needed for further investigation. Finally, the officer told the victim they could prove their innocence if they transferred some money to the mainland for the purposes of checking their financial records.
Hundred of local residents, including highly educated people, fell for these scams. They ultimately lost HK$27 million to such cons largely because of their ignorance and fear. The victims lacked sufficient knowledge about the legal and justice systems in mainland. Not understanding criminal law and legal procedures in the mainland, some victims did not even realize that police interrogations by telephone are extremely unlikely - as are the dissemination of electronic arrest warrants by e-mail.
Hong Kong has one of the best judicial systems in the world and a highly effective law enforcement agency. Therefore, it must have zero tolerance for such cross-border crimes. In the age of globalization, offenders can operate over large distances. International and inter-regional judicial cooperation is vital to cope with cross-border criminal activities.
Hong Kong has signed over 60 international agreements offering mutual legal assistance and transfer and the handing over of criminals. The Fugitive Offenders Ordinance (FOO) makes provision for the surrender to certain places outside Hong Kong of people wanted for prosecution, imposition or enforcement of a sentence. The Mutual Legal Assistance in Criminal Matters Ordinance (MLACMO) regulates judicial assistance in criminal matters between Hong Kong and places outside Hong Kong.
By virtue of the FOO, Hong Kong has signed relevant bilateral agreements with countries and regions such as the United States, Britain, Canada, Australia, India and Singapore - but surprisingly not with the mainland. Similarly, under the MLACMO, Hong Kong has mutual legal assistance agreements with a number of countries or regions. But this does not include the mainland.
The implications of not signing bilateral agreements with the mainland are twofold: (1) If the fraudsters escaped to Hong Kong, they might be free from being handed over to the mainland for trial; (2) Hong Kong may not assist the mainland authorities in their investigations and prosecutions. Without such assistance, it would be difficult to collect evidence, conduct searches and obtain evidence from crimes on the mainland which affect Hong Kong people.
Article 95 of the SAR Basic Law provides that Hong Kong may "through consultations and in accordance with law, maintain judicial relations with the judicial organs of other parts of the country, and they may render assistance to each other." Despite ongoing negotiations between the mainland and Hong Kong on this issue, it is unfortunate that the two jurisdictions are yet to reach a consensus. Hong Kong people should demand such an agreement.
It has been argued that the prominent obstacle is the existence of capital punishment on the mainland. Any form of international legal cooperation must be based on mutual respect of each other's legal systems. Imagine, however, a situation where two criminals conspired to murder a third party in the mainland, one of the criminals is tried on the mainland and sentenced to death, while the other one, who escapes to Hong Kong, escapes punishment. Is this situation fair?
Hong Kong people need to improve their knowledge about major developments on the mainland. In fact, similar telephone fraud cases had been reported by mainland media months before they occurred in Hong Kong. Better platforms for exchanging information will help deter cross-border crimes as well as foster mutual understanding. With or without agreements of judicial assistance, as mentioned in the Basic Law, Hong Kong and mainland police should work closer together to combat phone fraud.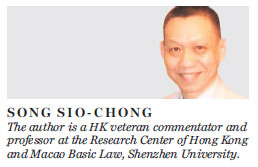 (HK Edition 08/05/2015 page8)