No-sweat offer to bring overseas degrees closer
Updated: 2015-07-16 09:36
By Deng Yanzi in Shenzhen(HK Edition)
| | | | | | | | | |
| --- | --- | --- | --- | --- | --- | --- | --- | --- |
|   | | Print | | Mail | | Large Medium  Small | 分享按钮 | 0 |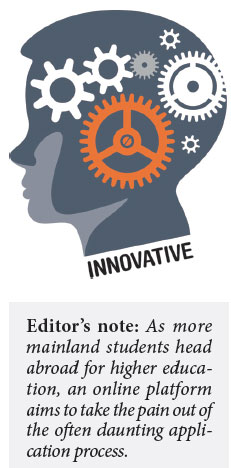 Studying abroad may no longer be a luxury for most mainland families, but getting there is hardly smooth sailing. When applying for a university place abroad, students are usually faced with two options - dealing with all the information and voluminous paperwork by themselves, or paying agencies thousands of dollars to get the job done.
Philip Hao Fei, 36, hopes to change the rules of the game in the overseas education industry. His online application platform myOffer aims to do the hard work for the students, and let the universities pay for the service.
Based on information about the candidates' educational background, myOffer will come up with a list of programs and universities, as well as the probability of a successful application for each.
Later in the application procedure, all materials required, including personal statements and necessary documents, will be vetted manually by "mentors" -international students who were once in the same situation - before being submitted to multiple universities through one click on the platform.
And the students or candidates need not pay a cent for the service. Overseas universities making successful recruitments through the myOffer platform will pay a student acquisition fee or allocate their marketing budget to it, covering the services received by students.
The partnership between the universities and myOffer, which raised Series A funding in just early July, aims to create a shorter application procedure for students.
A report by mainland education portal eol.cn estimates that the market for service fees of overseas education agencies was worth 5 billion yuan ($805 million) in 2014.
This sector accounts for only 2 percent of the whole industry revolving around overseas education, which grew to 200 billion yuan by 2014, according to the report. Agency service is merely the beginning of an overseas education value chain, and it will open up resources and consumption scenarios that connect with students and universities.
These scenarios include expenditure on rent or flight tickets during the period of study, as well as headhunting services, internship and job searches after its completion, which implies huge potential, market researchers in a report by consulting firm Ernst & Young (EY) wrote.
MyOffer aspires to tap into this field. Its plan is to start from university application services and further cover scholarship, internship, job hunting, accommodation, air tickets, student insurance and loans. Ultimately, myOffer hopes to build an online ecosystem for overseas education.
The mainland is now the world's biggest source of international students, according to its Ministry of Education. By 2014, over 3.51 million Chinese had gone abroad for study. Last year, around 459,800 mainland students went abroad for higher education, an 11.1 percent increase over the year before, latest ministry data show. However, while the number of outbound students from the mainland had been booming at a rate of 20 percent from 2008 to 2011, the pace has slowed down in recent years.
Accordingly, overseas education agencies would need to provide more personalized services to hold a better chance at winning the market, the EY researchers wrote. The report further pointed out that big data analysis will be the key to providing those kinds of services.
And myOffer is tracking well along that trend, with its background matching system backed by reliable statistics on university admission, as well as a data pool of hundreds of thousands of previous cases accumulated by the UVIC Group, myOffer's parent company and the largest immigration service provider in the UK.
"Future overseas education services will have to rely on the Internet and data mining, for there's an abundance of overseas universities and professional information," said Hao, founder and chief executive of myOffer.
As the Internet has dramatically facilitated the flow of information and hence lowered the barriers for overseas study candidates to apply directly, more are bypassing the agencies and turning to a do-it-yourself (DIY) approach in their university applications, which saves them service fees ranging from $2,500 to $10,000.
This poses new challenges for traditional agents who trade on asymmetrical information, but the information overload also often stumps DIY candidates.
Over 10,000 overseas higher education institutes from 44 countries and regions are approved by the Ministry of Education, and the various programs and courses they offer come with different requirements.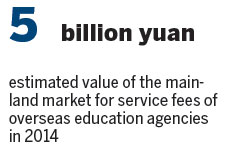 By disclosing all the admission standards of each program of the universities, even their bottom lines for admission, myOffer hopes to make the application procedure more transparent for candidates and provide them with viable options.
MyOffer will also provide multilingual versions of the service for the huge Asian market, which is how the platform hopes to set itself apart from existing overseas education services on the mainland.
A veteran in overseas education, Hao worked in the admission office at his university after he went abroad as an international student in 1999, and stayed in the field of university recruitment and immigration in the UK.
He believes that the industry is now "completely confused" about the supply and demand sides of the business, as it overrates the role of agents and redirects the focus away from the real relationships that matter to the industry.
"We are exploring the possibility of an unobstructed channel for students and universities to communicate conveniently, without any language barriers," Hao said, as he voiced hopes of weakening the role of agents in this relationship.
For Hao, one of the biggest challenges will be to provide a user experience that is better than services provided by traditional education agencies.
"Some may still think that it's more reliable to just pay if they can have someone in person handle their application. Therefore, how to provide better user experience is a question that we will continuously work on," Hao said.
iris@chinadailyhk.com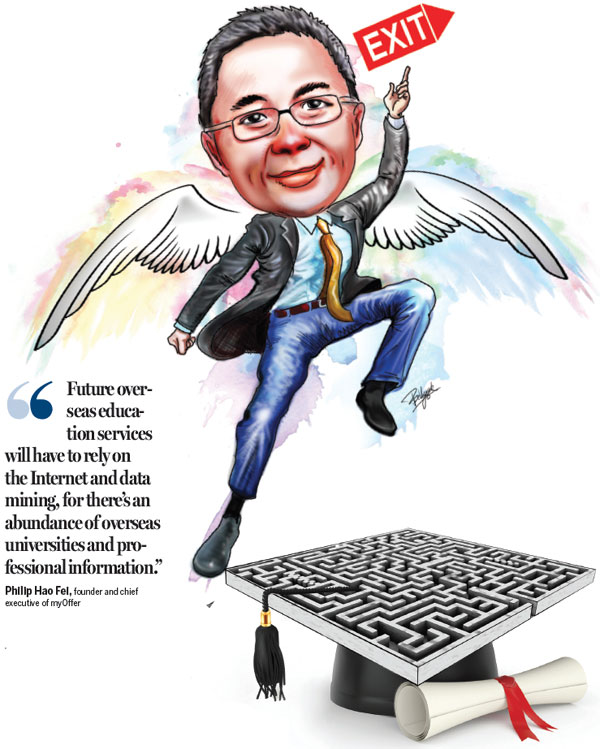 (HK Edition 07/16/2015 page17)