Future firmly in the pink
Updated: 2015-06-18 07:45
By Sun Ye(HK Edition)
| | | | | | | | | |
| --- | --- | --- | --- | --- | --- | --- | --- | --- |
|   | | Print | | Mail | | Large Medium  Small | 分享按钮 | 0 |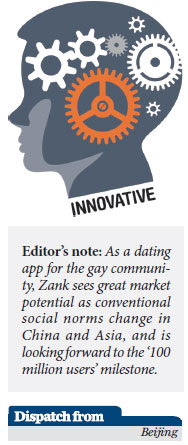 Log onto one of the most popular social media platforms on the Chinese mainland, and you must first offer detailed information about your height, weight, preferred role in a romantic relationship - as in aggressive, submissive, both, neither or undecided, about your job, whether you have a tattoo, your favorite movie, book, TV drama, sports item and pastime.
Based on your location, you will then find page after page of trending activities and interests groups nearby, as well as information on like-minded folks filtered according to their physique - as in lean, sturdy, chubby, muscular.
There is just one criterion to become a member - you must be gay.
With more than 10 million users, mostly in first- and second-tier mainland cities, social and dating platform Zank is one of the country's most popular mobile apps for the gay community.
And it is now reaching out to overseas markets as well, as Zank plans to launch a multilingual version in June, with games to be added within the summer.
If all goes well the next few years, "we could even hit the 100 million users benchmark," Zank CEO Ling Jueding said as the app marked its second anniversary.
Incidentally, 100 million is also believed roughly to be the number of gay people in Asia, accounting for 5 percent of the population.
That user figure would probably have been beyond Ling's imagination when the app was launched in May 2013. At the time, he was doubtful whether companies would reach out for business opportunities, such as the gay-themed travel plans Zank has successfully delivered since.
"I would ask myself, can we really spend that much? Will our users need such services?" Ling recalled.
The 34 year-old former employee of mainland Internet company NetEase Inc, and his nine other co-founders who shared his doubts, started the app when they found it quite unbearable that in this connected age, "there was simply no way for gays to find other gays based on the same interests and hobbies".
Of the 10 founders, nine are gay, including Ling. "Except for rare apps that offer chances of one-night stands, there is nothing to serve the long-term interests of the group," co-founder Chen Haozhi said.
So the app was launched to "serve the gays", which interestingly uses the same characters as "comrades" in Mandarin, and in the beginning drew members from a former gay community website - Feizan.com - that was also run by Ling.
By 2013, sexual orientation was becoming a less thorny topic on the mainland than 10 years before.
"Even 15 years back, news about gays used to be largely negative, always connected with AIDS and drugs," said Jiang Hui, CEO for LGBT (lesbian, gay, bisexual, transgender) information and rights website Aibai.com.
"We were working hard to right their images, reporting gay role models so those puzzled could find someone to look up to."
Back then, coming out required greater courage, doctors actually thought "wrong" sexual orientations could be cured, and the campaign for equal rights was simply unheard of.
In the last few years, though, the environment has become much more tolerant. There have even been motions brought during the two sessions in Beijing in support of same-sex marriage, upheld most notably by Li Yinhe, a prominent sociologist on the mainland.
"We are mainly working with middle schools and primary schools now," Jiang said. "Because so many kids today understand themselves early on and come out at a tender age."
"We're living a fine life today," Ling at Zank added. "And I'm sure things will get even better."
Thanks to the easing atmosphere, Zank has seen speedy growth. Their first dose of capital came from venture capitalist firm Matrix Partners China, within a week of the launch of the app.
Zank offers functions like circles of interest, and tens of thousands of online and offline activities, ranging from working out, hiking, banqueting, and so on, which draws new members. But its fastest growth was clocked when Zank released a series of online videos for the public, and traffic almost doubled.
Now, the company is known for a "how-to" series hosted by nine gay presenters - for instance, on "how to manage a perfect date", and a sitcom in the style of the US TV hit Friends - except they are the Rainbow Family.
The gay community has also grown in significance as a target consumer group in the last few years. They are more likely to be heavy spenders than straight folks, willing to splurge on skin care, travel and fitness items. A much higher percentage of gays are iPhone owners than straight men, according to a 2014 survey of LGBT consumption habits by Renmin University of China's research center for media and consumption culture, jointly with Zank.
That is why the company, as well as others trying to profit from the "pink economy", are offering tailor-made services for the gay community. Apart from "match-up" travel services, Zank is also working with immigration companies to arrange for overseas trips where gays may tie the knot.
"We know what gays really need," Ling said. "And gays are interested in a lot of things."
However, despite a newfound openness, China and most other Asian countries and regions remain different from the West when it comes to gay issues.
"In the US, gays tend to be labeled as talented or stylish, they are praised a lot," Ling said. "But in China, there is still a long way to go until gays are viewed in that light."
In the diverse social mix of the US, gay needs and rights are merged into the ecosystem of across-the-board social platforms without being singled out. Everyone could become part of a minority group someday in his life, it's only when all of society becomes understanding and tolerant to life's various possibilities that a society becomes a good one to fall back upon, Ling recently said.
Zank works with other institutions to promote diversity, including Aibai.com as well as jobs platform Lagou.com, where they promote employer sensitivity to gay rights.
China, for centuries a society that stressed traditional family values, is also going the Western way, believes Ling.
"We could become a service brand that's integrated into a whole platform," Ling hopes. "But we will always be 'serving the comrades'," he emphasized. "And if you win over hearts, you win everything in the world."
sunye@chinadaily.com.cn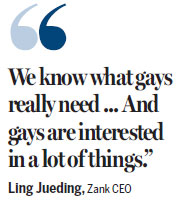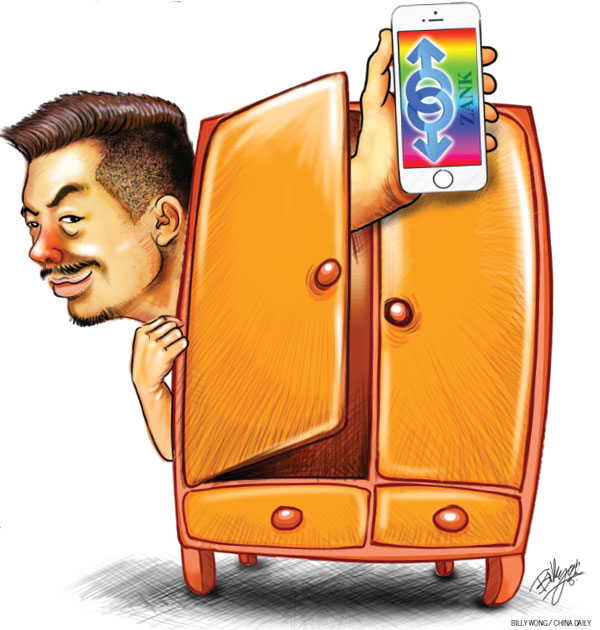 (HK Edition 06/18/2015 page8)