Fishing in troubled waters
Updated: 2015-06-16 08:56
By Wang Yuke(HK Edition)
| | | | | | | | | |
| --- | --- | --- | --- | --- | --- | --- | --- | --- |
|   | | Print | | Mail | | Large Medium  Small | 分享按钮 | 0 |
Should fish lovers switch to the organically farmed variety to protect their health? A report by Wang Yuke.
Health experts are becoming increasingly concerned over potential health risks posed by farmed fish that comprise 80 percent of the seafood eaten in the city.
As wild stocks plummet from overfishing, local food supplies cannot ignore the importance of aquaculture.
Experts like Wong Woon-chung, professor at the Department of Biology at Hong Kong Baptist University (HKBU), says Hong Kong's inspections of seafood imported from fish farms in Malaysia, Indonesia, the Philippines and the Chinese mainland are dangerously inadequate, placing consumers at risk to a Pandora's Box of toxic compounds in the fish they eat.
Contaminants likely to be included in poorly regulated farmed fish may include heavy metals, pesticides, and antibiotics, says Wong.
"The government must realize that farmed fish are poorly managed in Southeast Asian countries and the Chinese mainland. These are two main sources of fish eaten in Hong Kong. Water pollution in Indonesia, Malaysia and the Philippines is getting worse," says Professor Wong.
Hong Kong lags far behind other regions in its inspection policy. A 2011 study by Johns Hopkins Center for a Livable Future found that in the European Union, 50 percent of imported seafood was inspected. Japan examined 20 percent of incoming farmed fish and Canada 18 percent.
In Hong Kong, the amount of imported seafood being inspected is minuscule by comparison, says Helena Wong Pik-wan, a lawmaker on the Legislative Council's Panel on Food Safety and Environmental Hygiene.
Helena Wong said that only 2,400 seafood samples were inspected between 2010 and 2012, an average of 1,200 per year.
In 2012 alone, about 11, 500 tons of live shellfish were imported to Hong Kong.
"The import figures speak to the fact that we test too few incoming aquatic products," Helena Wong complains. "The exact percentage is unknown, but it may well be under 1 percent," she tells China Daily. Wong said the government dodges releasing the fact.
The Centre for Food Safety adopts a different method calculating its food sampling rate. Its monthly reports show that Hong Kong takes on average 9.3 samples per 1,000 residents, while in Canada, the number is 1.15, in Germany 0.06, South Korea 2.3, and the UK 1.9. The claim, therefore, is that Hong Kong maintains a higher sampling rate for food products than other places.
Marine products importers are required to obtain an official certificate issued by the food authority at the place of origin before entering Hong Kong. "Our government has too much confidence in certificates granted by the source countries, unaware that regulations in those places might be lax. That could leave uninspected products filtering into our markets."
HKBU professor Wong Woon-chung agrees with legislator Helena Wong that more inspections are needed, saying that imported seafood products from fish farms are likely to become increasingly contaminated.
Swimming in their own feces
Too many farmed fish are cramped together in sea pens. Their feces drop to the bottom of the pens. Without proper control and irrigation, fish may swim in their own feces. They are fed antibiotics to prevent the spread of infections such as kidney disease - swollen kidneys and an accumulation of bloody fluid in the abdominal cavity.
"Farmed fish might live in an environment where antibiotics residues are present," Professor Wong says. "The waste treatment systems in many Southeast Asian countries are so simplistic that chemical additives and toxins may be left in the waters. In Malaysia, the Philippines and Indonesia, many industrial waste discharges are near the coast where sea-cages for fish farming are located. Only large solid waste is removed. The waste residue is deposited directly into the coastal waters," he explains.
"Misuse of antibiotics can assist un-killed 'bugs' to develop resistance to antibiotics," says Kevin Kwok Wing-hin, a member of the Food Safety and Technology Research Center and research assistant professor of Applied Biology and Chemical Technology Department at Hong Kong Polytechnic University.
Misuse of antibiotics may also entail unintentional consumption of un-prescribed drugs.
"Ingesting antibiotics in food could give rise to bacteria called superbugs, which are resistant to antibiotics and can grow exponentially in our bodies," says Wang Ming-fu, an associate professor at the University of Hong Kong specializing in food chemistry and toxicology.
Ingesting chemical waste
About 90 percent of freshwater fish consumed in Hong Kong are fish farmed in ponds in the Chinese mainland, according to the Agriculture, Fisheries and Conservation Department's (AFCD) annual report in 2010.
"Many pond systems in the mainland are near industrial zones," says Professor Wong. "Chemical waste is unscrupulously discharged into nearby waters. High concentration of heavy metals has been repeatedly detected in Chinese Grouper."
Legislative councilor Helena Wong registered her concerns over widespread use of antibiotics in mainland aquaculture. She said she had submitted a letter to the Centre for Food Safety in Hong Kong, urging them to exercise closer scrutiny in the farming practice and quality of water on the mainland, which went unanswered.
Pesticides widely adopted to prevent the spread of sea lice can also infect the fish.
Farmed fish are potentially exposed to heavy metals from industrial waste; polychlorinated biphenyls (PCB), which serve as a flame retardant; and seaborne plastic residues in near-shore environment, which act as magnets that absorb contaminants.
In Southeast Asian countries, professor Wong reveals, many waste particles remain improperly burnt due to incomplete combustion by illegal incinerators.
They are the main culprits of chemical contamination in sea cages because those improperly burnt particles, such as PCBs, float in the air and are eventually deposited in coastal areas, which are home to farmed fish.
The US Environmental Protection Agency specifies that babies born to women who consume PCB-contaminated fish would show abnormal motor behaviors and decrease in short-term memory. Immune effect of PCBs has been studied on monkeys. Infant monkeys are shown to develop smaller size thymus gland, which hints at decreased ability to fend off pathogens. The most likely way infants are exposed to PCBs is through breastfeeding.
"Animal studies reveal that exposure to PCBs may affect the thymus gland secretory system, debilitating the immune system of the rat. This is especially true in juvenile rats that haven't matured. Their hormone production becomes eccentric," says Kelvin Kwok.
"If these toxins cause problems in fish and mammals, we can consider them to be a risk to us," says Jo Ruxton, co-founder of Plastic Oceans Foundation in Hong Kong.
A spokesman for the Centre for Food Safety admits that there is no specific regulation on PCBs in foods stipulated in the laws of Hong Kong.
A lethal combination
Microplastic pollution (plastic particles measured at less than 5 mm) in marine waters presents another problem. Aside from chemicals inherent in plastic, plastic debris attracts chemical pollutants from the surrounding marine environment. "They attract chemical pollutants like a magnet. They do not react with it but sorb it," explains Ruxton.
When plastic fragments are consumed by fish and invertebrates such as oysters and clams, pollutants bound by plastics can be absorbed into their bodies, pass through the bloodstream and stored in body fat, says Charles Moore, a marine scientist specializing in plastic pollution. "This makes the pollutants accessible to humans who eat the seafood," says Moore.
"It has been found that one small plastic fragment can have up to 1 million times higher concentration of toxins than the ambient seawater," Marcus Eriksen tells China Daily. Eriksen is a research director of The 5 Gyres Institute, an organization aimed at addressing marine plastic pollution globally.
"The precise implications of those toxins on humans are not known, but the likely result would be a slow, prolonged and constant impact, similar to air pollution. It may not hurt you immediately, but the cumulative impact over time could cause serious health problems," warns Doug Woodring, co-founder of the Ocean Recovery Alliance.
Ruxton explains, "Fish cages are set in areas where there are few currents, so that the structures are more stable. Therefore the water will not be replenished and circulated as it would be in the open sea. Cages are closer to the coast, where the sources of outfalls and land-based pollution are. So, the farther from the coast, the cleaner the water should be."
Professor Wong says wild fish are less likely to be affected by discharge from waste water treatment facilities because they live in waters far from coastal areas.
In reality, however, less than 20 percent of fish served in Hong Kong are taken from the wild, says Lee Choi-wah, chairman of the Hong Kong Chamber of Seafood Merchants Limited.
Aside from intensifying surveillance on the government's part, "organic fish may be another alternative," says Professor Wong, also chairman of the Certification Board Members of Hong Kong Organic Resource Centre. "We have organic fish ponds in Mei Po and Deep Bay in Yuen Long. The first principle for farming organic fish is relatively clean water. All ingredients in feed are organic, including organic corn and small fish reared in sustainable fish grounds."
Fish are sparingly rationed, hence less excreta. "Fish are saved from breathing in their own feces, instead, the feces become a source of nutrients for zooplanktons," Professor Wong says.
To reduce the chance of spawning infections, 6,000 to 10,000 fish are placed in a one- hectare pond, compared with up to 20,000 fish in a conventional fish farm.
But organic fish have not been widely appreciated by Hong Kong consumers, partly because it typically costs two to three times more than conventional fish.
Nevertheless, Professor Wong still perceives organic fish market as promising, given several advantages over conventionally farmed fish.
Contact the writer at jenny@chinadailyhk.com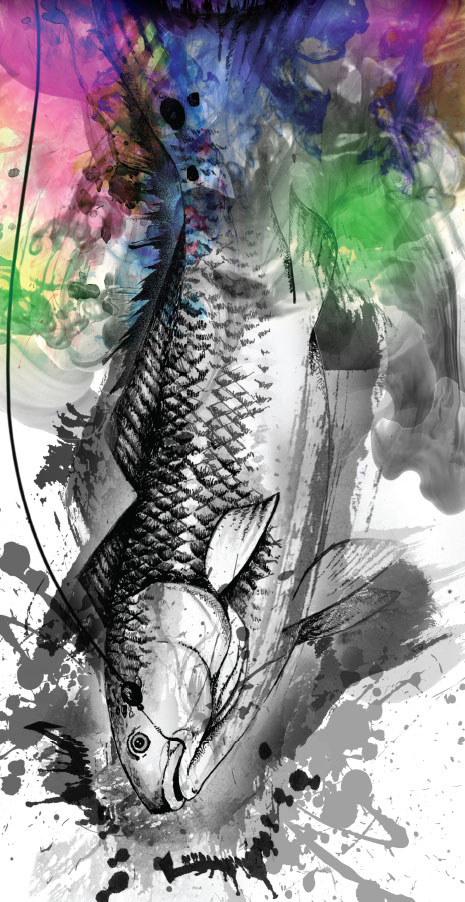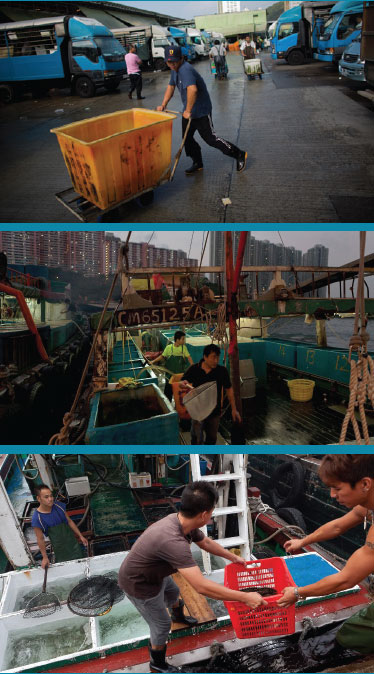 Fish stocks are transferred from boats to storage tanks, ready on sale in the Aberdeen Wholesale Fish Market.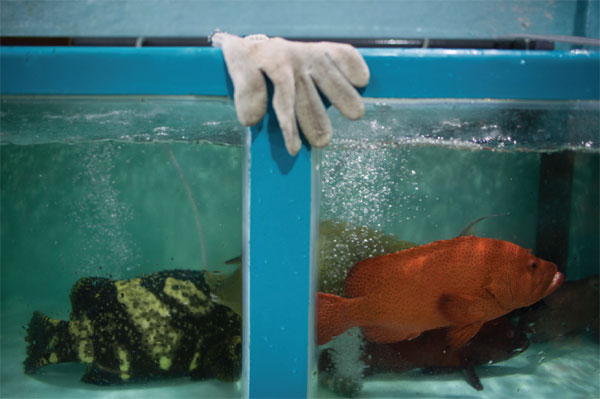 The majority of seafood consumed in Hong Kong are farmed fish. Photos provided to China Daily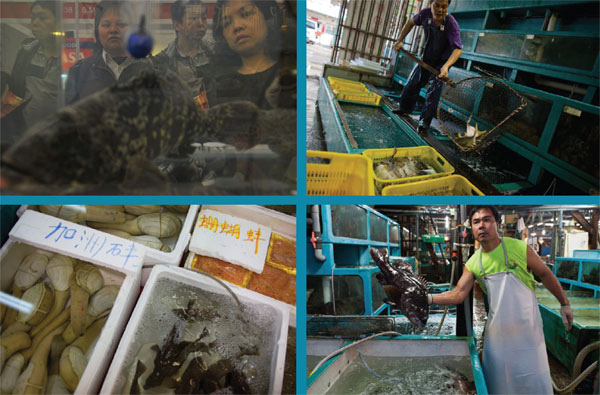 Inspection rate on imported aquatic products is unproportionately low in Hong Kong.
(HK Edition 06/16/2015 page8)