Mainland credit-rating network takes shape
Updated: 2015-06-09 07:18
By Chai Hua in Shenzhen(HK Edition)
| | | | | | | | | |
| --- | --- | --- | --- | --- | --- | --- | --- | --- |
|   | | Print | | Mail | | Large Medium  Small | 分享按钮 | 0 |

Welab, a Hong Kong-based company providing online lending services, developed a risk control system called "Wedefend", using proprietary big-data analytics technology to assess risk, creditworthiness and interest rates. Asia News Photo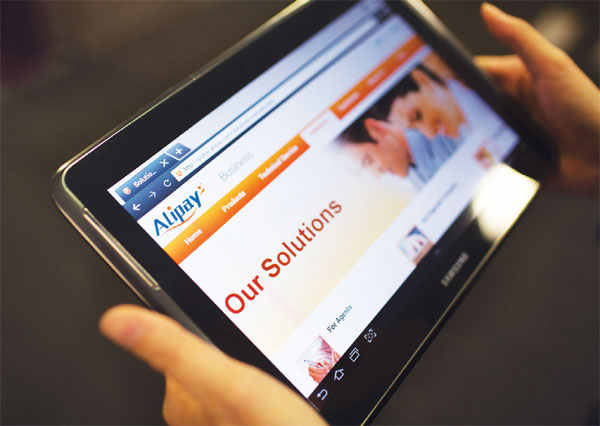 As online financing burgeons on the Chinese mainland, so is the credit-rating market. Some Internet finance platforms have introduced various new credit-rating measures to control operating risks. Brent Lewin / Bloomberg
Alibaba Group Holding Ltd's Sesame Credit Management ran a nationwide public beta of its credit-rating system last Saturday in what's seen as a vital step to commercialize the mainland's credit-rating system since the central bank gave the green light to eight private firms to provide personal credit reference services earlier this year.
The People's Bank of China's Credit Reference Center (CRC) is the mainland's official credit-rating system for both company and individual users, and its reports are based on personal information, loan records and other economic activity in finance organizations.
Sesame Credit, however, also uses other data to calculate the scores, such as a person's hobbies, interaction with friends, shopping habits and lifestyle.
These are people who have been largely left out by banks' traditional credit-rating methods, especially students, low-income workers and those who have never borrowed from a bank, according to Deng Yiming, director of Sesame's business development.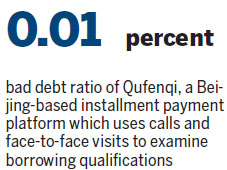 It is reported that Sesame adopted an international credit-rating method with a scale of 350 to 950 points, based mostly on their data on AliPay.
A higher score means a better credit history, which can make borrowing easier and carries with it added benefits.
People with 600 points above can use a shopping-credit system called "Just Spend" which allows users to take out a loan of less than 5,000 yuan ($805.9) when shopping on Alibaba's online market place Taobao. Those with more than 666 points can take a cash loan of up to 50,000 yuan.
The company launched ist "credit VISA" service last weekend, expanding the application range of its rating system. Users with more than 750 points can apply "credit VISA" to Luxembourg and those with 700 points can apply to Singapore, without requiring incumbency certification, hukou and other documents.
Sesame has also teamed up with peer-to-peer (P2P) lending companies which are starting to make use of big data analysis to control risks.
Simon Loong, founder and chief executive officer of Welab - a Hong Kong-based company providing online lending services - thinks that big data alone is not enough in the mainland's complicated Internet financing market.
Welab too launched its P2P lending platform in China in September last year, and has attracted loan applications involving more than 50 million yuan.
Before taking the plunge, Loong conducted a thorough study of the new market environment and concluded that risk control is a vital factor in his business.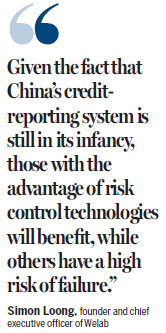 "Given the fact that China's credit-reporting system is still in its infancy, those with the advantage of risk control technologies will benefit, while others have a high risk of failure," he said.
To cope with the verified population on the mainland, they have started to explore "smart data" analysis. "Smart data can reveal casual relationship, an important factor for risk control, but big data analysis can't," Loong said.
Welab developed a risk control system in Hong Kong called "Wedefend", using proprietary big-data analytics technology to assess risk, creditworthiness and interest rates.
He said some major elements have been improved to adapt to the mainland market, especially data source.
"The basic concept is identical, but we also made some major modifications," Loong said.
"The difference lies in the data source, which is much more diversified on the mainland. We will look into mobile data, personal behavior, transactional and consumption data."
Moreover, they've carefully chosen college students, a homogeneous group, to run the first product and limited its initial foray of no more than 6,000 yuan.
One advantage of this group is that the students have "a lot of data online", while a maximum 12-month term ensured that repayment became due before graduation.
"A qualified client source is a better risk-control method than a high penalty," said Loong. The company's penalty for those who fail to pay the payment on time is only 100 yuan each loan.
Besides data mining, there are other alternatives. Qufenqi, a Beijing-based installment payment platform also targets university students, using calls and face-to-face visits to examine borrowing qualifications.
It seems that the method worked because its bad debt ratio is only 0.01 percent - much lower than the industry average.
Li Zhigang, vice-general manager of Shenzhen-based P2P lending platform Touna.cn, believes that such a model can't support a long-term development. "A smarter move is to rely on a systematic, standardized and digitalized model to control risk," he said.
Li's company has begun using big data to establish a "black list" of applicants and is working hand in hand with a credit-information service company. No matter which method a company adopts, the mainland's Internet financing industry is attracting greater attention because of its huge market on the mainland. The P2P market alone was estimated at $48 billion in 2014.
"Thirty-six percent of mainland people had borrowed money in the past 12 months, but only 9 percent took a loan from banks," said Loong. "The rest turned to other sources, such as friends or families."
As Internet financing is burgeoning, so is the credit-rating market. Industry experts estimate the market size of the mainland's personal credit reference at above 100 billion yuan although its current size is only about 200 million yuan.
grace@chinadailyhk.com
(HK Edition 06/09/2015 page1)