HK's future hinges on reform
Updated: 2015-06-03 08:01
By Kerry Brown(HK Edition)
| | | | | | | | | |
| --- | --- | --- | --- | --- | --- | --- | --- | --- |
|   | | Print | | Mail | | Large Medium  Small | 分享按钮 | 0 |
Kerry Brown argues that in the increasingly competitive environment which HK is operating in, a governance system which provides stability and confidence is vital
Editor's note: This is the second of a two-part series. The first part looks at the electoral reform package and what its proposals are. This second examines how Hong Kong people can now engage with this process in the coming decade.
The world might be becoming flatter, but it is certainly becoming more competitive. Everyone wants to have a service-based, high-consuming economic model. Everyone wants companies like Apple or Microsoft.
Hong Kong currently has a tactical advantage. Part of this is geographical: It is located in the same region as the two emerging economic super players - the Chinese mainland and India. But part of it is also because of an accident of history. Its period under British control at least allowed for the creation of a good legal and institutional infrastructure. Hong Kong's legal transparency and the predictability of its regulatory environment are the things that still make it perform well even in a world where everyone else is trying to achieve the same service sector dominated by high per capita GDP structure that Hong Kong currently has.
Nothing lasts forever, however, and Hong Kong is now moving into an era where it will come under almost constant competitive pressure. Geography and history are partly products of luck. But now the city has to move beyond merely relying on good fortune and start to use its wits and skill.
The current advantage the city has in terms of trading in RMB, or listing mainland companies, will fade as the years go on, and the mainland economy opens up more to the rest of the world. This is not a case of if, but when. And it could happen quickly. RMB could be liberalized within a decade. Then Hong Kong's mediating role will be dramatically changed. It will need to look at other areas to maintain its prowess. Hong Kong business people and politicians may look back on this era as a kind of golden age when there were still things that the city could control in terms of access to the mainland economy.
In that context, the political changes proposed in April for universal suffrage in 2017 are even more significant. If the chance is passed up now to embrace at least moderate reform, then there may not be another moment.
In an ideal world, many in Hong Kong sincerely expected a different outcome for the proposals for the 2017 Chief Executive election. But this is evidently not an ideal world. Rather than looking at the negatives, Hong Kong legislators need to imagine how candidates selected by the Nominating Committee can help build up a culture of civil, sustainable political debate in the city. At the very least three individuals will have the chance to canvas public opinion and get directly voted by the public. And in a decade, if this system works, then there is reason to believe that more reforms can be made, so that the role of the Nominating Committee might be modified.
If the current system is maintained because the Legislative Council is unable to pass the new proposals into law, while there might be victorious feelings by the opponents today, quite soon these might transform into a feeling of missing an opportunity. Good politicians usually spot opportunities others don't see. They take what looks unpromising, and they mould and develop it so that surprising outcomes happen. With some imagination, the 2015 proposals on electoral reform offer more than what is immediately apparent. But it will need intelligence and skills to unleash this latent potential.
And this is not just about political issues. In the competitive environment in which Hong Kong increasingly needs to operate in, it needs a governance system that provides stability and confidence, both within the city and internationally. It needs leaders who enjoy a strong mandate so that they can help the city navigate through a tough transition as it re-evaluates its role and redefines where its real attributes are. Hong Kong's political leaders in the next decade will have to have good instincts to spot changes before they happen, and then to guide different constituencies of the city in ways that allow them to adapt to these changes. This will be a huge challenge.
The proposed system at the very least allows political leaders to have a stronger basis on which to make decisions and to speak to the public. If the current system remains in place, it threatens to bring weak leadership, and the real chance that Hong Kong will be placing itself in a vulnerable position at the very moment when it needs to prepare for tough times and the making of some hard decisions. If Hong Kong does not seize this opportunity, it will not just be a pity for the city, but for the world outside, and Hong Kong people will likely live to regret it.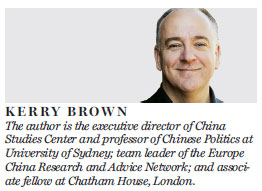 (HK Edition 06/03/2015 page12)