Meeting of true minds
Updated: 2015-05-29 07:44
By Chitralekha Basu(HK Edition)
| | | | | | | | | |
| --- | --- | --- | --- | --- | --- | --- | --- | --- |
|   | | Print | | Mail | | Large Medium  Small | 分享按钮 | 0 |
Andrea Morricone, the co-creator of the immortal love theme from Cinema Paradiso, will conduct a concert featuring clarinetist Seunghee Lee tonight, in aid of distressed and disadvantaged people. Chitralekha Basu reports.
Taking up golf reconnected Seunghee Lee with a near-forgotten passion - playing the clarinet. Lee, a Korean-American, had trained at the Yale School of Music. Her debut album Brava was released by Summit Records in New York in 2000, and made it to the "Top 30 Classical Stars under 30" list of KDFC classical radio station, San Francisco.
And then she gave up playing in public. As her obsession with attaining zero-error perfection grew, Lee kept falling short of her own expectations, even as her obvious merits as a clarinetist had been acknowledged by the very people who set the benchmarks in the industry. Highly-acclaimed music magazines, noted orchestras, such as the Jupiter Symphony of New York and the Yale Philharmonia, with whom she played; high-profile judges of international music contests - Leonard Slatkin, for example, who awarded her the top prize at the Saint Louis Symphony Young Artist Competition - acknowledged Lee was indeed a fine performer. Lee herself, however, was feeling frustrated that she could not do more and grow - from being part of an orchestra ensemble to a solo player able to give sell-out concerts on her own strength.
Marriage and motherhood happened. Lee left the US to relocate in Hong Kong with her husband. The clarinet had to be put away as her duties as mother and homemaker took precedence.
That was until she tried her hand at golf. "In golf the goal is to get the ball into the hole, doesn't matter how you do it," said Lee, who reached a single-figure handicap in just two years and captained the Clearwater Bay Golf & Country Club team from 2012 to 2014. "So I thought if I had a goal if I could make a difference to people's lives by using my music as a tool, I would have scored."
She picked up her instrument again, after a decade-long hiatus. The Concert for a Cause charity event, on tonight at Hong Kong Academy of Performing Arts, is the culmination of a series of similar events Lee hosted and played at to support different charities in Hong Kong. As she prepares to wind up from Hong Kong and move back to the US - after a nine-year stay here during which her life went through several paradigmatic shifts, including going from competitive to compassionate, as regards her music - Lee has mounted a valedictory concert, in aid of five charities she had supported on earlier occasions. It's an opportunity for charities working towards ensuring food, healthcare and dignity to people, especially children, from some of the most disadvantaged and under-privileged economies of the world, to "be introduced to each other's missions, share each other's vision, through music, from a shared platform", as Lee puts it.
She has pulled off a coup of sorts in getting Italian music composer Andrea Morricone to arrange some of his compositions to be played on the clarinet. The connection with the maestro happened quite by chance. When Michela Bardotti, who runs Missione Possibile - a funding agency to support upholding of fundamental rights in Myanmar, Cambodia, Laos and Haiti - heard Lee play the love theme from Cinema Paradiso at one of her charity concerts, she offered to put her in touch with Morricone who had composed the much-celebrated piece with his illustrious father, the legendary Ennio Morricone. Lee sent Morricone junior a recording of her rendition of the ever-familiar composition. Morricone was impressed enough to agree to arrange the original piece to be played on clarinet, cello and piano. It got even better when he accepted the invitation to come all the way to Hong Kong from his base in Santa Monica, California, to conduct the Concert for a Cause charity gala and also play a piano solo item in it himself.
Getting Morricone to arrange one of his most generic compositions for the clarinet "was like a dream come true," says Lee, "especially given that the piece had got me through so many difficult times". She remembers getting past a gamut of emotions buoyed by the endearing sentimentality of the track. "It got me through so many difficult times. It's taken me through solace, comfort and hope."
Reinventing with respect
When the audience hears this timeless composition tonight, they better be prepared for a few surprises. Maestro Morricone has arranged quite a few of the oft-heard numbers - La Festa from the film L'Industriale, Deborah's Theme from Once Upon a Time in America, Gabriel Oboe from The Mission, among others - especially to be played on the clarinet and two pianos, a bit of a departure from what one hears in live concerts.
Maestro Morricone says an element of the unexpected is intrinsic to each new rendition of even the most iconic pieces he arranges and conducts. "If I didn't have the chance to leave my personal imprint on it, I wouldn't do it in the first place," he says. For instance, an arranged version of the immortalized track from Cinema Paradiso "has a counter-melody and plenty of other elements that are not in my father's score," says Morricone. "The fast run of the woodwind, for example."
"The score is totally reinvented but there is also total respect for the beauty of the original. For I believe it is important to be aware of the beauty and be thankful for what we have."
It's a visual treat to watch him translate the nuances he has added to an existing score, express the movement of music through a passionate and animated physical demonstration. "Towards the end the clarinet stays only with the strings, in B Flat. The woodwind and brass stop playing. Only the strings hold the music," he says, visually recreating the feel of the dying notes in the love theme from Cinema Paradiso arranged for an instrumental solo. "I turned off all other instruments, creating an emptiness. If you can't use the contrast between sound and silence, you are not much of a composer."
Hymn to Faith is a composition that features in his repertoire rather frequently these days. It's a piece Morricone composed in his restless youth, and left like that for a long time, unperformed. He returned to it 15 years later, a more secure, self-assured and grounded man than he was when he wrote it. "It's the world's acknowledgement of my work that brought me back to this piece and through it to God. For God, to me, signifies the will to give love to other people - an opportunity to contribute to a charity such as Concert for a Cause."
Lee calls her meeting with Morricone - "a mum from Hong Kong and a legendary music maestro from California" - the result of a stellar alignment. But then it's perhaps not so extraordinary for people with their hearts in the right place to find each other.
Contact the writer at basu@chinadailyhk.com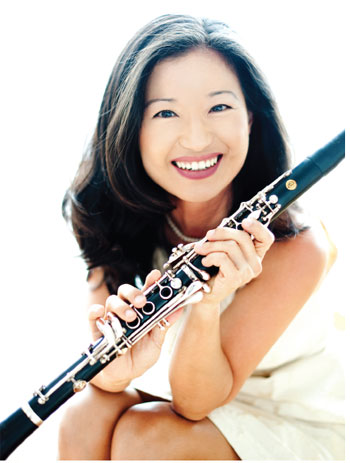 Seunghee Lee was inspired to give public performances when she discovered these could help raise funds for charity. Provided to China Daily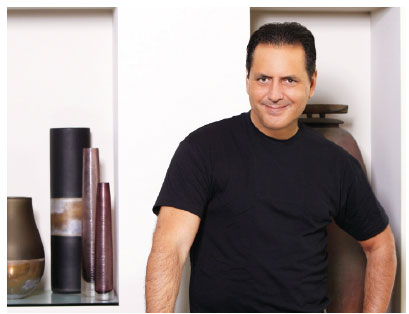 Andrea Morricone has arranged ever-familiar compositions especially for the clarinet for the Concert for a Cause gala. Provided to China Daily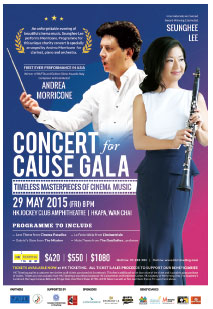 (HK Edition 05/29/2015 page7)