Just don't let the sparks fly
Updated: 2015-05-28 08:51
By Deng Yanzi in Hong Kong(HK Edition)
| | | | | | | | | |
| --- | --- | --- | --- | --- | --- | --- | --- | --- |
|   | | Print | | Mail | | Large Medium  Small | 分享按钮 | 0 |

Somewhere deep in the forests of Guangdong province, "Big Brother" is watching - over every single tree within its radius.
Shaped like a surveillance camera, it's, in fact, a sharp-eyed robot to detect wildfires.
There were nearly 4,000 forest fires on the mainland in 2013, according to the State Forestry Administration of the People's Republic of China, while catastrophic wildfires recur and cause extensive damage in other countries, including Canada, the US and Australia.
But, a complete eradication of hill fires, it seems, remains a formidable task.
The wildfire detection robot, developed by Hong Kong-based Insight Robotics Ltd, is designed to save forests by spotting sparks within the shortest possible time and alerting the fire authorities timely and accurately before the situation gets out of hand.
Running on an artificial intelligence-based system, the thermal and smoke-detecting device can spot a fire as small as 2 square meters - the size of a single tree - and transmit the signal to the control center within half a second.
What makes it a robot, rather than a regular surveillance camera, is its ability to think and learn.
Rex Sham, 30, co-founder and technology head of Insight Robotics, explains that a camera only provides images and footages that require human perusal, but a robot can replace man's role and takes on the task of examining the data and analyzing the scenario.
For instance, by learning the pattern of the smoke from burning crops, the robot is able to rule out similar incidents as threats and hence eliminate false alarms, he says.
More than 70 wildfire detection robots have been installed on the mainland, mainly in Guangdong, where the robot was tested and modified time and again during the research and development (R&D) process.
When Sham and Kevin Chan founded Insight Robotics in 2009, Sham was worried about the market's acceptance of robots, and spent two years exploring market opportunities.
"Apart from manufacturing robots in the automobile industry, there were so few robots operating in the world that were helping humans in daily life. When we wanted to push a robot into commercial operation, we needed to do a lot of analysis," he recalls.
The strictly budgeted forestry industry caught Sham's attention. The forests relied heavily on human observation or satellites that are too ineffective or costly, and Sham believed that he could offer a cost-effective solution for the industry.
For a start, Sham cold-called the Guangdong Forestry Administration for a meeting. Insight Robotics didn't even have a prototype then. All they had was a power-point slide to illustrate their ideas, Sham says.
Surprisingly, the power-point slide won the support of the forestry department, which later referred them to the Guangdong Academy of Forestry. It was the turning point - it led to intense R&D collaboration between the company and the academy.
The R&D process, initially scheduled to finish in nine months, eventually took three years and used up all investor money. But, after countless tests and modifications, hard work eventually paid off when the robot was completed in 2013.
Insight Robotics is now recognized as one of Hong Kong's most promising startups. It secured an extra $2 million from its Series-A financing round last October after having raised a similar amount from a local angel investor.
The company continues to grow in the fast lane. Sham's robots will soon make their debut in Mexico and Indonesia. The firm is also in active contact with the forestry department in Australia, where bushfires are commonplace.
Sham is also aiming high for the sky. Insight Robotics plans to launch an unmanned aerial vehicle (UAV) by the end of this year, which will be used to monitor farmlands for information on irrigation, invasion of insects and diseases.
The company aims to work as a service provider to its clients rather than a drone vendor.
The model spares end-users the hassle of operating the machines, he says, adding that UAVs, as well as robots, are essentially data collectors and analysts in the current big data era.
"Monitoring reports and the location of infected areas is exactly the type of information that's valuable to farmers. That's the essence of the big data age that we can just buy data we need," Sham believes.
iris@chinadailyhk.com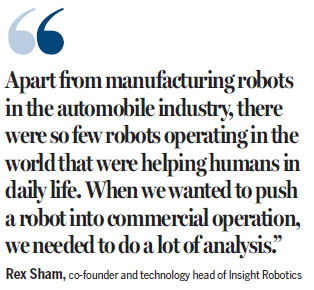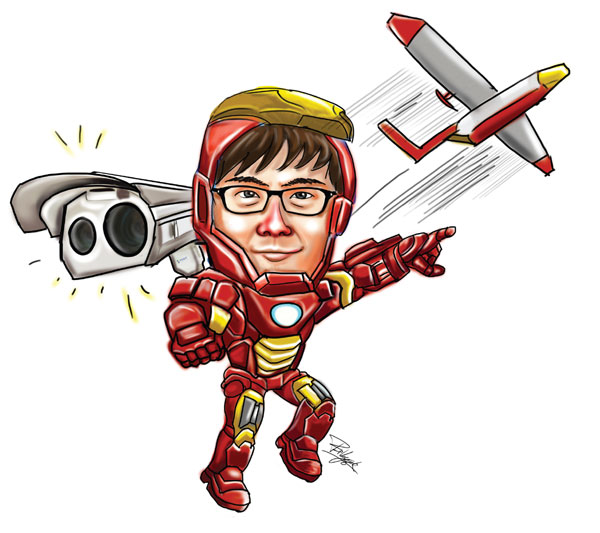 (HK Edition 05/28/2015 page9)