Alone on a Lonely Planet
Updated: 2015-04-30 07:22
By Evelyn Yu(HK Edition)
| | | | | | | | | |
| --- | --- | --- | --- | --- | --- | --- | --- | --- |
|   | | Print | | Mail | | Large Medium  Small | 分享按钮 | 0 |
Chow Chung-wah was aspired to become a travel writer after watching women being abused in certain cultures, hoping to lift the veil over the roads less-traveled. Evelyn Yu met her.
It happened in a busy street in Quetta, Pakistan. For a while a woman in a burqa was following a man several paces in front of her, maintaining a respectful distance. Suddenly the man turned, came over to the veiled woman and beat her up mercilessly. The people on the street stared at the spectacle without emotion - all except for Chow Chung-wah.
The pitiful scene proved a watershed moment for Chow, a law school graduate from the University of Hong Kong (HKU). She was itching to intervene and stop the brutality but caution held her back. Chow realized her intervention would be futile and could compromise her own safety. She was far from home, experiencing another culture and that's what she had intended to do, when she set out to fulfill her dream of many years, to travel the old Silk Road.
During her seven-month journey, she crossed the Caspian, Aegean, and Mediterranean seas and traveled through eight countries. The brutality she witnessed in Pakistan inspired her to become a travel writer. She planned to write about the things she saw, hoping to inspire compassion and respect for fellow human beings in her readers.
Before reaching Pakistan, Chow had befriended a young woman in Azerbaijan - an English teacher. The woman was otherwise friendless and unable to find a husband. The people of her community despised her. It was widely assumed she was using her English skills to seduce foreign men.
"I know I could not really help, but writing about it might be a way of letting other people know and become conscious of these things," Chow said.
In pursuit of her noble ambition, she wrote a travelogue called "A journey that started from the end of the Silk Road".
The travelogue led to freelance assignments for CNN and the BBC. Most of her work however, was for Lonely Planet, the world's largest publisher of travel books.
Green crusader
Her journey began in 2000, right after she graduated from HKU, with a penchant for "green causes". She went to work for Greenpeace in Hong Kong. As a project officer for the environment group, she pitted herself against corporations whose drive for profit precluded concerns about the environment. They polluted rivers, dumped toxic waste in the ocean and stunk up the air.
She's proud of having lived the rugged life of a field operative - traveling to severely polluted places, collecting water samples and reporting her findings directly to local governments. When the local authorities refused to cooperate, she would take her case to the media.
She described a scene near Qiaotou town, in Dongguan, Guangdong province, where she came to a river surrounded by farms laid out in grids. Filthy, unprocessed waste water was being spewed directly into the river from drain pipes outside factories.
"The water was totally black," Chow recalled. She saw farmers working amid the reeking odor, emptying the squelchy liquid by the buckets on the crops. They had no alternative. The crops were parched.
Chow followed the stream to its source - Dongjiang River - and found herself in a serene, natural environment, where limpid water meandered through. It is the source of most of Hong Kong's potable water, where water quality is carefully tested.
"How unfair," she had thought at the time.
Working for Greenpeace fueled Chow's hunger to travel. She saved up $4,000 and quit - her next journey was to be down the Silk Road.
Chow loves history and ancient culture. She likes to pore over old maps to discover locations now abandoned and forgotten, and visit places that have proven fertile grounds for writing vivid travel pieces.
In a column for CNN, she wrote about a place 10 kilometers southeast of the city center of Quanzhou, Fujian province. There is a village called Xunpu. Chow related how middle-aged women clad in old-style pink floral tunics and loose black trousers twisted their hair into a chignon or a bun, and decorated it with colorful flowers. Chow explained women there would spend more money on floral decoration than on food. It's not vanity, Chow said, it's because the women believe if they are attractively attired, their seafaring husbands will find their way safely home.
During her visit to the village, she bought what she described as the tastiest oysters in all of China, for a mere 20 yuan ($3.2) per plate.
Curious about the world
Chow is one of the veteran contributors to the Lonely Planet travel guides. The 200-odd freelancers writing for the travel guide have a day job varied from lawyers to vacuum cleaner sellers. However, Megan Eaves, Lonely Planet's North Asia destination editor, says the contributors all share a "strong curiosity about the world".
Chow admits that writing for the world's largest publisher of travel guides is exhausting and even frustrating at times. The deadline could be four to five months, Chow says, which is daunting given the amount of travel and research each assignment entails. Especially, say, if one was writing a piece on Taiwan, located on a volatile, earthquake-prone zone known as the Pacific Ring of Fire. By the time a writer finishes the first draft, an earthquake might have changed a river course, obliterated a village, or blocked the entrance to a serene mountain resort.
She's been an obsessive traveler, even when not on assignment and had her share of near-misadventures. While climbing a volcano near Antigua, Guatemala, the colonial Spanish capital of Central America, she was nearly blown away by a sudden gust of wind. She grabbed a hand hold and crouched behind a rocky outcropping to save herself.
Following in the steps of Xuan Zang, the iconic Buddhist monk who was the model for the protagonist in Journey to the West, she tramped over the Pamir Mountains. In Central Asia where sexual harassment runs rampant, the slender, 99-pound woman who stands only 165 cm slapped a man who tried to touch her. On an assignment to Taiwan, she trudged across trackless mountains for days, marking her trail with ribbons or twigs, in case she got lost and needed to find the trail back.
In her nearly 10 years as a freelance travel writer, Chow has co-authored Lonely Planet's travel guides on Hong Kong, Taiwan, Macao and the Chinese mainland.
Now at 39, Chow is beginning to feel worn out. She wants to cut down on long-distance travel, preferring instead to take "spiritual journeys".
Taking a 10-day vipassana meditation course in Japan has helped her achieve mental clarity. She felt more physically fit and has a better perspective on herself.
She has also become a sado enthusiast, intrigued by the intricate details of the Japanese tea ceremony. The philosophy embraces the belief that "dead items are vital too". "So respect them," Chow adds.
Chow spends much of her time giving walking tours to those interested in Hong Kong -sometimes going to cemeteries where a few important players of the First and Second Opium wars are interred.
Back in her trekking days, she traveled alone most of the time, which is not to say she felt lonely.
"Traveling alone allows me to observe more about the outside world, and be aware of more details. If I'm with somebody, I'm more likely to be distracted," Chow said, sitting in a coffee bar on Moon Street, Wan Chai.
And a woman traveling unescorted is perhaps not all that strange after all. Most of the travelers she met during her trekking days happened to be women, and a lot of them Asians.
What mattered most at the end of the day was the pursuit of happiness, said Chow. It hardly made a difference whether or not she had to seek that path on her own.
Contact the writer at evelyn@chinadailyhk.com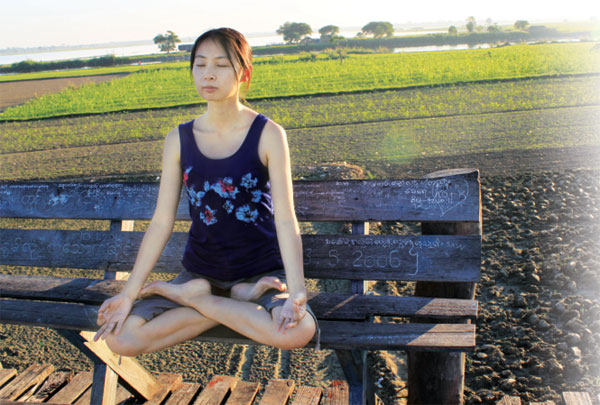 Kids from a local village stopped to watch Chow practice yoga moves in a green meadow in Myanmar, ultimately joining in. Provided to China Daily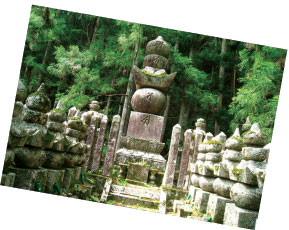 Chow usually goes back to the cemetery in Koyasan, Japan, where a number of shoguns are rested, whenever she visits the country. provided to China Daily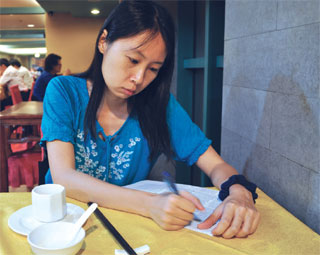 Chow gets on with her article on Nanjing for Lonely Planet.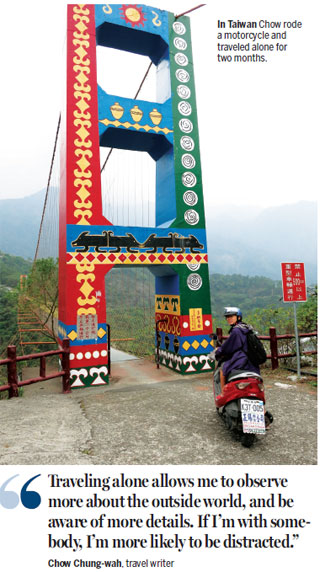 (HK Edition 04/30/2015 page7)