Time to embrace Silk Road vision
Updated: 2015-04-10 08:11
By Wang Shengwei(HK Edition)
| | | | | | | | | |
| --- | --- | --- | --- | --- | --- | --- | --- | --- |
|   | | Print | | Mail | | Large Medium  Small | 分享按钮 | 0 |
Wang Shengwei says Hong Kong is at the strategic center of the 21st Century Maritime Silk Road and has great opportunities which it needs to maximize to the fullest
Forty-six countries including 11 from Europe had decided to join the China-led Asian Infrastructure Investment Bank (AIIB) by the deadline of March 31. With starting capital of $100 billion (China's initial share is 50 percent and Asian countries all together will have a share of 75 percent), the AIIB has a commendable aim: to boost regional growth. This signals that the center of the world economy has moved from the Atlantic Ocean, and later to the Pacific Ocean, to the Eurasian Indian Ocean.
In 2013 the whole region had a total population of 2.6 billion (36 percent of world population), a total GDP of $7.4 trillion (10 percent of world economy), and $793.8 billion in trade with China (19 percent of China's total foreign trade).
Together with the Silk Road Fund ($40 billion), the New Development Bank ($10 billion, co-founded with Brazil, Russia, India, and South Africa), and the BRICS Bank currency contingency fund ($41 billion), China now has the capital to jump start the New Silk Road projects with the aim of creating a "community of interests, responsibility, and man and nature" in the region through trade, investment, infrastructure and exchanging ideas.
What does this mean for Hong Kong?
Hong Kong sits at the strategic center of the 21st Century Maritime Silk Road, which runs through the Strait of Malacca to India, the Middle East, and East Africa. It has enjoyed over 150 years of trade, investment, and exchanges with the mainland and the region.
Hong Kong has strengths and advantages in doing business over other mainland cities: a sound legal system; a fully convertible capital account; a free press and free flow of information; a corruption-free government; low taxes and a simple tax system; managerial talent with international experience; ease of access and proximity to major markets; excellent communications, transport and other infrastructure; leading universities; a dense network of service firms; and a pluralistic society blended with characteristics of both Chinese and Western cultures.
In the Boao Forum for Asia 2014 ranking, Hong Kong ranked No 2 in competitiveness among 37 Asia-Pacific economies. It was the world's fourth busiest container port in 2014 after Shanghai, Singapore, and Shenzhen. It is the main economic engine of southern China, together with the Pearl River Delta, and the key conduit for international trade with the mainland. The Shanghai-HK Stock Connect was linked up in 2014; the Shenzhen-HK Stock Connect will be linked up this year. Both should facilitate liberalization of the mainland financial sector before it opens up its capital markets to facilitate internationalization of the renminbi. Hong Kong will complete the Guangzhou-Shenzhen-HK Express Rail Link in 2017 and a third airport runway in 2023. It will likely erect a new Container Terminal 10, though its construction before 2030 has not yet been recommended.
How can Hong Kong's strengths and advantages translate dreams into tangible results and benefits?
First, Hong Kong think tanks, scholars, politicians, and business leaders should form a "Silk Road Commission" to evaluate the New Silk Road region's business needs as well as infrastructure development (ports, railways, highways, airports, bridges, dams, power plants, energy resources, communication equipment, etc.). This evaluation should include ways to distribute the limited capital resources of different countries, control risks, resolve disputes in the South China Sea with Vietnam and the Philippines, engage the Bangladesh-China-India-Myanmar Forum for Regional Cooperation, and attract India to join the Maritime Silk Road. After all, India needs infrastructure investment. The mainland's steel and energy sectors want to encourage foreign investment.
Second, Hong Kong has invested extensively in the ASEAN. The SAR can provide these nations with trans-boundary financing, financial expertise (including creating new financial products), accounting, arbitration, law and other related professional services (including renminbi-related businesses). Hong Kong can serve as the best bridge for ASEAN to tap into the mainland market and for mainland State-owned and private enterprises to expand to ASEAN.
Third, the Guangdong Free Trade Zone was officially launched on March 18. Hong Kong should facilitate greater cross-border collaboration with Guangdong. This includes making the transportation infrastructure network within the region efficient and promoting the convenience of land customs clearance between the mainland and the ASEAN. Hong Kong manufacturers will profit greatly from the HK-ASEAN Free Trade Agreement, expected to be finalized by 2016.
Fourth, Hong Kong ranks only 11th in human capital and innovation capability. It needs to improve higher education to establish a truly innovation-driven economy. It needs to work more closely with the Pearl River Delta for tech-industrial-cluster growth. Hong Kong is not short of money, but it needs more willingness to invest in innovation-driven industries.
Finally, Hong Kong cannot afford to have more political disturbances like "Occupy Central". The negative impact on social stability and cohesiveness is unprecedented.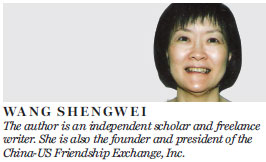 (HK Edition 04/10/2015 page12)