Art should be inclusive and involve everyone
Updated: 2015-03-31 08:07
By Vera Lim(HK Edition)
| | | | | | | | | |
| --- | --- | --- | --- | --- | --- | --- | --- | --- |
|   | | Print | | Mail | | Large Medium  Small | 分享按钮 | 0 |
During Art Basel weekend, Hong Kong's art aficionados had the privilege of browsing world class works of art from all over the globe exhibited at the main event and various galleries. Even at 1:30 pm on the final day of the event there were long queues to purchase tickets, and the halls were still full of people admiring the art displays until the last minutes of the exhibition. Though Art Basel is essentially an art fair and business enterprise; targeting art collectors, curators, and dealers, the show elected to open its doors to the public on select days, allowing them to admire pieces of art valued at millions, without the distance often imposed by museums.
This also makes the art scene more approachable as galleries showed support of the public photographing art, some even going so far as to divert human traffic to let a photographer capture his shot.
The virtue of permitting works of art to be photographed may be debatable, however it does encourage viewers to engage in the conversation about art - one only takes a picture of something that resonates within after all, particularly at an art fair featuring 233 galleries and thousands of works of art.
It is promising that Art Basel has moved from the exclusivity of catering only to galleries, curators and collectors, to become a long weekend turning famously pragmatic, materialistic Hong Kong, into a place encouraging public appreciation of art, and artists to develop their craft.
After all, other members of the Hong Kong art scene have also benefited from the recognition of the Art Basel weekend as an art festival, organizing exhibitions and opening studios.
As I voiced surprise that the open studio "weekend" ran from Saturday to Monday, an exhibiting artist quipped that some art lovers may have had to work the weekend and so incorporating Monday into the "weekend" would allow them to experience the open studio concept.
This is testament to the tangible sense of inclusivity surrounding Art Basel weekend, where galleries and studios try their utmost to ensure all art lovers, regardless of their ability to purchase or not, have a chance to participate.
One such venue is Foo Tak Tree House, a nondescript building on one of the busiest streets of Hong Kong, sandwiched between Wan Chai and Causeway Bay, and yet a haven for Hong Kong artists and designers. For most of the year, Foo Tak Tree House is a sleepy building of mostly shuttered studies whose inhabitants work on their art. But over the weekend, these artists invited strangers into the intimate spaces of their studios, sharing the passion for their craft with all who showed interest, serving refreshments, and sometimes handing out postcard prints to interested visitors.
Open studios provide an alternative perspective of art. They provide a window into the creative process of the artist. In a gallery only the final product - deemed fit for exhibition by the artist - is displayed giving no hint of the trial sketches or incomplete works that add a further dimension of appreciation to the finished piece. Interestingly enough, in contrast with Art Basel, focused on the buying and selling of art, many of the works showcased in open studio were not for sale. Open studios are primarily intended for young artists to gain exposure.
In addition to attracting art lovers, gallery representatives often frequent such events, providing artists with the opportunity to show their works to bigger audiences on more esteemed platforms.
One requirement for a city to be considered a major player on the world art scene is to have a thriving arts scene actively fostering young talent. The period surrounding Art Basel allows both new and established artists to interface with prospective collectors and art lovers through their works.
To paraphrase the final salon panellist's concluding announcement at the end of Art Basel 2015: The discussion about art has only just begun; one can never have had sufficient time to appreciate all the ideas displayed during this event.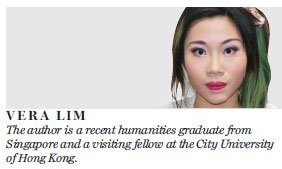 (HK Edition 03/31/2015 page10)