Anti-parallel trading protests must stop
Updated: 2015-03-13 06:23
By Eddy Li(HK Edition)
| | | | | | | | | |
| --- | --- | --- | --- | --- | --- | --- | --- | --- |
|   | | Print | | Mail | | Large Medium  Small | 分享按钮 | 0 |
The recent outrageous behavior of a small group of Hong Kong young people has caused discord between mainland visitors and other Hong Kong citizens. Several anti-parallel trading protests erupted on Sunday, spreading from Sheung Shui to Tuen Mun before heading south to Tsim Sha Tsui. The protesters, aged between 13 and 21, rushed into stores to humiliate mainland tourists, block cross-border buses, and assault anyone carrying bulky luggage. In one case, they mistook a mother with a suitcase of her daughter's books for a parallel trader, but when they were later asked to apologize, they insisted on first checking her tax receipt. Their actions were widely condemned by many people.
All such actions are collective bullying associated with mobsters and scoundrels. From the so-called "recover" campaigns to recent protests, I believe most Hong Kong people have become aware that the anti-parallel trading protests are disguised attempts to make trouble for Hong Kong. Their conduct is so outrageous that even the peaceful social atmosphere is damaged, harming both the business environment and people's livelihoods.
Hong Kong has long cherished its reputation as a "shopping paradise". Tourism is a vital industry in Hong Kong's economy. With the large numbers of mainland visitors, retailing, catering and hospitality sectors have all contributed enormously to local economic growth and employment. The entire tourist industry is currently experiencing some decline: During the Lunar New Year holidays, Individual Visit Scheme (IVS) tourists decreased by 5 percent;
In January, traditionally the retails sector's strongest month retail sales amounted to HK$46.6 billion, a decline of 15 percent compared to the same period last year. If these protests continue, Hong Kong's future will be full of uncertainty.
As for the associated problem of parallel trading, I believe this can be resolved with the right communication and cooperation from both sides. Apart from measures implemented by the police, customs, and immigration, Shenzhen citizens' multi-entry permits should be modified accordingly. Moreover, building shopping malls near the boundaries of the territory could also help reduce confrontation.
Whenever the mainland has suffered natural disasters in the past, Hong Kong people have contributed money and manpower to help, making a good impression. But after the failure of the "Occupy Central" movement, some nativists have intentionally provoked hostility between mainlanders and Hong Kong people, intensifying conflicts between the two sides. Reason seems to have been replaced by hostility. Their ulterior motive - fostering hatred between the two sides - cannot be overlooked.
As pointed out by Zhang Dejiang, chairman of the National People's Congress Standing Committee (NPCSC), as closer cooperation has developed between Hong Kong, Macao and the mainland in recent years, so there have naturally been increasing levels of conflict between residents. The government should pay attention to this, but also refrain from overdoing it. This is to avoid the prospect of it being used by some nativists to intensify conflict.
To maintain the rule of law and civilization in Hong Kong, I believe the public favors enhanced law enforcement actions by the police toward the illegal behavior. More importantly, the courts should, rather than letting them off easily, strengthen sanctions against perpetuators of such behavior.
Hong Kong is now at a crucial juncture of its political development. The most important task for Hong Kong society is to uphold the "One Country, Two Systems" principle and ensure the smooth development of democracy. Specifically, it should pass the electoral reform plan for universal suffrage in 2017 at the Legislative Council in accordance with the popular will. The recent targeting of mainland visitors appears to be designed to divert attention away from the proposed constitutional reform. Such foolish behavior should not be allowed to distract us.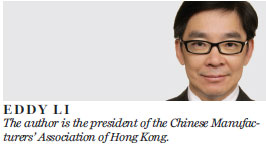 (HK Edition 03/13/2015 page10)