Living her own life
Updated: 2015-02-17 07:49
By Selena Li in Hong Kong(HK Edition)
| | | | | | | | | |
| --- | --- | --- | --- | --- | --- | --- | --- | --- |
|   | | Print | | Mail | | Large Medium  Small | 分享按钮 | 0 |
Young investment banker quits to start healthcare site
There was a time not too long ago that Christelle Ho Hio-hen, a 33-year-old French, felt really good about the exciting and demanding work she did as a trader in the fast-pace Electronic Volatility Trading Department of UBS in Hong Kong.
She used to set her computer to "crow" like a rooster at the opening of the stock market in the morning. From that moment on, it was a long and tiring 10 hours of solid work, watching price movements in real time and making instantaneous buy and sell decisions.
As a trader, "you've got to keep up with the market rhythm," she recalled. Of course, she was making good money - much more than most of the young people of her age. But there was a catch. One day "I suddenly felt that I didn't have a life of my own", she said.
To rediscover herself, Ho quit her high-pressure job four years ago, after working in the financial industry for more than 6 years.
She built her own business in June, 2013 in the old part of town west of the banking center where she used to work. Her new neighborhood is known for the many ancient shops selling salt fish and assorted dried seafoods. The air in that entire area is infused with the strong and pungent smell of those produce, that appeal to local residents with cultivated taste.
No. She didn't go into the dried food business. She picked that area for her Internet company, TopDoc, because of the cheap rent. TopDoc runs a website for people looking for the right doctors to treat their respective ailments. "You can find a searchable map of healthcare providers and services throughout Hong Kong in our site," Ho said.
Ho said that the idea for TopDoc has been in her mind since an accident that nearly blinded her sister in 2010 when they were living with their family in Bordeaux, France. At a tennis game, her sister was hit on eye by the ball. She was rushed to the hospital where an inexperienced doctor on duty asked her a few questions and asked her to come back the next day.
The girl's condition was much worse than what that doctor had diagnosed. Delayed treatment had caused irreparable damage to her eye.
"I have always thought that if she had a way to find a doctor who was available that night, then she could have saved her eye," Ho said.
This is how you do it.
Enter the doctor's specialty and location in the search bar on the front page of TopDoc, the search engine show a list of the names and addresses of the doctors you need. After making your pick, you can read the comments, if any, of the patients who have been treated by that particular doctor.
If you're happy with your choice, you can make an appointment to see the doctor by making a few more clicks on that page.
Ho said that she got the idea from the realization that there is a rising demand for healthcare services which is not satisfied because of a shortage of healthcare service providers in the private sector. This problem is made worse by the rapidly ageing population when many more elderly people will be needing medical care.
"There is shortage of doctors in France as well," Ho said. But the quality of medical service there is very high and hospitals are much cheaper than those in the private sector in Hong Kong, she said.
The ratio of registered doctors was 1.8 per thousand populations, according to official statistics. While in Singapore and London, every 1,000 citizen enjoy the service from 2.8 doctors.
"In Hong Kong's healthcare service, the private sector and the public sector are extremely segmented," Ho said. "In public hospitals you may need to wait more than three months to see a specialist," she said. By contrast, the waiting time at private hospitals seldom exceeds three days, she added.
In Hong Kong, there are an estimated 44 million doctor appointments made in one year. "My website can help doctors manage their bookings, and prioritize their agendas that can greatly improve the efficiency of their services," Ho said.
"What's more, you can see in Facebook what your friends said about the doctor you want to see," Ho said.
Ho's website doesn't allow any professional judgment made on a particular doctor to avoid potential controversies.
The service offered by TopDoc is quite a novel alternative for Hong Kong people, Ho said. In the US and Europe such services have been around for some time.
Take ZocDoc for example. The US online booking system is helping an average of about 5 million people across 2,000 cities a month to find doctors. The company's market valuation is estimated to reach $1.6 billion.
As a startup, Ho recalled the difficulties of signing up doctors. "One of them told me: This is not going to work. And she spent the next three hours telling me why," she said.
"At the end of her lecture, she asked: 'So, when are you going to start?'" Ho said. This doctor was among the first batch to sign up on the site.
Despite the many disheartening comments from naysayers Ho had persevered. Now she has signed up more than 400 doctors and the number of visits to her site exceeds 340 a day, the majority of visitors are between the age of 20 to 40.
The Yoga-loving Ho said that practicing Yoga movements made her understand the importance of patience and enhance her tolerance of pain, both mental and physical. "I learned to say 'Thank you' to those who reject me because they just help to make me stronger," Ho said.
selena@chinadailyhk.com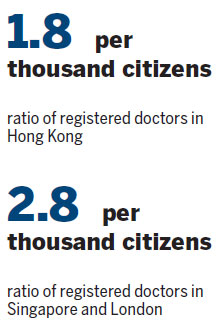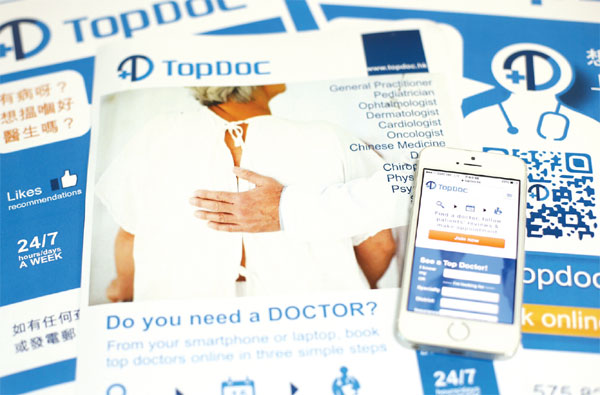 The online booking system saves doctors and health providers appointment scheduling time so that they can allocate more resources to patient care and issues which need immediate attention. Roy Liu / China Daily
(HK Edition 02/17/2015 page8)