HK ought to promote high-speed railway
Updated: 2015-02-13 07:36
By Wang Shengwei(HK Edition)
| | | | | | | | | |
| --- | --- | --- | --- | --- | --- | --- | --- | --- |
|   | | Print | | Mail | | Large Medium  Small | 分享按钮 | 0 |
On Jan 26, the China CNR Corporation signed a $665 million contract with the Massachusetts Bay Transportation Authority to build 284 subway cars for the Boston subway. This milestone marks the debut of Chinese rail transport equipment in the United States and ushers in a new era where Chinese technology and expertise are accepted by America's tough business community.
It also ties in with the coming breakthrough in astonishing improvements in rail services between Hong Kong and the mainland. As a global financial hub with a free economy, Hong Kong can play an important role in promoting the formidable emergence of China in the new world economic landscape.
China CNR won the Boston subway bid against strong competitors like Rotem, General Electric, Alstom and Kawasaki Heavy Industries. To benefit from this breakthrough contract, it will set up a research and manufacturing center near Boston to recruit and train American workers to create a local production line. It is hoped this will be the first of several more North American rail contracts.
The corporation's latest achievement is another success story on mainland enterprises competing in the global market. This is after mastering critical technical know-how and the complexities of big time international business competition.
The contract also reflects the enormous progress China has made recently in upgrading its domestic rail services. Since introducing its first high-speed trains in 2008, the total length of China's high-speed rail (HSR) lines with speed of 200 km/h or higher has reached 19,369.8 kilometers as of Dec 31, 2014 - more than half of the world's HSR mileage. The HSR network serves 28 of China's 34 provinces and regions, and carries twice as many passengers each month as the country's airlines.
China exporting its HSR technology overseas, and the West's acceptance of such technology, is a triumph of Chinese technological excellence and an acknowledgement by the international community of its achievement. It has three ongoing HSR projects in Turkey, Saudi Arabia and Venezuela. 28 more countries including the US, Russia, Brazil and Thailand are now discussing HSR cooperation projects with China, with Russia and Thailand having already signed letters of intent.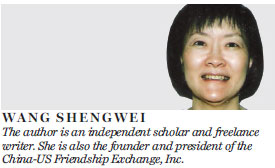 As part of its Silk Road Economic Belt project China plans three cross-border HSR services - the Euro-Asian Railway, the Trans-Caspian Railway (also called the Central Asian Railway), and the Trans-Asian Railway, which will reach as far as Moscow, London, Berlin, New Delhi and Singapore, plus the China-Russia-Canada-America Railway to reach the United States. In addition, China plans to build a railroad from Nairobi, Kenya's capital, to Mombasa, a port on the Indian Ocean, to connect with the Maritime Silk Road.
These are arguably the most ambitious projects in human history and require raising trillions of dollars in finance, resolving political complications due to the multiple national borders it will cross and overcoming construction difficulties. It will take 20 years to complete and create many jobs along the way. It will also promote trade with many neighboring countries it traverses with a combined population of 4.4 billion and an annual economic output of $2.2 trillion. This will create a great new opportunities for China's economy to grow.
Hong Kong will link with mainland's HSR network through the Guangzhou-Shenzhen-Hong Kong Express Rail Link to be launched in 2017. It will whisk passengers to Shenzhen Futian Railway Station in 14 minutes, Shenzhen North Railway Station in 23, Guangzhou South Railway Station in 48 (from 105 minutes today), Shanghai in 7 hours (from 20 hours) and Beijing in 8 hours and 3 minutes (from 24 hours).
"HSR will push China's economy forward significantly," said Anthony Wong, former President of the Hong Kong Logistics Association, citing the Chinese proverb "When the road is connected, the money will flow."
(HK Edition 02/13/2015 page10)