Hong Kong must get back up the global rankings
Updated: 2015-01-29 09:24
By Kerry Brown(HK Edition)
| | | | | | | | | |
| --- | --- | --- | --- | --- | --- | --- | --- | --- |
|   | | Print | | Mail | | Large Medium  Small | 分享按钮 | 0 |
The announcement that Hong Kong has fallen sharply down the global ranking of livable cities comes as a shock to those that live, work or visit the city. Hong Kong has for many years enjoyed excellent ratings for quality of life, business, stability, education and healthcare. But just at the point where it has endured political tribulations, it also starts to see some of its other great attributes being whittled away.
A result like this is no joke because Hong Kong, more than most other places, lives or dies by its reputation. It is not a place boasting vast untapped natural resources. It is a small, highly developed centre, almost wholly reliant on the service sector, able to keep is citizens happy, and attract talent due to its cosmopolitan nature, livability, safety, cultural diversity and harmony. If questions start to arise about this, then there are plenty of other places, from Singapore, to Tokyo, to Shanghai, to Sydney, that will take its place. Hong Kong is located in one of the most competitive places in the world. There is little charity or kindness for those who start to show weakness in this neighborhood.
The first issue is governance. Hong Kong has been dangerously complacent about its business values and competitive advantage as a stable, law-based, transparent center. But evidently that is no longer enough. Hong Kong, like everywhere else on the planet, needs a government able to deliver better housing, education, and welfare to its people. Inequality has greatly increased in the last few years. There is too much poverty. As many as a million of the seven million living in the city subsist on substandard wages and poor housing. The government may like to keep taxes down, but there now needs to be a new political realignment which clarifies that having a seventh of your people losing out, even while many others are doing well, is unacceptable. Politicians in Hong Kong need to stick their necks out and make the case for more, and better, government intervention in these areas. Their best argument is that without this, Hong Kong will continue to deteriorate in terms of its global ranking as a place to live and do business. And that is bad for everyone.
The second issue is public culture. Hong Kong is entrepreneurial, free spirited and small government is regarded as a good thing. But its environment and challenges with regards to resources are not things that can simply be left to the private sector and business to cure.
A new alliance of business, academia, civil society and others need to forge a consensus where more is done to deliver a green city, with improved infrastructure for the 21st century, where the blight of pollution is addressed and abject poverty eliminated.
The third is innovation. Hong Kong has excellent universities. Its education system values heterodoxy and argument, not formal rules and rote learning. Education is the key to Hong Kong surviving and prospering as a major international service center, where it can deliver good jobs to home grown talent and compete against other major centers regionally and globally. That means the government putting much more resources and effort into ensuring that the education and innovation levels in Hong Kong are maintained, and improved.
Hong Kong's greatest enemy in recent years has been complacency - the sense that it is enough for it to just be itself, do what it has always done, and that this will maintain its attractiveness for the outside world and its own citizens. But on both sides of this equation, the world is changing fast. Hong Kong lives in a region where other cities are full of ambition and vision and hungry for quick results. Shanghai, for example, is trying to create a mainland version of a 21st century mixed economy, financial centre and green living environment. Many might scoff at this ambition declaring it to be hopelessly optimistic. But discounting places that show a hunger for success is dangerous. Shanghai has the energy of a young upstart itching to prove its detractors wrong and is quite capable of spectacular achievements.
The second issue is amongst Hong Kong people themselves. They don't want to be placated by being told they should consider themselves lucky to live in such an important place. They are expecting better living conditions, a healthier environment, and more support from the government in their working lives. They have a need to be listened to, and for their grievances to be addressed.
Hong Kong's biggest burden, ironically, might be the weight of many decades of success. This sense that it can sit on its laurels is now a liability. It would be wise to consider the ranking result as a wakeup call. A new consensus in Hong Kong, forged by public leaders across sectors, needs to harness the energy and ambition of the people in an era in which competition is going to get ever fiercer, and no one can remain complacent. Hong Kong's city leaders need to personally pledge that by next year they will be back in the top twenty, where they were before. Otherwise, they will have failed in one of their core responsibilities - maintaining their city as a world leader in the area where it cannot fail.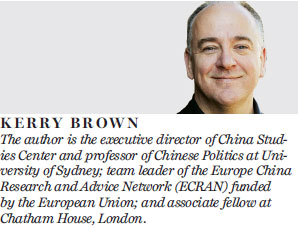 (HK Edition 01/29/2015 page1)