2015 will be another difficult year for HK
Updated: 2015-01-09 05:34
By Raymond So(HK Edition)
| | | | | | | | | |
| --- | --- | --- | --- | --- | --- | --- | --- | --- |
|   | | Print | | Mail | | Large Medium  Small | 分享按钮 | 0 |
Last year was exceptionally challenging for Hong Kong. This year will also be very difficult. It is likely that 2015 will be more problematic than last year. Hong Kong will also face numerous challenges in terms of governance.
The first challenge Hong Kong faces is, evidently, legislating for its proposed constitutional reforms. Although the illegal "Occupy Central" campaign has now ended, we all know the campaign is not really over. Indeed, a new surge of unrest may soon be about to begin. The second round of the public consultation and subsequent legislative process will likely trigger a further wave of dissent.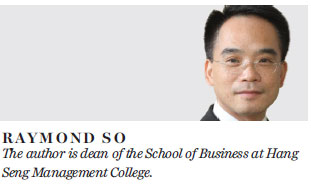 One impact of "Occupy" has been the rise of radical forces in Hong Kong. Even a small number of disgruntled people are capable of causing major problems. Moreover, the radical groups in Hong Kong are quite large in number. Media reports also suggest that young people with radical views have become more powerful in Hong Kong. The power of first-time voters should not be underestimated. After the "Sunflower Student Movement" in Taiwan, first-time voters there demonstrated their significance in the recent election. In Hong Kong's tertiary institutions, there has been a wave of first-time voter registrations. The district council election this year will be the first test of the influence of these first-time voters. If their impact is considerable, it will affect next year's Legislative Council election. Consequently, various political parties will find it harder to defend the government's policies. The government will therefore face greater difficulties in getting support from lawmakers.
The second major challenge Hong Kong faces is its shortage of land. This is affecting the supply of housing, so naturally property prices will remain high. There is much discontent in society about this. The land shortage issue will not only affect the housing sector but also Hong Kong's long-term economic development. In economics, there are four factors of production: capital, labor, land and entrepreneurship. Hong Kong has well-developed infrastructure, as well as the necessary software. Hong Kong people are well-known for their entrepreneurial flair and the city is Asia's premier global financial center. So we need not worry about capital. However, the shortage of land will become an obstacle to Hong Kong's development. The lack of land will lead to high housing prices and subsequently higher living costs. When living costs rise, people demand higher wages. Businesses will have to raise their prices further.
High property prices will in turn lead to higher operating costs in Hong Kong. High costs may inflate wages, but this does not mean people's livelihoods will improve. High property prices drive out retail businesses that cannot afford to pay high rents. So it is unsurprising that retail businesses will be less diversified. A lack of land also makes it difficult to establish or grow other companies. For example, the lack of industrial and commercial land may hinder business development. Without growth in trade and industry, economic growth will be affected. High land costs will lead to higher prices, and workers will have to raise productivity in order enjoy any wage rises. In simple terms, workers will need to work longer and harder. If the land supply issue cannot be resolved, future economic development will be difficult. This will result in additional social grievances.
The third challenge Hong Kong will face is the annual review of fees and prices charged by public utilities. This is also a potential source of social discontent. The electricity tariff is reviewed annually under the existing Scheme of Control Agreements. Therefore, annual power tariff increases are likely. But this will mean additional increases in the cost of living for citizens.
The MTR fare adjustment is another significant issue. MTR fares may be increased or decreased according to the Fare Adjustment Mechanism (FAM). The FAM allows the MTR to carry out annual fare adjustments. The MTR believes fare adjustments are legitimate and reasonable. The public generally disagrees. People also complain about MTR service standards, such as crowded trains. But it should be noted that the MTR performs exceptionally when assessed by more objective criteria - such as the reliability of its services. Clearly there is a gap between perceptions and expectations.
(HK Edition 01/09/2015 page1)