The truth about HK's latest protest song
Updated: 2015-01-06 05:31
By Lau Nai-keung(HK Edition)
| | | | | | | | | |
| --- | --- | --- | --- | --- | --- | --- | --- | --- |
|   | | Print | | Mail | | Large Medium  Small | 分享按钮 | 0 |
Like movies, all social movements should have a theme song. The "Umbrella Movement" could have used Rihanna's Umbrella, which has an "Orange version" (not perfect but close) featuring JAY-Z, or Gorchitza's Silence (watch the music video and you will know why) as its anthem, but it did better. It has something indigenous - Raise the Umbrella written by songwriter "Pan" Lo Hiu-pan.
Pan wrote Raise the Umbrella in less than two days after Sept 28, when police used tear gas among an allegedly peaceful crowd of dissident protesters outside government offices in Admiralty. Nearly three months of street protests followed.
Claiming this was the first all-star protest song since 1989, Raise the Umbrella gave Pan the opportunity to work with such renowned music industry figures as Denise Ho Wan-See, Anthony Wong Yiu-ming, Deanie Yip Tak-han and Lam Jik. After they performed the song to a crowd of protesters at the Admiralty "Umbrella Square" site in October, the song became popular on local radio stations and YouTube.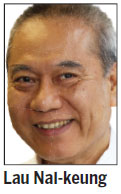 In substance and form, it sounds a lot like the all-star charity songs with which we are familiar. In particular, it reminds me of Just Because You Are Here, commissioned by the HKSAR government for its 10th anniversary in 2007.
Mediocrity notwithstanding, Pan's efforts and, arguably, his opportunism soon bore fruit, as Raise the Umbrella was voted the top song in the "My Favorite Song" category at Commercial Radio's Ultimate Song Chart Awards Presentation event at the Hong Kong Convention and Exhibition Center last Thursday. The song secured 2,887 votes from 8,000 attendees. Others questioned how the 8,000 attendees had been selected and whether they had the authority to represent Hong Kong people when it comes to their favorite song.
During the Commercial Radio event, Pan and his collaborators on the project were invited on stage to receive the award and say a few words. They then gave a live rendition of Raise the Umbrella together with some other unknown singers. Singer Joey Yung, attending the award ceremony, was seen not clapping to the music and subsequently declared an enemy of the people by the pro-democracy movement, Yellow Ribbon.
Apparently, you are "cool" if you associate yourself with Yellow Ribbon. It has been said that Denise Ho, a singer on the song and local lesbian social activist, is considering forming a new political party for young people and pursuing a seat in the Legislative Council.
Contrasting with the success of the Yellow Ribbon movement is the demise of Asia Television Ltd, or ATV. For the second time in three months, the station held back paying salaries to over 700 employees. Last Tuesday the station paid half of the November wages, promising to pay the rest soon, but said there was still uncertainty as to whether it would be able to pay December salaries.
Launched in 1957 as Rediffusion Television, ATV is one of Hong Kong's two free-to-air TV stations and was once a cultural mainstay. Ironically, there are virtually no sympathetic calls from the public to help save the institution even though preservation of local culture and history is one of the key demands of dissidents. This is obviously because ATV is considered "pro-China" and, therefore, unworthy of preservation.
It seems as if the phrase "you're either with us, or against us" can also be used in regard to history and art. This reminds me of Mao Zedong's 1942 "Talks at the Yan'an Forum on Literature and Art", when he said, "There is in fact no such thing as art for art's sake(Our purpose is) to ensure that literature and art fit well into the whole revolutionary machine as a component part, that they operate as powerful weapons for uniting and educating the people and for attacking and destroying the enemy, and that they help the people fight the enemy with one heart and one mind." While the patriotic camp no longer appreciates Mao's teachings, our dissidents certainly do, and we will see more of these "powerful weapons" in 2015.
The author is a veteran current affairs commentator.
(HK Edition 01/06/2015 page1)