Education on "One Country, Two Systems" is need of the hour
Updated: 2014-12-18 06:22
By Wang Shengwei(HK Edition)
| | | | | | | | | |
| --- | --- | --- | --- | --- | --- | --- | --- | --- |
|   | | Print | | Mail | | Large Medium  Small | 分享按钮 | 0 |
Since Hong Kong students started their class boycott on Sept 22, Hong Kong people have been forcibly taken on a rollercoaster ride of simultaneous political chaos, economic downturn and social disruption triggered by the "Occupy Central" movement.
After 75 days of turmoil, the protesters' main base in Admiralty was cleared on Dec 11, and the most disturbing period in Hong Kong since its 1997 return to the motherland ended mostly peacefully. Many residents expressed support for the clearance, terming it a "Christmas gift".
Earlier, Chief Secretary Carrie Lam had announced the start of the second round of consultations on the reform framework as laid down on Aug 31 by the country's top legislative body. She also expressed her willingness to personally meet student representatives again, ushering in the beginning of a reconciliation for which many had hoped.
It is time to return to negotiations to discuss the finer points of the mechanism for selecting Chief Executive (CE) candidates in compliance with the Basic Law. The Nominating Committee's (NC) definition of the four sectors - which sectors should be appointed or elected, which organizations will have the right to vote, and how they will vote after entering the primary election - is still open to negotiation. This untouched political area offers considerable scope for "pan-democrat" lawmakers to present the case for conditions favorable to their political agenda. It should be apparent to the "pan-democrats" that they will be able to propose nominees to join the pool of candidates attempting to win the support of over 50 percent of NC members, in order to become candidates for CE elections.
It would also be worthwhile for the SAR legislature to add one further choice, "none of the above" (NOTA), to ballot papers in addition to the candidates approved by the NC; and in the eventuality that NOTA were to win the selection process, it would have to be repeated again. The subsequent re-run selection process would then be closed to candidates who had lost to NOTA. This would ensure that the candidate who won would at least be acceptable to the majority of Hong Kong citizens.
But first it is necessary to examine the lessons that can be drawn from "Occupy".
The South China Morning Post ran an online poll on Dec 11, asking "Have more than two months of 'Occupy' protests changed Hong Kong for the better or worse?" Sixty percent of respondents to this poll answered that changes were for "Worse", 33 percent said for "Better," and 7 percent said that they "Can't tell".
Clearly such a disruptive event should never be allowed to happen again as there are ultimately no winners. Even the "Occupy" trio and the student leaders who spearheaded this aggressive social movement have since admitted that it was of limited value, with Joshua Wong, head of Scholarism, saying that the militant secondary student group would be opting for a more "flexible" approach in their campaign for universal suffrage, rather than disruptive fixed protest encampments.
Then we must ask what went wrong with our education system since it played such an important role in influencing student participation. One of the three "Occupy" initiators, Benny Tai, is a scholar of law, and has tried to justify "civil disobedience" to achieve supposedly higher goals. But the trio cannot shirk their moral and legal responsibilities for leading students and other well-meaning members of the public down the garden path, causing untold economic losses and massive inconvenience to the public.
Instead of encouraging students to be creative in science and technology, Hong Kong University of Science and Technology President Tony F. Chan praised the students' umbrella protest during a graduation ceremony, calling it a "creative" act. As a well-known mathematician, was he not aware that our innovation and technology industry generated only 0.7 percent of GDP growth in 2012, while the 75 days of "Occupy" sit-ins caused a fall in projected GDP growth for 2014 from 3.4 to 2.2 percent or lower?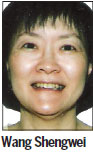 With the support of a majority of Hong Kong citizens, the Hong Kong Police Force maintained order and stability, despite the efforts of about 1,000 protesters, allegedly trained by the West, to incite others to participate.
By adhering to the "One Country, Two Systems" principle and the Basic Law, the SAR government officials have handled the protests with great tolerance and engaged the students with rational dialogue.
Any country attempting to instigate a "color revolution" in Hong Kong, to replicate the situation in the Middle East, must now have learnt that such an endeavor simply will not work here.
Finally, it is regretful that despite the passage of nearly two decades since China resumed sovereignty over Hong Kong, many Hong Kong people are still not embracing their nation.
During the period of protests they have been advocating "Hong Kong self-determination" and have clearly misunderstood the concept of "Hong Kong people ruling Hong Kong" and a "high degree of autonomy." Therefore our government and citizens should find ways to embrace our national identity and "re-enlighten" the public about the nature and scope of "One Country, Two Systems".
The author is an independent scholar and freelance writer. She is also the founder and President of the China-US Friendship Exchange, Inc.
(HK Edition 12/18/2014 page10)