Hong Kong's economy: Of octopuses and heroes
Updated: 2014-11-20 07:01
By Deng Yanzi and Zhang Haizhou in Hong Kong(HK Edition)
| | | | | | | | | |
| --- | --- | --- | --- | --- | --- | --- | --- | --- |
|   | | Print | | Mail | | Large Medium  Small | 分享按钮 | 0 |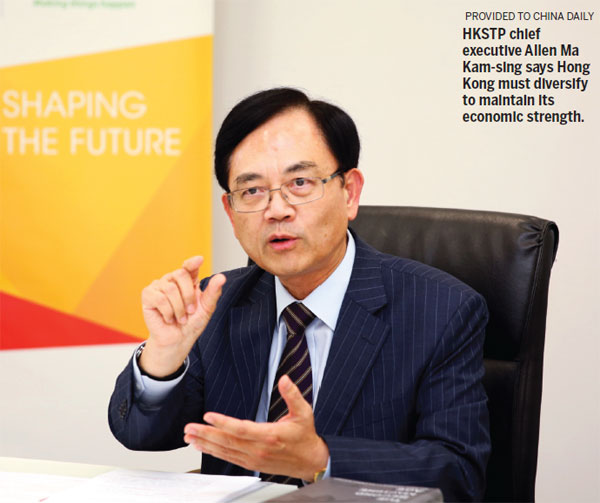 Allen Ma Kam-sing - chief executive of Hong Kong Science & Technology Parks Corporation (HKSTP) - appeared to throw everyone off when he remarked at a recent briefing that he would like to see "Hong Kong moving like an octopus".
Decked out in a navy suit, a blue shirt and a light speckled silk tie, the 61-year-old technocrat could easily be mistaken for an average banker in Central. But, finance is not his cup of tea as he went on to explain his octopus metaphor.
"The creature's eight legs symbolize how we would like Hong Kong's economy to be," he said, noting that the local economy is still standing on "two legs" with its traditional and heavy reliance on finance and real estate - a trend he described as "really dangerous".
He proposed that we should diversify the city' economy by developing advanced manufacturing, including semi-conductor assembly, food processing and pharmaceutical manufacturing, powered by the development of innovative technology.
Ma did make his point crystal clear.
Latest data from the Census and Statistics Department reveal that the growth of Hong Kong's financial services dipped from 20 percent in 2004 to around 6 percent last year in the aftermath of the global financial crisis and the eurozone crisis, slowing the city's GDP annual growth rate to 2.9 percent in 2013.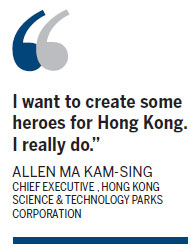 With the current economic structure being vulnerable to external influence, Ma said the need to diversify the SAR's economy has been made the more urgent by developing innovation and technology.
More than 2,000 innovative minds will gather in Hong Kong next month for HKSTP's annual signature event, the APAC Innovation Summit (AIS), to initiate a timely and dynamic dialogue on the innovative future of Hong Kong and Asia.
Marking its 10th anniversary this year, the corporation's flagship event will rally all stakeholders, including representatives from the government, academia, research and development (R&D), finance and related industries, along with the public, at the Hong Kong Convention and Exhibition Center from Dec 1 to 6.
The discussions come amid a momentous period for Hong Kong as the city struggles to proceed to another vital stage of its economic transformation.
Back in the 1980s and 1990s as the mainland began opening up itself to the world ahead of Hong Kong's return to the motherland, Hong Kong's manufacturing industry retreated to southern China to take advantage of the lower land and labor costs there.
The manufacturing sector's contribution to Hong Kong's GDP dropped from over 20 percent in the 1980s to 1.5 percent in 2012.
Ma said the shift was "nothing wrong", but added it soon became a problem when the hollowing out of the manufacturing industry left Hong Kong with only financial services and property development as the only "two legs" to keep the economy going. At present, HKSTP hosts a total of some 500 companies, of which 160 are "incubatees" that are receiving management assistance, financial support and office space and facilities from the corporation.
What HKSTP is striving to nurture through its incubation programs, in Ma's words, are "heroes". "I want to create some heroes for Hong Kong. I really do," he said.
According to Ma's criteria, talent does not necessarily suffice to become an innovation hero. Nevertheless, the entrepreneurship to commercialize the breakthroughs in technology and to propel to the global markets will do the trick.
One of the "heroes", for instance, is Erica Young, chief design officer of One Earth Designs, which developed a solar cooker originally for the rural Himalayan community, but is now shipping the product to 18 countries.
The innovation summit will help innovators to commercialize their technology.
Ma said Hong Kong, as an innovation ecosystem, has sufficient venture capital and angel funds, but does not have enough local targets. By bringing together investors and startups, AIS aims to unfold business opportunities and function as a platform to match financiers with entrepreneurs.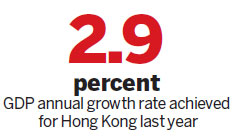 To achieve a higher success rate, HKSTP is coaching startup companies in presenting their products and services.
Hong Kong, he added, has the best infrastructure in Asia for innovation, with its high efficiency, established rule of law, respect for intellectual property and a corruption-free environment. Together with its ready access to the mainland market, Hong Kong showcases strong advantages as an innovation ecosystem over other Asian cities.
However, Hong Kong lacks the R&D-focused culture, Ma said. Data from the World Bank shows that Hong Kong's expenditure on R&D takes up 0.75 percent of its GDP - lower than the world standard of 2.08 percent.
In contrast, Germany, as an established innovation hub, spends 2.84 percent of its GDP on R&D, while South Korea invests an astonishing percentage of 3.74.
The Chinese mainland, on the other hand, spends 1.84 percent of its GDP on R&D at present, but is on track to be the world's top R&D spender by 2019, according to a report by the Organization for Economic Co-operation and Development.
Although Hong Kong has been increasing government funding on innovation and technology, Ma argued that investment would never be enough, and the industry should diversify the sources of R&D funding.
Contact the writers at iris@chinadailyhk.com and zhanghaizhou@chinadaily.com.cn
(HK Edition 11/20/2014 page9)