'Occupy Central' is a 'color revolution'
Updated: 2014-11-06 07:32
By Leung Lap-yan(HK Edition)
| | | | | | | | | |
| --- | --- | --- | --- | --- | --- | --- | --- | --- |
|   | | Print | | Mail | | Large Medium  Small | 分享按钮 | 0 |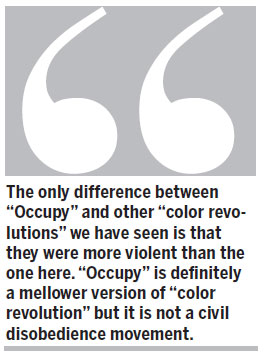 S ome people think calling "Occupy Central" a Hong Kong version of "color revolution" is inappropriate because it is essentially a movement of young people and students rather than hardcore rebels.
But in this case, "civil disobedience" and "color revolution" are not really different. They are both anti-government movements serving the political, and possibly, economic interests of certain parties. If the participants have no qualms about giving civil disobedience a bad name with their uncivil behavior neither should they be overly concerned about the label "color revolution". The true reason some fear this label is that they are worried the central government might crush their protests.
"Occupy" is nothing like the original civil disobedience movements. People participating in a genuine civil disobedience movement would not behave like the "Occupy" protesters. It would refuse to engage in violent actions and try not to inconvenience the public. Because it is illegal, the last thing it wants to do is give the public reasons to reject it. "Occupy", on the contrary, is doing exactly what a genuine civil disobedience movement shouldn't do.
That is why the majority of society is against the illegal campaign. It also explains why the number of participants has dwindled since last month's peak.
The only difference between "Occupy" and other "color revolutions" we have seen is that they were more violent than the one here. "Occupy" is definitely a mellower version of "color revolution" but it is not a civil disobedience movement.
Secondly, most "occupiers" are young students; they may not have considered that they were launching a "color revolution" when they joined the illegal campaign. But the campaign's organizers knew exactly what they were doing. They were inciting a mass anti-government movement under the guise of "civil disobedience" in order to deceive the public. They have therefore betrayed the wishes of 7 million people. They are trying to take Hong Kong's economy hostage. Their ultimate goal is to force the National People's Congress Standing Committee (NPCSC) to retract its decision on arrangements for the election of the Chief Executive from 2017 by universal suffrage. They want an opposition candidate to join the race for the CE post and hopefully win without pledging allegiance to the country. Even if the central government refuses to appoint their CE candidate, they will still hail this as a victory.
There is no way the NPCSC would ever consider satisfying the unconstitutional demands of the "occupiers". But the illegal movement aims to achieve regime change in Hong Kong. This is what "color revolutions" are all about.
There is growing evidence "Occupy" is the product of an anti-government conspiracy with foreign assistance in funding, planning, personnel training and logistics. The campaign cost an estimated total of HK$250 million in the first month.
"Occupy" is a less violent version of a "color revolution". It has been executed according to the "12-step formula" followed by all the others. Had the central government not remained resolute, the SAR government composed and the police restrained, the impact of the campaign would have been worse. The organizers of "Occupy Central" have closely followed the recipe for "color revolution", but do not have the courage to admit it. So you have to laugh when Chow Yong-kang, leader of the Hong Kong Federation of Students (HKFS), said on TV that "Hong Kong people want to control their own destiny but that does not mean they want to secede from the country by challenging the central government". Other opposition parties have also publicly denied "Occupy" is a "color revolution". They insist such perceptions constitute a "gross misjudgment".
"Occupy" is nothing if not a "color revolution". Its masterminds are those who have misjudged the situation. They wrongly assumed 7 million Hong Kong residents would believe them and the SAR government would buckle. They thought the Beijing authorities would compromise with them. But they have only themselves to blame now. They are now stuck in an awkward situation. "Occupy" initially earned glowing accolades but has made no headway since. Some say they will not give in, but does this make them heroes? I don't think so.
The author is a veteran current affairs commentator.
(HK Edition 11/06/2014 page10)