Why Hong Kong should prohibit indentured labor
Updated: 2014-11-03 08:04
By Paul Surtees(HK Edition)
| | | | | | | | | |
| --- | --- | --- | --- | --- | --- | --- | --- | --- |
|   | | Print | | Mail | | Large Medium  Small | 分享按钮 | 0 |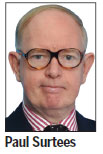 It is a blot on the reputation of this rich and sophisticated city that Hong Kong still has to rely so heavily on the labor of hundreds of thousands of overseas citizens toiling here under grossly unfair employment conditions. I write of the distressing plight of many of those recruited from overseas as domestic helpers in Hong Kong families. True enough, some lucky holders of these posts are cherished by the local families which they serve, and within which they live. But regrettably, such happy family placements are far from universal, and instead the situation is intolerable for far too many. With about 8 percent of our working population now employed as domestic helpers, this is a sizable issue. It is anticipated that the proportion of our 65 year olds and above will double from about 15 percent now, to reach 30 percent by 2041, and it seems likely that even more domestic helpers will be needed to look after them all.
Overseas recruitment agencies bringing them to Hong Kong often rip them off. The vast majority of the third-of-a-million domestic helpers employed here come from Indonesia and the Philippines. A recent survey of Filipinas, reported the Philippine Consulate in Hong Kong, found that 80 percent of their countrywomen coming here as maids had to pay placement fees far higher than the Hong Kong legally-allowed maximum of HK$401(i.e. 10 percent of the first month's wages). Of the 1,200 maids surveyed two years ago, 90 percent paid grossly more than that, with the average being a staggering HK$8,125. Clearly, this matter is still under-regulated by the relevant authorities. There is a theoretical ban on Philippine agencies applying any fee to those they recruit; a ban ignored by 99 percent of them! All this means the poor girl has to work a year or more, just to pay off her debts for being placed in what is, in any case, a very low-paying job. How many readers would like to be charged such an extortionate rate to land a new job?
They come here as maids, but are commonly put to a wide range of demanding tasks, some of which require specialist training or experience. They may have to do full-time child care, or care for frail or sick elderly family members, while both parents are out working. It's not realistic to expect them to possess all the required skills to care for such a diverse group. Some families even expect to be provided with butler-like table serving skills by a young girl who has just left her village to come here as a maid; again, without receiving the training needed to satisfy the family's expectations. Expecting your maid to immediately become a gourmet Chinese cuisine cook, with unfamiliar local ingredients, is yet another unreasonable demand placed upon them.
Many of these live-in domestic staff are not provided with adequate living space, with some being obliged to sleep on the family sofa or even on the kitchen floor. As a minimum requirement, no local family should be permitted to employ a live-in maid where there is no separate room for her in the family home. This common lack of personal space, to which to retreat, is also likely a factor in the disgraceful incidents of maids being physically abused by employers, or even being sexually assaulted. One case would be too many, but it is appalling that many more such appalling cases come to light, every year, including a recent conviction for the rape of an Indonesian maid. The Mission for Migrant Workers' recent survey reported that 58 percent of them suffered verbal abuse; 37 percent worked 16-hour a day; and 18 percent of them had been slapped or kicked.
Hong Kong government authorities should appoint a separate local organization to handle the recruitment of overseas domestic labor. That would instantly end many abuses including the levying of excessive or unauthorized fees by the agencies. It should also monitor the prompt and correct monthly wage payments, as many maids currently were not paid their full contracted salaries. It could also help regulate the working hours of maids, as currently some are put to work every waking hour.
It is manifestly discriminatory and unjust that all other overseas workers can obtain permanent Hong Kong residency after seven years here, but this right is not extended to domestic maids.
Furthermore, they have little security of employment, with some dreadful employers unreasonably sacking maid after maid, within a few weeks of each arriving in Hong Kong.
Providing accommodation for maids to live in, for example, in hostels, would solve a number of the problems associated with employing live-in maids. Such measures would help to take Hong Kong off the shameful list of those places lamentably relying on virtual slave labor, in this modern world.
The writer is a Hong Kong-based commentator, university lecturer and adviser to the Hong Kong Federation of the Blind.
(HK Edition 11/03/2014 page9)