De-Sinicization won't succeed in Hong Kong
Updated: 2014-10-31 08:00
By Wang Sheng-wei(HK Edition)
| | | | | | | | | |
| --- | --- | --- | --- | --- | --- | --- | --- | --- |
|   | | Print | | Mail | | Large Medium  Small | 分享按钮 | 0 |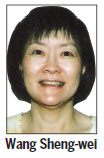 There is much more to the "Occupy Central" campaign than the actions of protesters who have taken over major streets and engaged in turf battles with police. To be brutally honest, for more than a month now the protesters have made the people of Hong Kong, and this once super-efficient city, their hostages.
Regrettably, in the evenings after leaving their day jobs, more supporters have been going into the occupied streets to fortify the barricades, resisting attempts by police and anti-"Occupy" protesters to remove them. The situation has worsened to the point where the protests have, on a few occasions, been driven to the verge of riots in Mong Kok. During this chaos, police cordons were constantly violated in defiance of the rule of law. The rule of law applies to us all, regardless of age, gender or race. Meanwhile, the following figures illustrate the harm already being done to our economy: An economic forecast warns that the SAR's projected 2014 GDP growth of 3.4 percent will drop to 2.2 percent as a result of these protests, while the economic development index and employment status index have fallen by 16.3 percent and 8.3 percent, respectively, since the start of the "Occupy" movement. If the protests persist, our economy and employment rate will further decline along with our international standing.
On Oct 1, National Day, Joshua Wong, the teenage leader of student activist group Scholarism and his young followers, turned their backs on the flag-raising ceremony attended by leading figures in the government and community. Whatever grandiose delusions these immature youths might harbor, their perverse display of contempt for the national flag will only earn them the contempt of people across Hong Kong.
Although Britain grudgingly returned Hong Kong to China in 1997, apparently not all Hongkongers felt good about this. Clearly, Britain's 155-year colonial rule in Hong Kong had much to do with this attitude. Under British rule, Western culture was given a higher priority in Hong Kong than traditional Chinese culture. The situation was not helped by the fact that following the handover, our education system continued with its Western orientation. Chinese literature, philosophy and moral sentiments continued to receive only superficial treatment. Mandarin was not sufficiently promoted to reflect our growing ties with the mainland. Therefore, we should not be surprised that a poll this year showed that the numbers of Hongkongers considering themselves to be "Chinese people" or "Chinese in Hong Kong" fell to a historic low of 31 percent.
All the above circumstances have combined to nurture among easily misled people (particularly the young) feelings of "Hong Kong independence". From day one of "Occupy Central", the Hong Kong Federation of Students posted the slogan "self-determination of our fate" outside the government headquarters, reflecting that their true demands were not electoral democracy, but the SAR's total autonomy or even "independence". They also posted a photo on their website showing "Hong Kong independence in 2014" advocating that the SAR's 7.2 million people seek independence via a referendum. Thus they echoed the rise of the so-called "Nativism" movement seen in recent years. Taiwan's "Sunflower" student movement leader Lin Fei-fan has publicly claimed that "Hong Kong not only wants universal suffrage, Hong Kong wants independence". If the situation here were to proceed in that direction, Beijing certainly would not sit idle and allow it to happen.
Singapore's former prime minister Lee Kuan Yew, in his new book One Man's View of the World, made valuable observations of Taiwan's de-Sinicization effort. Lee draws on his wealth of experience and depth of insight to offer his views on today's world and its future in 20 years. He commented on China's rise, saying that China will quietly become powerful and expand its influence, but not bully people. When Lee Teng-hui was Taiwan's leader, he initiated Taiwanization to differentiate Taiwan from the mainland. But this will not change the final outcome of a unified China. It will only increase the pain of Taiwanese people when the actual unification takes place; economic integration will gradually and irresistibly draw the two societies together. Therefore, there will be no need to use force. Lee Kuan Yew's views on China, the United States and Asia are highly respected by global leaders. With regards to Hong Kong, at the beginning of the mainland's reform and liberalization process, the territory accounted for more than 25 percent of the country's GDP, this is now only less than 3 percent. The mainland's share of Hong Kong's global trade increased from 9.3 percent in 1978 to 51.1 percent in 2013. Moreover, the mainland was Hong Kong's largest domestic export market in 2013, has been its largest supplier of goods since 1982 and largest trading partner since 1985.
If Lee's comment on Taiwan is correct, it is even clearer that Hong Kong's future is in Beijing's hands, and de-Sinicization will not succeed here.
Students do not by any means represent a significant number of Hong Kong's population - they only represent themselves. However, if they do not rapidly gain an understanding of global political trends, sooner or later, they will become a lost generation and be left behind.
As a wise man once said, "If you have nothing, revolution may bring you something; but if you already have a lot, revolution may cause you to lose what you have."
The author is an independent scholar and freelance writer. She is also the founder and president of the China-US Friendship Exchange, Inc.
(HK Edition 10/31/2014 page7)