Protests may breed youth angst in Hong Kong SAR
Updated: 2014-10-27 07:40
By Harry Ong(HK Edition)
| | | | | | | | | |
| --- | --- | --- | --- | --- | --- | --- | --- | --- |
|   | | Print | | Mail | | Large Medium  Small | 分享按钮 | 0 |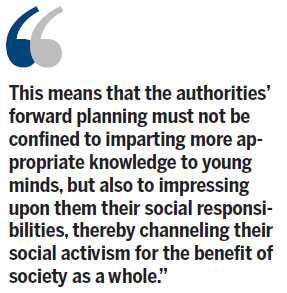 Let us look beyond the present student protests and attempt a logical appraisal of what the future might hold for the youth of Hong Kong. As a parent and lay student of "street politics" I would suggest that future generations of our youth will be emboldened by what they likely consider the "heroics" of the idealistic young "Occupy Central" protesters, and - far more important - what they will hail as the "success" of their movement.
My point is that the length of the "Occupy" campaign has laid down a highly volatile marker for upcoming generations of our youth. Unless their energies can be channeled along more constructive paths, I fear they will take encouragement from this ongoing example of youth power and likely become willing participants in any repeat schemes. Furthermore, drawing on the lessons of September/October 2014, they will no doubt plan smoother, more efficiently organized protests of still longer duration, bringing more harm to Hong Kong as a whole - disrupting our children's education, causing chaos to our transport network and incurring inestimable losses to our economy.
The "Occupy" protesters have more or less stayed one or two steps ahead of the authorities, mainly by using the simple process of physically squatting on the roads, despite the discomfort, boredom and lately - increasing public disapproval. But there were plenty of enjoyable diversions while food supplies kept magically arriving to sustain them in their struggle.
The obvious way for the protesters to achieve their goal of "occupying" the streets was simply by sitting down on the roads and blocking traffic.
We were all fooled by the label "Occupy Central" when it seems that all along the epicenter of the protest was always to be Admiralty, not Central. This is indeed the administrative "hot seat" of the Hong Kong government, and how better to glue up the workings of government than to block entry to the corridors of power located there?
To return to the possible course of coming events, it seems that unless there is a change in the mindset of our educators, not only might our future students wish to stage their own mass demonstrations, but that they would likely have the support and encouragement of their teachers.
This means that the authorities' forward planning must not be confined to imparting more appropriate knowledge to young minds, but also to impressing upon them their social responsibilities, thereby channeling their social activism for the benefit of society as a whole. And since most of Hong Kong's educators, from professors to school principals and teachers are directly or indirectly employed by the government, it would seem obvious that an urgent review of some curricula should be made and some discipline exerted.
In the meantime, let us pause and consider what will happen when those young people involved in today's protests seek to join the workforce. Will they be offered jobs by employers whose businesses have been hard hit by the disruptions they caused? And would they prove to be hard-working and conscientious employees?
If indeed these youths believe they were the "winners", their victory might leave a bitter aftertaste in their mouths. By which time, would it be too late for regrets?
The author is a seasoned observer of Asian affairs.
(HK Edition 10/27/2014 page9)