Gay forever
Updated: 2014-10-24 08:03
By Chitralekha Basu(HK Edition)
| | | | | | | | | |
| --- | --- | --- | --- | --- | --- | --- | --- | --- |
|   | | Print | | Mail | | Large Medium  Small | 分享按钮 | 0 |
Esther Eng made a slew of remarkable Cantonese-language films in 1930s US.In a new documentary Louisa Wei turns the spotlight on one of the pioneers of transnational Chinese cinema whom film historians seem to have forgotten. Chitralekha Basu reports
In the last one year or so Louisa Wei has updated and augmented her documentary film Golden Gate Girls at least nine times. "I'm crazy about this film. I keep coming back to it," says Wei. "I don't even know what the budget for this film might total up to."
The major chunk of funding for the film, on the life and works of Esther Eng - the only Chinese woman filmmaker active in the United States in the 1930s and 1940s - came from Hong Kong Arts Development Council. City University of Hong Kong, where Wei teaches film studies, provided equipment and facilities. In the lead-up to making the film, which involved location shooting in New York, Hawaii and San Francisco, and also during post-production, Wei has made too many trips between Hong Kong and the US to keep track of the expenses.
It was a serendipitous discovery that set Wei on Eng's trail - a box containing 600 photographs of Eng and the films she made, retrieved from a San Francisco dumpster in 2009. It piqued Wei's curiosity. The near-total silence of film historians, both in China and the US, on the first woman producer-director of Cantonese-language films made in the US inspired her to dig for more.
Actor-producer Danny Lee introduced Wei to Cantonese opera singer friends of Eng's in New York - the last few surviving members of the group who would frequent Eng's five restaurants in Manhattan in the 1950s. Wei interviewed people who knew Eng, including Eng's younger sister Sally and Siu Yin-fei, the heroine of her last film, Murder in New York China Town (1949). When Wei showed an early version of the documentary to film critics in Hong Kong, many were amazed that they hadn't heard of Eng before, a pioneer of Chinese cinema abroad and a precursor of present-day transnational filmmakers like Ang Lee.
Breaking conventions
Esther Eng was an unusual filmmaker in 1930s America. The heroines in her films did not conform to stereotypes of damsels in distress who needed rescuing by swashbuckling heroes. They joined the air force and fought alongside men (National Heroine, 1937), turned professionals and tried figuring what it entailed at a time when women had just about begun going out to work (36 Amazons: It's a Women's World, 1939).
Eng, a third-generation Chinese immigrant born in San Francisco in 1914, was openly lesbian. She was reportedly in relationships with some of her leading ladies. In photographs Eng is always dressed in shirt and trousers, her short hair slicked back and often flanked by the women she worked with.
"I am drawn to people who cross boundaries," says Wei. "Esther Eng crossed too many of those - boundaries of geography, gender, language and culture. She brought Cantonese opera performers to the US and put them at the center of the films she made. It was as if those boundaries did not exist for her."
Eng was involved in making 11 films between 1935 and 1949 - a period when racist attitudes prevailed. Although the Chinese Exclusion Act, prohibiting immigration of Chinese laborers to the US, was repealed in 1943, in Wei's documentary Siu Yin-fei recalls how she was prevented from disembarking when she arrived to work in Eng's film in 1948. Eng, however, continued to cast Chinese women, at a time when Chinese/Asian characters in Hollywood films would be essayed by Caucasian actors.
Even the legendary actress Anna May Wong had to deal with blatant racism, most famously when Metro-Goldwyn-Mayer refused to cast her as the female lead in the film adaptation of Pearl S Buck's The Good Earth. Wong, Wei says, "was the first Asian actress to enjoy international stardom". She performed across Europe and held sway over Hollywood and Broadway. All the same, Wong would typically be cast as the bad woman who was made to die in the end.
Women who dared
Wei has woven the stories of Wong and Dorothy Arzner - the other woman filmmaker in San Francisco who adopted the butch look and ostensibly dated her actresses - into her documentary. "Anna May Wong was a more visible figure suffering from racist attitudes for being Chinese, while Dorothy Arzner had to work round the limitations of being a gay woman in a male-dominated film industry," says Wei. "I tried to set these women, who suffered discrimination, as benchmarks to illuminate similar aspects of Esther Eng's largely un-documented life."
If Eng was a victim of discrimination - and indeed she was, her name was dropped from film credits, as high-profile filmmakers like Wu Peng, with whom she co-directed Murder in New York China Town, omitted to mention her contribution - the disappointment did not show on her face. Some of her most intimate friendships ended in a break-up. But Eng, who appeared in all her photographs with a confident, disarming smile, seemed to have a rock-solid personality, capable of weathering every storm.
She came to filmmaking at 19, with no experience and no family background in the business. By 1950 she had stopped making films. She founded iconic eateries in Manhattan, including the eponymous Esther Eng Restaurant where the likes of Marlon Brando and Tennessee Williams would sometimes drop by for dinner and a chat.
"At the end of the day, Eng understood the market very well," says Wei, dismissing suggestions that the decision to switch careers had anything to do with impulse or a broken heart. "By 1949, a lot of Chinese-Cantonese actors in America were ready to return to China. This meant Eng would lose her base of actors, many of whom had box-office value. Her films primarily catered to a Chinese audience. With the actors leaving, she had lost the market."
Contact the writer at basu@chinadailyhk.com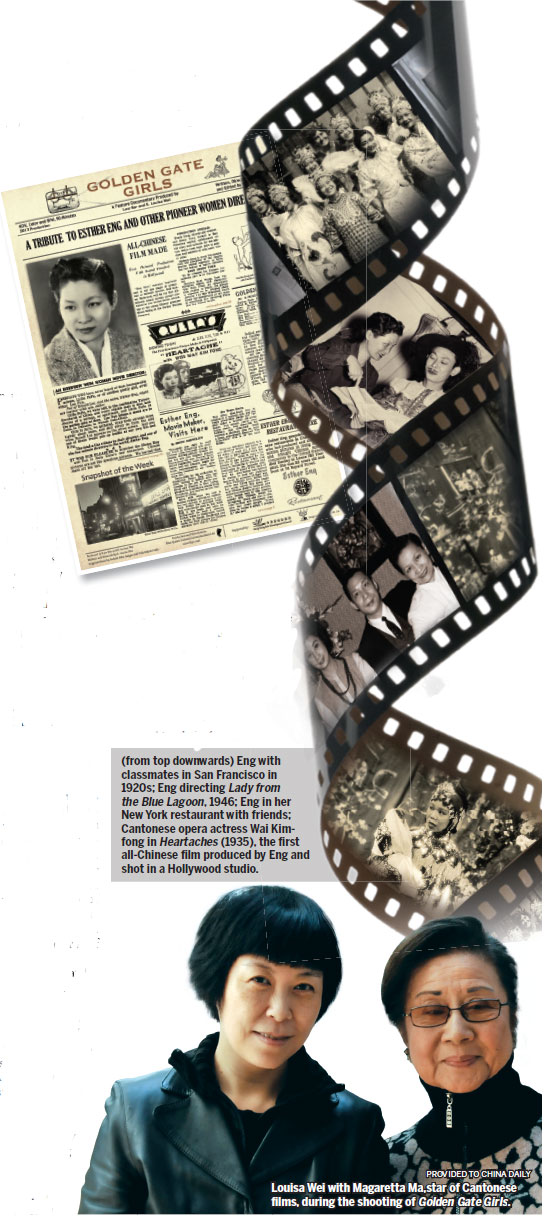 (HK Edition 10/24/2014 page7)