EOC recommendations will benefit everyone in HK
Updated: 2014-10-21 07:35
By Song Sio-Chong(HK Edition)
| | | | | | | | | |
| --- | --- | --- | --- | --- | --- | --- | --- | --- |
|   | | Print | | Mail | | Large Medium  Small | 分享按钮 | 0 |
Although "Occupy" is still continuing, a consultation on Discrimination Law Review (DLR) released by the Equal Opportunities Commission (EOC) has attracted a good deal of attention online in Hong Kong. Netizens in the SAR have criticized the consultation as a government attempt to grant privileges to mainlanders and furtively repress Hong Kong people while they are distracted by the protest actions.
Some online comments claim the new regime gives mainlanders equal status to that of Hong Kong people. They fear mainlanders will enjoy the right to social welfare payments, to vote in local elections, join the civil service and so forth. They are concerned about this threat. These discussions have gone viral - spreading to Facebook and instant messaging services such as WhatsApp.
Following much public concern in early October, the EOC has extended the consultation deadline by over three weeks - to Oct 31. Before judging whether or not netizen comments are reasonable, it is important to scrutinize the EOC's consultation documents.
Firstly, to say the consultation was conducted during "Occupy" is inaccurate. The EOC officially began its (original) three-month consultation on July 8, some 12 weeks before the start of the protests. So in this regard, the government used no tricks. The EOC respected Hong Kong citizens' right to express their opinions. It also retains the right to extend the consultation period beyond three months if necessary.
Much of the controversy surrounds the question of who needs protection from racial discrimination. Under section 8 of the current Race Discrimination Ordinance (RDO) (Cap 602), "race" is defined as "the race, color, descent or national or ethnic origin of the person". This is based on the definition used by the United Nations Convention on the Elimination of All Forms of Racial Discrimination. In section D under Chapter 2 of the consultation document, the EOC recommends that protection be extended to "nationality, citizenship, residency and related status".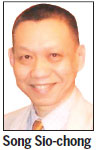 This appears reasonable and necessary considering Hong Kong's unique circumstances. Under "One Country, Two Systems", the Basic Law stipulates that the former British colony's "previous capitalist system and way of life shall remain unchanged for 50 years". Since the handover, there has been plenty of contact between mainlanders and Hong Kong people. Due to differing cultural backgrounds, misunderstandings sometimes arise. This has led to verbal and even physical clashes. Some Hong Kong people are demanding an end to, or reduction in, the number of mainland visitors allowed under the Individual Visit Scheme (IVS). I believe this would be unwise economically. Moreover, reducing contact with each other will never be a long-term solution given our geographical closeness and other factors.
Not only will increased legislation benefit mainlanders, it will also protect Hong Kong people themselves from being discriminated against. In 2012, luxury retailer Dolce&Gabbana (D&G) permitted mainlanders, but not Hong Kong people, to take photographs outside its store in Harbour City. This led over 1,000 furious Hong Kong residents to flock to the D&G store to take pictures in protest. The incident led to a public apology by D&G. If the new anti-discrimination legislation covering residency status had been in place at that time, the company would probably have been made legally accountable as well. Certain retailers in Hong Kong, particularly in Tsim Sha Tsui and other popular tourist areas, may favor mainland tourists over locals. For example, offering them special discounts. The EOC's recommends providing legal means by which Hong Kong people may seek redress against such unfair practices.
Other recommended amendments are directed elsewhere. The EOC has for example recommended, in Chapter 3, widening the definition of "harassment" against party B by party A. This is to cover any conduct by party A considered to violate party B's dignity or creating an intimidating, hostile, degrading, humiliating or offensive environment for party B. This is important because it will address conflicts between Hong Kong people and mainlanders. But it is also applicable to countless other cases occurring in our daily lives in workplaces, schools and local communities.
Another area of discrimination occurs in the education and vocational training sectors in regard to the most common medium of instruction - Cantonese. This aims to help people in Hong Kong whose mother tongue may not be Cantonese. Some netizens believe this is an attempt to promote Mandarin and to reduce the importance of Cantonese and English. But upon reading the EOC's paper, it becomes clear the main objective of such reform is to help ethnic minorities in Hong Kong who don't speak fluent Cantonese, to give them better access to education. The government has long been criticized for not allocating sufficient educational resources to the children of ethnic minorities.
In conclusion, comprehensive protection of equal opportunity rights is vital to developing a harmonious society. Love and equality should always prevail over discrimination.
The author is a veteran HK commentator and professor at the Research Center of Hong Kong and Macao Basic Law, Shenzhen University.
(HK Edition 10/21/2014 page1)