'Occupy Central' campaign is undemocratic and hypocritical
Updated: 2014-10-21 07:35
By Ho Lok-Sang(HK Edition)
| | | | | | | | | |
| --- | --- | --- | --- | --- | --- | --- | --- | --- |
|   | | Print | | Mail | | Large Medium  Small | 分享按钮 | 0 |
I have grown increasingly disappointed with the "Occupy Central" protesters. They started off promising peace and love, and offering a vision of a more democratic Hong Kong. They promised to follow a protocol including not resisting police arrest. "It will be just days before the occupiers are all arrested, and it will not cause much disruption to Hong Kong people," they said. They also promised to obtain authorization from the public before launching "Occupy". They claimed they would not adversely affect the rule of law.
Sadly for Hong Kong they have broken all their promises and the rule of law has been shaken to its core. Every day we see lawlessness, as innocent people are victimized: Young children have suffered extended travel times to their kindergartens and schools, the old and infirm have experienced difficulties getting to hospitals for medical appointments, while small businesses have been suffering.
However, not all the news has been bad.
The latest Hong Kong Research Association survey released on Sunday shows that Hong Kong people have shown good sense amid all the confusion. Support for the SAR government and police has, in both cases, risen by 5 percent to 56 percent and to 61 percent, respectively.
The numbers of those who find protesters' behavior either unacceptable or totally unacceptable rose to 62 percent for the Hong Kong Federation of Students and Scholarism, 63 percent for the three "Occupy" originators, and 55 percent for the protesters on the streets. A total of 68 percent of respondents said they do not support the "Occupy" campaign, up 1 percentage point, while only 27 percent expressed support, down 2 percent.
This may appear surprising to those watching, listening to and reading media reports. This is because the impression has been given that "Occupy" supporters are in the majority. The host of ATV's Newsline asked me: "If you think there is a silent majority of people in Hong Kong who are against the 'Occupy' movement, why do they not show up in the streets?" My response was that the majority of Hong Kong people are not interested in confronting the protesters. They tend to shy away from confrontation and want to go about their day-to-day business, undisturbed. They want law and order, secure jobs, a good living environment, the freedom to work and invest as they please, to be respected as individuals in a society with a social safety net to take care of the less fortunate.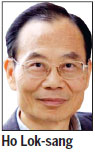 Universal suffrage may be a good thing to have, but it is no substitute for any of the above. A more open nomination system may be a good thing, but the majority is happy to have the vote, even through the Nominating Committee mechanism, although it may not be agreeable to many.
Students accuse the Leung Chun-ying administration of not listening to public opinion. But do they heed public opinion? Poll after poll, from whatever source, persistently shows that those opposing "Occupy" vastly outnumber those supporting it. If they take public opinion so seriously, why don't they call off the "Occupy" protests?
Earlier in the year, "Occupy" organizers screened 15 political reform proposals deemed consistent with "international standards". They only left three possibilities, all of which involved public nomination, which directly contravenes the terms of the Basic Law.
If "Occupy" truly are against "prescreening by the Nominating Committee", why do they themselves prescreen proposals for the public to indicate which system they would support?
The occupiers say they want justice. But justice is not what one dictates to be justice. Justice requires treating everyone as an equal.
Why do "occupiers" have the right to dictate which roads are to be opened to traffic and which not?
The protesters refuse to acknowledge that their supporters are vastly outnumbered by those against the movement. But they only need to wait until 2016. The silent majority will voice their dissent at the polls. My prediction could be incorrect, but I wager that the "pan-democrats" backing "Occupy" will suffer significant losses. The silent majority will not confront them in the streets. But they will show them that they have done a disservice to Hong Kong - in the name of democracy; their behavior has been undemocratic, and they will learn an important lesson from this.
The author is director of the Centre for Public Policy Studies at Lingnan University.
(HK Edition 10/21/2014 page1)