New reports confirm US role in HK politics
Updated: 2014-10-21 07:35
By Lau Nai-keung(HK Edition)
| | | | | | | | | |
| --- | --- | --- | --- | --- | --- | --- | --- | --- |
|   | | Print | | Mail | | Large Medium  Small | 分享按钮 | 0 |
In an article entitled, "Why is the US so keen on 'color revolutions'?", People's Daily reveals what some believe has become obvious over the past weeks of protest in Hong Kong - that the protests are driven by foreign interests masquerading as a "desire for democracy".
The article says that according to new media reports, Louisa Greve, a director of the US National Endowment for Democracy (NED), met with the key movers of "Occupy Central" several months ago. This was purportedly to discuss the illegal movement. Louisa Greve is a vice-president of NED, responsible for programs in Asia, the Middle East and North Africa. For many years her name has appeared on reports about "Tibetan independence", "East Turkistan", "democracy movements" and other forces destabilizing China and interfering with the country. She also hosted or participated in conferences related to the "Arab Spring" and "color revolutions" in other regions.
Tony Cartalucci brought the People's Daily article to my attention. Cartalucci is an independent American geopolitical analyst based in Thailand. He covers world events from a Southeast Asian perspective and "promotes self-sufficiency as one of the keys to true freedom". Cartalucci also runs the Land Destroyer Report which includes other American researchers and writers.
The Land Destroyer produces quality articles and has extensively covered recent protests in Hong Kong. Unlike much of the mainstream media, it provides an objective viewpoint. Cartalucci once wrote: "China's People's Daily says 'Occupy Central' is a US-backed color revolution ... because it is a US-backed color revolution." What a refreshing statement!
The Hong Kong Confederation of Trade Unions (HKCTU) is the latest among US-backed Hong Kong political organizations to be exposed. The media have said the HKCTU has received HK$13 million from the US over the years. This is to help conduct some suspicious activities - including "Occupy". The HKCTU is headed by prominent opposition leader, Lee Cheuk-yan, chairman of the Labour Party and the Hong Kong Alliance in Support of Patriotic Democratic Movements of China.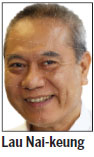 According to the South China Morning Post (SCMP), HKCTU "sought money from Solidarity Center, a Washington-based non-profit-making body that promotes workers' rights." The SCMP chose not to inform readers of the fact that the Solidarity Center, also known as the American Center for International Labor Solidarity, receives more than 90 percent of its funding from the US government. Most of its funding is from the US State Department (via the NED and United States Agency for International Development) and the Department of Labor.
The Solidarity Center may be "non-profit-making," but it is hardly a "US-based NGO" - as reported by the SCMP. The NED and the Solidarity Center's NGO status provide the fiction that recipients of funding are getting "private" rather than US government money. I imagine this was also deliberately kept from SCMP readers.
The newsworthiness of the HKCTU story is in the leaks - not the money itself. We do not need secretive files shared exclusively to the media to prove US involvement in local politics and, in particular, "Occupy Central." As a HKCTU chief executive told the SCMP, "It's not a secret. We have received subsidies from Solidarity." He also confirmed that some of the files leaked were authentic.
In this regard, Cartalucci is doing a better job at the Land Destroyer than our local journalists in documenting information about US financing behind Hong Kong politics. Hong Kong media should be ashamed of themselves.
Cartalucci's research shows that Civic Party's Audrey Eu Yuet-mee "regularly attends forums sponsored by NED and its subsidiary NDI (the US National Democracy Institute for International Affairs)." In 2009, Eu "was a featured speaker at an NDI-sponsored public policy forum hosted by "SynergyNet", also funded by NDI. In 2012 she was a guest speaker at the NDI-funded Women's Centre "International Women's Day" event, hosted by the Hong Kong Council of Women which is also funded annually by the NDI.
Everything is transparent. Cartalucci is able to provide readers with links to SynergyNet's website, where a report acknowledges that "the National Democratic Institute for International Affairs, Washington, DC, has made contributions toward meeting some of the research support and publication expenses."
SynergyNet's founder Anthony Cheung Bing-leung has been a member of the Executive Council since 2005 and is the current Secretary for Transport and Housing. The case of SynergyNet is the best illustration of how deeply US funding is corrupting our society and our politics.
The author is a veteran current affairs commentator.
(HK Edition 10/21/2014 page1)