HK students need to be better informed
Updated: 2014-09-23 06:57
By Lau Nai-keung(HK Edition)
| | | | | | | | | |
| --- | --- | --- | --- | --- | --- | --- | --- | --- |
|   | | Print | | Mail | | Large Medium  Small | 分享按钮 | 0 |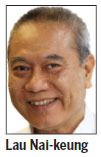 Undergrad, the student publication of Hong Kong University (HKU), has recently published a series of articles on "Hong Kong independence". Against the backdrop of the Scottish referendum on independence, rejected by voters last Thursday, an increasing number of people in Hong Kong are seriously considering independence as an option for the future.
If the Scottish vote was about whether national pride outweighs economic risks, the same considerations also appear in the debate on the issue in regard to Hong Kong. As blogger Big Lychee noted, "The arguments are on different frequencies - one driven by excitement, idealism and no little anger, the other by weariness, calculation and probably cynicism."
Everyone knows what the dissidents are demanding as "true democracy" is in fact - independence. The key to their strategy is not to call the arrangement "independence": It will just have to be a very high level of autonomy, with no control from the central government. The central government is playing along. Indeed, it has preempted the dissidents' ultimate demands with code words such as "national security" and "foreign intervention".
This is a situation where the central government knows what is going on and the dissidents know the central government knows this and so on. As long as no one uses the word "independence", we can pretend the emperor is still wearing his new clothes.
The HKU student press is the little boy in the story, The Emperor's New Clothes, who cried, "Hang on! The Emperor's as naked as the day he was born!" These aspiring political scientists thought they had discovered something no one else had thought of before - that Hong Kong must first gain independence before it can have "true democracy".
I tried hard to read all six articles published by HKU's Undergrad. But I failed. They are all too pretentious and amateurish. It was torture trying to understand their bizarre logic. A few of them contain nothing but make-believe statements. The writers seem to think it is appropriate to liken the Communist Party of China (CPC) to offensive words such as "prostitute". They are misguided if they think that by defaming the CPC, they have done something heroic.
It is funny that these "heroes" all used pen names. I would describe people who do this as cowards, but I guess I am old-fashioned. Today, students expect the government to provide public toilets during protests and universities with supplementary classes after their "class boycotts".
I gave up on them after reading that Hong Kong could achieve energy self-sufficiency by importing coal from India. The author of this article believes India will provide coal to "independent Hong Kong" because the country is working together with the US against the rise of China. I am not sure what that particular author is thinking about amidst reports of President Xi Jinping's recent visit to India.
The worship of ignorance is becoming an alarming trend in Hong Kong. The reform of curricula has encouraged little more than shallowness. The so-called "liberal studies", "general education" or "critical thinking" subjects have laudable ideals. But in practice they are producing students more narrow-minded and dogmatic than ever.
When young people who know nothing of history or international relations try to argue for "Hong Kong's independence", the results are something like the Undergrad articles. If I were their teacher - regardless of whether I agreed with their views or not, I would ask them to read more before writing their next article. But I know their teachers are probably also their cheerleaders.
A good friend once said Scholarism leader Joshua Wong could talk a mile a minute around a never varying theme of struggle and resistance against "Satanic China". Actually Wong did very well in Liberal Studies in the Diploma of Secondary Education examination.
After endless reforms to the school curriculum, Chinese history is no longer a core subject in the secondary school public examination. But Liberal Studies is though. I really cannot see how Hong Kong can compete in a knowledge-based economy if we keep producing students with no solid training in factual information and rational ideas. Worse still, the press is lending those zombies some credibility. Overcoming this ignorance is going to be a real challenge to Hong Kong's future competitiveness.
The author is a veteran current affairs commentator.
(HK Edition 09/23/2014 page7)