Hong Kong SAR can be a democratic model
Updated: 2014-09-19 10:12
By Eddy Li(HK Edition)
| | | | | | | | | |
| --- | --- | --- | --- | --- | --- | --- | --- | --- |
|   | | Print | | Mail | | Large Medium  Small | 分享按钮 | 0 |
The National People's Congress Standing Committee (NPCSC) unanimously (170 votes) passed a draft resolution on Hong Kong's election overhaul on 31 Aug. This will allow the adoption of universal suffrage in the 2017 Chief Executive (CE) election and set the framework for political reform in accordance with the actual situation in Hong Kong. "One person, one vote" is, therefore, no longer a remote dream for those who long for democracy.
In other words, the first two phases of the five-step process of constitutional development are complete and the focus has shifted from Beijing back to Hong Kong. We are now anticipating the second round of public consultation on this framework. After this, concrete proposals must be submitted to Legislative Council (LegCo) for approval by at least two-thirds of all LegCo members. If this cannot be achieved, Hong Kong people's aspirations for universal suffrage will be dashed and the reform process delayed.
Then if no consensus is reached, the current method for selecting the CE by the 1,200-member Election Committee will have to be retained. Years of effort will have been wasted. So if we want universal suffrage in 2017 as promised, it is high time we let the political reform process proceed. This will be seen as a historic milestone. But if this opportunity is not seized now, it will mean further years or even decades of waiting for those who genuinely care about Hong Kong's constitutional development. The most significant aspect of this is the decision by LegCo. Consequently, the responsibilities of every LegCo member have grown considerably.
Like most Hong Kong residents, I cherish the opportunity of "one person, one vote" elections. I hope we will be one of the first regions of China to elect the regional head of government by universal suffrage. This is not only an important landmark for Hong Kong; it will be a shining example for a nation of 1.3 billion people.
In examining Hong Kong's political evolution toward full democracy, we also have to understand the challenges and difficulties ahead. Obviously, the framework set by the NPCSC cannot satisfy everybody. Nor can it be perfect. Some will understandably have objections to it. But it offers a way forward. Only after carefully reviewing the situation can we take this step forward. We should also remember that taking small steps forward is the only realistic way to improve and refine our system.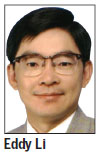 The ultimate objective of democratic development is social harmony and improving people's livelihoods. I have always believed Hong Kong's advantages made our city a better place to live and work in than many other places. These advantages include freedom of speech, low crime levels, a well-developed information system, transparent government officials, a modern health system, an excellent living environment, low tax rates, and a business-friendly environment. With all these advantages, Hong Kong is definitely capable of developing a democratic political system.
At present, however, a small group of people from the "pan-democrat" camp threaten to launch class boycotts in schools and also the "Occupy Central" campaign. This is in an attempt to force the central government to reconsider its recent decision on political reform. But these actions will not help Hong Kong's constitutional development. On the contrary, they will only have a negative impact. If Hong Kong fails to achieve universal suffrage, then these people are to be blamed.
I hope all parties can work together to create a progressive political system in Hong Kong. Then social stability will be guaranteed. Constitutional development will be able to proceed smoothly. People from all walks of life must put aside their differences and work together. It will be wonderful if we can make Hong Kong a model for democracy, which is an example not only to the rest of the country but the rest of the world.
The author is vice-president of the Chinese Manufacturers' Association of Hong Kong.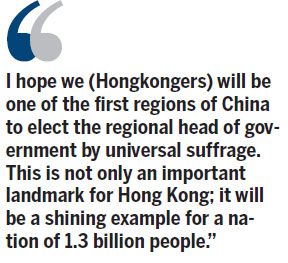 (HK Edition 09/19/2014 page1)