The vanishing art of Cantonese cooking
Updated: 2014-09-09 06:22
By Wang Yuke in Hong Kong(HK Edition)
| | | | | | | | | |
| --- | --- | --- | --- | --- | --- | --- | --- | --- |
|   | | Print | | Mail | | Large Medium  Small | 分享按钮 | 0 |
Walk down any street in Hong Kong and you'll find a restaurant or two, selling snacks like char siu, lou mei, egg puffs and wonton noodles. Many who cherish the local tradition, however, fear that the cuisine that helped Hong Kong win international acclaim is eroding and losing its enduring appeal.
When Pearl Kong Chen died in late July, Hong Kong lost a giant of the culinary arts.
Chen was the granddaughter of a Qing Dynasty (1644 - 1911) archivist whose experiments with food preparation, using the freshest and often the rarest ingredients, earned him acclaim as the founder of Cantonese haute cuisine.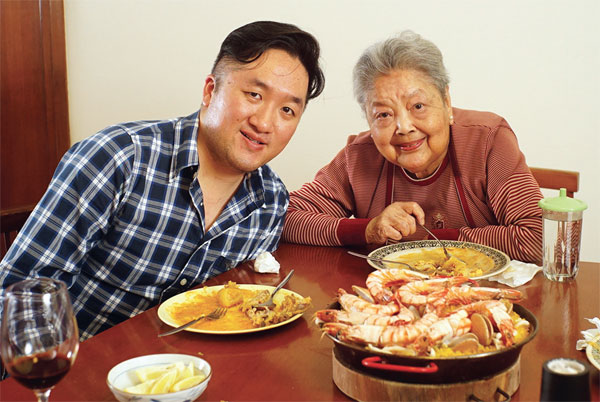 Pearl Kong Chen (right) was a food historian who sought out the essence of every traditional Cantonese delicacy. Provided to China Daily
It is fair to say that Chen spent her life sampling and savoring traditional food. She learned from her grandparents and parents to appreciate the delicate blending of flavors so that in later life she was acknowledged as a "living cookbook" of Cantonese cuisine.
Lau Kin-wai, owner of Kin's Kitchen, on Hennessy Road, Wan Chai, was Chen's close friend. He recalls talking with her for hours, exchanging views about cooking techniques and recipes. Lau became the beneficiary of much of Chen's knowledge. His son, Lau Chun, a favorite pupil of Master Chen, learned many of her culinary secrets.
Taishi gwo cha, or deep-fried crust of beans, is a tribute to Master Chen's prowess. The success of the dish depends on the quality of the rich, sweet broth used to prepare the crust. Also premium-quality chicken and Jinhua ham (a specialty in Zhejiang province) will be used. The dish is simmered on a low fire until the natural freshness becomes fully concentrated. The broth is carefully blended with a puree of mashed beans. The mixture is coated with cornstarch and egg white that must be of perfect consistency, and then deep-fried.
Chen lamented, in the many books she wrote, that the lack of traditional ingredients has taken the edge off Cantonese delicacies. Some dishes have become completely forgotten.
From Kin's Kitchen, a platter emerges, to be presented with pride at the diners' table. A whole chicken has been chopped with methodical precision into bite-sized cubes; the golden skin, coated in brown sauce and oil, is steamed to a high-gloss finish.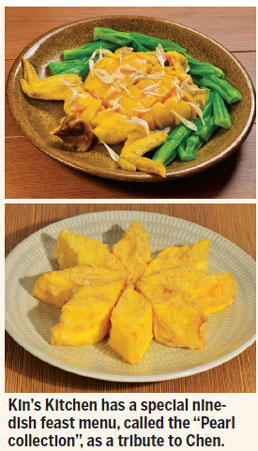 The presentation is garnished with green cabbage and finished with pure white chrysanthemum petals, drizzled around the periphery as Chen herself might have served it. The master chef gave the dish her personal seal of approval before her death. The dish, together with eight other selections, make up the special feast menu called the "Pearl collection", in honor of Chen's lifelong dedication to Cantonese food. The chicken, lucidly named steamed chicken stuffed with prawn paste, was her favorite.
The chicken skin infuses the tangy sauce from the inside out. The chrysanthemum petals add a fragrant spicy tang, faint but palpable. Mashed prawn, the leading performer among the cast of flavors, presents a refreshing and bouncy texture.
Lau says few restaurants in Hong Kong prepare Cantonese food this way anymore. "This dish is served only rarely now, due to its complicated preparation," Lau Kin-wai explains.
Tsang Chiu-kwan, a regular at Kin's Kitchen, says, "a limited number of restaurants serve this dish now. When I crave it, I'd head for one of those few and enjoy a little indulgence."
Not all are nostalgic for the traditional ways, however. William Tang Tat-Chi, a food critic in Hong Kong, likes the way things are going.
"The traditional flavors were not necessarily top-notch. Some were flawed or unpleasant." He cites an example, "there used to be a dish that featured fish intestine. People steamed the entrails with egg and dried tangerine. It was awful. Bitter and gross!" he grumbles. "The dish was eaten at the time, only because of the scarcity of more appetizing ingredients."
Another example was poon choi, a feast of assorted ingredients including pork, chicken, duck, abalone, ginseng, shark fin and maw, dried mushroom, and eel. It is a festive delicacy, created by the indigenous population of what is now New Territories.
"The fusion of wholesome ingredients seems really stodgy to me. People just attach to the tradition, but are not necessarily fond of the taste."
Tang says, "Changes in Cantonese culinary culture are not a big deal. I think it's not a matter of revolution or evolution, but rather a spin-off of the progression of time."
To each his own, individual taste varies widely. Tastes change and the culinary art, eventually and inevitably, adapt to popular will.
jenny@chinadailyhk.com
(HK Edition 09/09/2014 page7)