'Occupy Central' will increase business risk in Hong Kong
Updated: 2014-09-04 07:35
By Raymond So(HK Edition)
| | | | | | | | | |
| --- | --- | --- | --- | --- | --- | --- | --- | --- |
|   | | Print | | Mail | | Large Medium  Small | 分享按钮 | 0 |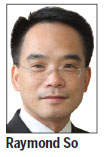 Recently, the National People's Congress Standing Committee announced the framework for the implementation of universal suffrage in Chief Executive elections from 2017. Needless to say, this has not been accepted by the "pan-democrats". Many opposition lawmakers openly announced they would vote against the SAR government's bill for universal suffrage. At the same time, the "Occupy Central" campaign is developing some momentum. It seems probable that the "Occupy" campaign will now proceed.
Political development is a complex issue. So at this point it is impossible to forecast whether or not there will be any further developments on the decision by the central government. Beijing has laid down the framework for universal suffrage, but many details have yet to be finalized. Although this might sound unlikely, if these details can be negotiated then some sort of solution may result. However, many of the city's business leaders are preparing for the worst. It is well-known that businesses in Central have already implemented sophisticated contingency plans to deal with "Occupy" protests.
From a business point of view, any uncertainty will entail risk. Basic economic theory tells us that risk and reward are interrelated. If the risk element of business increases, then investors will demand higher-than-expected returns. In the stock market, since the second- and third-liners are riskier than the blue chips, these riskier companies typically will have higher capital costs in order to compensate investors for taking risks. No matter what "Occupy" will bring to Hong Kong, it increases the uncertainty facing businesses. This uncertainty will translate into a systematic increase in the risk of doing business in Hong Kong, which will lead to increases in capital costs. This has nothing to do with differences in views on democracy, but rather a simple concept governing all business operations.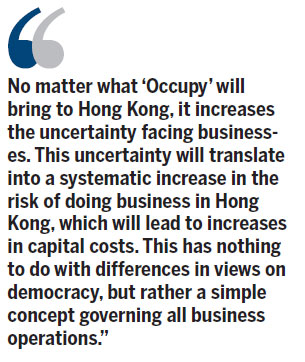 Hong Kong is unique in the sense that it has adopted a linked exchange rate system. Because the Hong Kong dollar is pegged with the US dollar, it cannot have an independent monetary policy. Hong Kong cannot do much, if anything, in adjusting money supply and interest rates to tackle changes in systematic risk. In other words, if or when "Occupy" actually occurs, we will only be able to deal with the challenge as best we can. Businesses will think of ways to reduce the negative impact on their operations. Many tasks can be performed online. This will lower the unfavorable impact of obstructions in Central. Nevertheless, the element of risk cannot be eliminated. Inevitably, Hong Kong will have to bear the cost - which will result in increased capital costs.
Increases in capital costs make investors more selective in their choice of investment projects. Companies will face higher financing costs, so they will demand higher returns to compensate for these increased costs. In return, some projects will not be accepted because they will no longer be financially viable. This in turn will mean a lower level of economic activity and development. This is something of which we need to be aware.
Higher capital costs and risks do not mean that Hong Kong is no longer a good place for investment. If the expected returns can adequately compensate for risk taking, then investors will still come to Hong Kong. Opportunities will remain the key factor in determining Hong Kong's attractiveness to investors. However, the increase in risk will lower the number of opportunities. This will affect the territory's economic development - a cost we will need to bear.
The author is dean of the School of Business at Hang Seng Management College.
(HK Edition 09/04/2014 page1)