Preserving confidence vital for Hong Kong
Updated: 2014-06-27 05:24
By Kerry Brown (HK Edition)
| | | | | | | | | |
| --- | --- | --- | --- | --- | --- | --- | --- | --- |
|   | | Print | | Mail | | Large Medium  Small | 分享按钮 | 0 |
Confidence is an illusive, but critical quality. There is no science in its creation, or its destruction. It obeys no rules. But in politics or economics, when confidence disappears, markets decline and collapse, countries stumble and pain begins.
Confidence for Hong Kong, because of its special status as a part of China, but operating under the "One Country, Two Systems" model with a high degree of autonomy, is crucial, especially because as the recent white paper acknowledged, most of Hong Kong's economy relies on the four pillars of finance, logistics, tourism and services. For each of these, confidence is everything.
Hong Kong is special because of its continuing importance in these four areas. As a port, a trade center, a finance hub and a place for people to transit and visit, Hong Kong ranks high globally. It is one of the world's most open economies, one of the most transparent, and the easiest to do business in. The white paper itself ends with a list of Hong Kong's attributes in these areas. These are things that have to be protected and where confidence has to be maintained.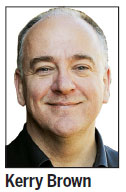 There is nothing new in this. The fact is that for much of the last half century, Hong Kong has been an enormously important economic asset, for its people and the world. This is why it was important to the British during the colonial era; it is why the negotiations over the area before its return to Chinese sovereignty in 1997 were so important. It is also why the central government continues to support Hong Kong's unique status. It is in no one's interest to see the economic position of the territory jeopardized.
The white paper argues that "One Country, Two Systems" offers the best framework for preserving these remarkable attributes. This framework, however, also recognizes that rule of law has to be maintained, power exercised through local people, and confidence maintained. This also has to include a consistent approach from Beijing, demonstrating that the two different economic systems have a form of compatibility. The core of this is to ensure the principles Beijing has granted Hong Kong are flexible enough. There must be space for the SAR to function in the areas where it preserves its strengths without disruption, doubt or threat. This is even more in Beijing's interests now, because of the huge importance Hong Kong is acquiring as an investment hub between the mainland and the rest of the world, and as a place for renminbi trading.
Economic outputs are not the only issue. Hong Kong is becoming more diverse and pluralistic. Its challenges in the last few years have partially been about adapting to changing global and local situations. This is not about changing the consensus encoded in the Basic Law. It is about adapting and reforming. Hongkongers are concerned about issues of inequality. They are dealing with rising expectations, generational changes and identity issues as much as any other place. There is a desire to see improvements in the way decisions are made and policies implemented. This is not the same as saying people want wholesale change. But it does mean there is a desire to see a wider franchise and a broader group from which representatives may be drawn.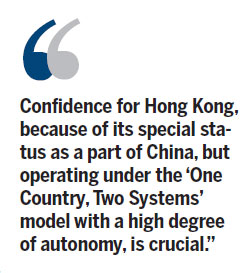 The "One Country, Two Systems" framework stresses the need to allow beneficial integration with the mainland where it works, but to accept and encourage the retention of power and responsibility by the local administration. It provides a framework, but leaves room for details to be added, or changed. Hong Kong's competitiveness and prosperity are the key things to protect. For Hong Kong people, therefore, it is imperative they develop a solution to their anxieties about identity, and a more workable political system within the framework under which they operate.
It is no easy task. But they cannot walk away from this. They cannot shrug their shoulders and complain that they can do nothing. They need to make use of their immense economic and financial strengths. They need to show how the best way to preserve this is a system where confidence is strengthened, where greater participation in decision making is undertaken and where local identity is respected. This is a system which is actually the essence of all the things which make Hong Kong special.
The author is executive director of China Studies Center and professor of Chinese Politics at University of Sydney; team leader of the Europe China Research and Advice Network (ECRAN) funded by the European Union; and associate fellow at Chatham House, London.
(HK Edition 06/27/2014 page9)