Behind media articles lies a hidden agenda
Updated: 2014-06-13 05:25
By Bob Lee(HK Edition)
| | | | | | | | | |
| --- | --- | --- | --- | --- | --- | --- | --- | --- |
|   | | Print | | Mail | | Large Medium  Small | 分享按钮 | 0 |
The International New York Times (INYT) ran a groundless front-page article entitled "Beijing said to have quashed papers ads" on Thursday. It claimed that Hong Kong's two major banks - HSBC and Standard Chartered - had ended long-time advertising relationships with Next Media, known for its strong anti-Beijing advocacy, after "being ordered to do so by the Chinese government".
Earlier this week, the INYT carried another report with an inflammatory headline "Beijing's White Paper sets off a firestorm in Hong Kong". It accused "the communist leadership of reneging on its pledges to abide by the 'One Country, Two Systems' policy which allows for a democratic and autonomous Hong Kong."
It is rare for a world-renowned newspaper like the New York Times to repeatedly lambaste Hong Kong's political development. It is even more amazing that the INYT has printed approximately 130 news items relating to "Hong Kong democracy" in less than six months. Common sense and logic tell us the NYT, as one of the world's most prominent newspapers, should have more pressing issues then poking its nose into the affairs of a tiny place like Hong Kong. Does Hong Kong really carry so much weight in geopolitics that it requires intensive global media coverage? Or do the NYT and its Western peers have a hidden agenda? Our clear-minded readers have their own answers.
Based on my observations, NYT's densely packed editorials, opinion pieces and coverage are timed to coincide with Hong Kong's political reforms. It is eager to take sides with the city's opposition camp, especially during sensitive times in June when "Occupy Central" organizers are to hold a city-wide unofficial vote for "ultimate universal suffrage proposal" and a more radical group of activists has pledged to occupy the Legislative Council if the SAR government produces a reform package they don't like.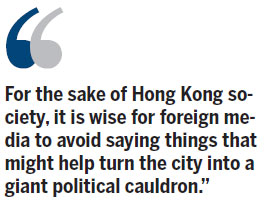 The press may not be successful in telling people what to think, but it is stunningly successful in telling its readers what to think about. According to classic agenda-setting theory developed by Max McCombs and Donald Shaw, the media has the ability to influence the salience of topics on the public agenda. If a news item is covered frequently and prominently, audiences tend to regard these issues as more important. Following this logic, Hong Kong's political perceptions depend very much on the picture drawn for local and global subscribers by writers, editors and publishers. So, biased or one-sided reports and remarks by many Western media outlets will not help bridge the political divide in Hong Kong or cool simmering tensions. Instead, they will propel Hong Kong toward turmoil.
For the sake of Hong Kong society, it is wise for foreign media to avoid saying things that might help turn the city into a giant political cauldron. The Western media may enjoy throwing its weight around, but Chinese people, including Hong Kong locals, don't appreciate being bossed about.
It is true that the HKSAR is an open, pluralistic and diversified metropolis where Chinese and Western cultures converge. But this doesn't mean foreign forces can brazenly interfere with China's internal affairs. It is undeniable that, influenced by some oversea media who harbor an ill-intended agenda to mess up Hong Kong, many locals have confused or lopsided views about Hong Kong's constitutional status and the Basic Law. Inaccurate views are contributing to misconceptions about Hong Kong. This is leading to endless political squabbles that have raged for a long time.
In this regard, the State Council's first white paper on "One Country, Two Systems" comes at the right time. It makes the Hong Kong public more aware of the following principles: The high degree of autonomy of the HKSAR is not full autonomy, nor a decentralized power, and it is not an inherent power, but one that comes solely from the authorization of the central government. Loving the country is the political criteria for the Chief Executive (CE) candidates. An unpatriotic CE could pose a threat to the nations' sovereignty. It could allow the HKSAR to deviate from the right path and jeopardize the well-being of its people.
More importantly, in view of the fact that the Western media, alongside with the US and UK consul-generals in Hong Kong, have recently been making irresponsible comments about the future of democracy in Hong Kong, it is necessary to stay alert to attempts by outside forces to use Hong Kong as a beachhead to subvert China.
The author is a senior editor of China Daily Hong Kong Edition. boblee@chinadailyhk.com
(HK Edition 06/13/2014 page9)