Rethinking HK's role after Snowden's exposures
Updated: 2014-05-27 07:11
By Lau Nai-keung(HK Edition)
| | | | | | | | | |
| --- | --- | --- | --- | --- | --- | --- | --- | --- |
|   | | Print | | Mail | | Large Medium  Small | 分享按钮 | 0 |
A few weeks before the first anniversary of the beginning of the Edward Snowden affair, Hong Kong again hyped up its own sense of self-importance. We played a role in this globally significant affair. When future history books mention this period of "widespread illegal surveillances as the United States' attempts to regain lost glory", students around the world will learn that there was once a city named Hong Kong. As to why Snowden came to Hong Kong, first, instead of other places, the history books will offer explanations which Hongkongers today would find unfamiliar.
The mainstream narrative was best articulated by the South China Morning Post, which for all its experience in the past with regional dynamics, has confused rather than clarified things. "Hong Kong's 'brazen' defiance in the face of US attempts to extradite fugitive whistle-blower Edward Snowden was pivotal in shaping the global reaction to one of the biggest government leaks in modern American history, said a journalist instrumental in breaking the story," the paper wrote.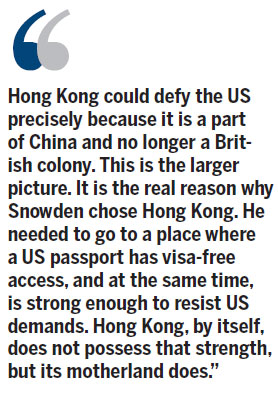 The SCMP article was entitled "HK's role in shaping Snowden reaction 'pivotal' ", a claim that would no doubt make Hongkongers proud. It is also a very typical product of modern-day journalism, where a journalist talks to another journalist and writes a piece about their conversation as though it was something newsworthy and important. If you can write about how some tweets went viral, or about rumors circulated on the Internet, then why not about what one of your peers says?
The reporter that the SCMP article cited was Glen Greenwald, who is important as "one of the reporters who broke a series of stories based on a cache of classified documents leaked by the former NSA contractor". Apparently, this important source recently had a book published, so he is doing some public relations work.
According to the SCMP piece, the reason Snowden chose Hong Kong "was that it provided simultaneously the security that he wanted from the US government - a place that could be independent of the US and the US couldn't do whatever it wanted - but it was also a place where there was a good amount of political freedom in the air."
Throughout the SCMP article, a critical link was missing: China was not mentioned - not even once. "Hong Kong did it first, then the Russians did it, but also Bolivia, Nicaragua, Venezuela offered him asylum and Ecuador which was planning to do so. Then you had Brazil and Germany very publicly opposing what the United States was doing," Greenwald was quoted as saying. The way he said it gives the feeling our city has the same status as other nations.
While these statements helped inflate our egos, they did nothing to further our understanding of the incident. Hong Kong could defy the US precisely because it is a part of China and no longer a British colony. This is the larger picture. It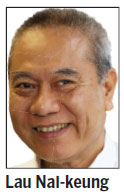 is the real reason why Snowden chose Hong Kong. He needed to go to a place where a US passport has visa-free access, and at the same time, is strong enough to resist US demands. Hong Kong, by itself, does not possess that strength, but its motherland does.
If we treasure this independence, then actions such as those taken by Anson Chan and Martin Lee must be condemned. What they seek is more interference from the West, especially the US. If they were in charge when Snowden were here, I have no doubt they would have handed him over to the US government.
For Hong Kong to remain a world-class city, we need to realize where our real strengths lie - and where our weaknesses are. We are not, and cannot be, immune from geo-politics. In recent months, tensions between China and its neighbors have heightened, driven largely by changing Sino-US dynamics. In Vietnam, production was brought to a halt after factories were vandalized. Hong Kong people had invested capital in many of these factories.
Being the "window of China" has both costs and benefits. If we want to maintain this status, we have to honor an implicit contract we have with the central government - with all the privileges we enjoy, we must leverage this for the benefit of sovereignty, security and the overall development of the nation.
The author is a veteran current affairs commentator.
(HK Edition 05/27/2014 page7)