Can cross-border express rail link problems be avoided?
Updated: 2014-05-05 08:24
By Li Kui-wai (HK Edition)
| | | | | | | | | |
| --- | --- | --- | --- | --- | --- | --- | --- | --- |
|   | | Print | | Mail | | Large Medium  Small | 分享按钮 | 0 |
Recently, there were reports that the construction of the cross-border express rail link - budgeted at HK$67 billion and linking Hong Kong directly with Guangzhou - will be delayed for another two years. The service will now begin in 2017.
There were immediate calls for someone to take responsibility for the delay. Perhaps it was due to the heavy downpour of rain which flooded the tunnel, the construction company or government officials? Perhaps, the whole administrative process was not properly monitored? The process of "scapegoating" will no doubt go on for some time.
Hong Kong has always been strong in the area of infrastructure development. Frequently, key infrastructure projects were built on time and efficiently. This was partly because of a sufficient government funding and/or private involvement. The funding of infrastructure development was usually not too difficult.
But the economics of infrastructure development is that it is always expensive. Financing infrastructure development often extends beyond current economic capacity. There is always a dilemma faced with infrastructure development. It is expensive, but the earlier things are built, the sooner the economy will enjoy its many benefits. The more infrastructure projects are delayed, the more expensive they become. As time passes, inflation increases costs. So it is wise to build infrastructure sooner rather than later. Hong Kong's mass transit railway (MTR) was built in the 1970s. But how can one put a value on its many benefits when comparing them with the project's actual costs in the 1970s?
There is another point to note. Because of the massive amount of construction work involved in infrastructure projects, it is common to experience delays. These will occur however outstanding the project is. Other than the "natural" reasons for delays, there has to be an efficient monitoring mechanism in place. This can examine human mistakes, vested interests, financial fraud and illegalities. Construction companies need clear guidelines so construction work can be well coordinated.
But there is also another aspect of the debate about infrastructure development in Hong Kong. For example, take the case of when the new airport at Chek Lap Kok was built. There were two parallel-running railways (with one going to the airport with only a few stations) while the Tung Chung Line was running parallel to the airport railway. Why? Was a duplicate really needed? Could the Tung Chung Line have consisted of a loop which extended to the airport - or vice versa? The airport line goes to Central as a terminal station. Could it not be somewhere else in Kowloon in order to ease the heavily congested Central district?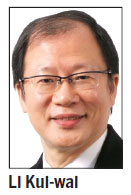 In other words, why can't economic development in Hong Kong be spread out further? Why do decision-makers always have to make Central or Tsim Sha Tsui the destination? There are other examples. For instance, ferries which go to out-lying islands like Cheung Chau have always to be situated in Central. Therefore, people living in the New Territories and Kowloon have to come to Central first before taking a ferry to the out-lying islands. Can't there be ferry services to the out-lying islands leaving from Kowloon or the New Territories? At the same time, ferries are complaining about a lack of passengers. Raising fares is considered the only alternative. Ferries to Macao are also based in Central and Tsim Sha Tsui. But why can't ferries to Macao or other parts of Pearl River Delta start from Tuen Mun?
The express rail link is facing the same problem. It is really a case of unbalanced development in Hong Kong. Why does the cross-border rail link terminal have to be in Tsim Sha Tsui, near Canton Road? Construction in heavily developed areas is expensive and difficult - as the ground work is complicated and demanding. Indeed, if the terminal was built in a less heavily congested area, the costs could be reduced. The project could also be completed earlier.
Moreover, when the project is finally completed it adds more congestion to Tsim Sha Tsui. Rents have to increase. Workers employed in the terminal have to travel long distances. This adds to their living costs and also to traffic congestion.
So, decision-makers, when deciding about infrastructure development in Hong Kong, have to consider the importance of balanced development. Hong Kong residents should also be given top priority.
The author is associate professor of the Department of Economics and Finance at City University of Hong Kong.
(HK Edition 05/05/2014 page9)