Can HK's bus services be improved?
Updated: 2014-04-28 06:39
By Li Kui-Wai (HK Edition)
| | | | | | | | | |
| --- | --- | --- | --- | --- | --- | --- | --- | --- |
|   | | Print | | Mail | | Large Medium  Small | 分享按钮 | 0 |
After the establishment of the Mass Transport Railway (MTR) system in Hong Kong in the 1970s, other forms of transport lost their importance. The city's efficient underground rail system became the most preferable form of land transport. In the next few years, underground rail lines will be extended to cover new areas. This will impose major challenges to buses serving similar routes.
Underground rail now serves as the major form of land transport in Hong Kong and bus transport has become secondary. Nonetheless, people still have a number of concerns about bus services - including the choice of routes and roads, fare rises, the standard of services and the reluctance to change routes. While bus companies focus on longer routes and ignore short distances, they also face competition from mini-buses, which provide feeder services from stations to nearby housing estates. Demand for these feeder services tends to be more stable, and the cost is lower as the service runs on similar, but shorter routes.
Bus transport can only really perform in long distance routes, or in areas where other forms of land transport are not available. In other words, the market is shrinking and becoming uncompetitive to both underground trains and feeder mini-buses. The operations of the bus companies are protected by a franchise agreement with the government. This agreement outlines the profit levels which bus companies are allowed to obtain. The government has been fairly generous to the bus companies, as it tends to support fair adjustments - despite the handsome profits earned by bus companies. The government has also provided fare subsidies to low-income earners who travel long distances to work.
Bus companies, therefore, have to be more innovative and modernize their bus fleets. Buses run on schedules, and there are peak and non-peak hours when demand changes. Bus transport is regarded as a labor-intensive industry, as bus drivers and service staff form the bulk of their employment. In the past when buses were the major form of land transport, large buses were meant to carry large numbers of passengers. However, this situation has now changed. Buses are large, but roads are generally small. Yet, there are few passengers in these buses most of the time. So the idea of using large buses is outdated. Bus companies should be more cost effective and deploy smaller buses which save energy, are more flexible in terms of routes and more effectively cater for demand. Smaller-sized buses occupy less road space at any time, and probably provide more employment to drivers after the restructuring of routes.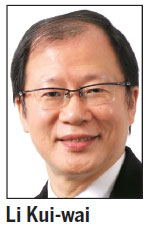 A second possibility is the use of electric buses that can save energy and reduce pollution. This may require more technology and more investment. But the long term impact will be positive, as they will improve the public image of buses. A number of European cities have been using electric buses for decades. It is true that many roads in Hong Kong are steep, but the majority of bus routes in Kowloon, New Territories and the northern Hong Kong Island are flat. So the introduction of electric buses should not be constrained by technological considerations.
Furthermore, the bus and tram companies in Hong Kong can work together on introducing electric buses. Trams run on electric wires installed above them - similar to those in European cities - except that trams also run on rails. Would it not be a new innovation if electric buses were also operating? Trams are slower and cheaper, but also take up a lot of space, but there are far fewer complaints about them. This is because passengers regard trams as a second alternative to underground rail and buses. The lower fares of the trams also make them more attractive. Would the Hong Kong bus and tram companies consider some joint activities that would improve transport along the northern side of Hong Kong Island? This could save space, reduce pollution and conserve energy.
One problem about Hong Kong's recent development is that residential developments have not been matched with job creation in nearby regions. Hence residents living in new residential areas have to travel long distances to work. For bus companies, this could be a good business opportunity. They should restructure routes more, provide needed services and improve facilities including the deployment of more energy-efficient and space-saving vehicles. This is better than acting like a monopoly and simply passing on rising costs to the passengers.
The author is associate professor of the Department of Economics and Finance at City University of Hong Kong.
(HK Edition 04/28/2014 page9)