HK needs a specialist financial university
Updated: 2014-04-17 05:41
By Richard Harris (HK Edition)
| | | | | | | | | |
| --- | --- | --- | --- | --- | --- | --- | --- | --- |
|   | | Print | | Mail | | Large Medium  Small | 分享按钮 | 0 |
The ocean liner Queen Elizabeth I was magnificent. One of the fastest ships ever, she was as big as an aircraft carrier and the world's largest passenger liner until 1997. She was longer than three football pitches. "Lizzie" had two funnels, four propellers and could carry 2,300 passengers and 1,200 crew. Built by John Brown of Glasgow, she was launched in 1938 for the grandest shipping line of them all, Cunard, and was the latest in a line of competitive ships built by major nations between the wars.
She was also pressed into service as a troop carrier in World War II and by the war's end had carried 750,000 soldiers. She almost succumbed to an attack by an arsonist in 1946 but the fire was controlled, although much damage was done. She sailed the sea-lanes until 1968, a comparatively short time for a cruise liner but the competitive onslaught of air travel made her a dinosaur. Finally, the Queen of the Seas was bought by C.Y. Tung, a shipping magnate and the father of our first Chief Executive Tung Chee-hwa.
C.Y. Tung cleverly named the ship the Seawise University as it was to be a floating university - a good idea and ahead of its time. It was around 3 pm on Sunday, January 9, 1972, that I stood on Mount Davis looking at where the ship was anchored just off Tsing Yi - just about where Stonecutters Bridge is now. There was a pall of black smoke rising from the almost completed university which looked unusual.
I listened to RTHK throughout the night as reports of the battle to extinguish the flames came in. Did the icon of global shipping come to Hong Kong only to burn like this?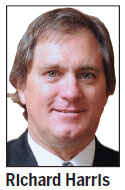 The next Monday morning my classmates and I were in a physics lesson at Island School on Mid-Levels. The ship had developed a list overnight as the fireboats continued to pump water over the burning decks. Suddenly, there came a shout and we all rushed over to the windows. The ship was definitely tilting, more, yes, it was starting to roll. Black smoke was turning white as the red-hot steel of the hull hit the water and evaporated. The steam rose high and began to creep over the hull as it finally rolled and sank, half-buried, in its watery grave. It was the first real ship I had ever seen sink - and quite impressive, I thought.
The idea of Hong Kong being a leading-edge education center is therefore not new - and perhaps we should revisit that idea again. Hong Kong has a dire need to find something new to cement its place as the Third Global Financial Hub. Internationally, as a financial center we are largely irrelevant - a backwater. Perhaps we are the biggest backwater in Asia - though certainly not globally.
Traders in Hong Kong come to work each morning, look at where prices in New York closed, and then price accordingly. When London comes in, traders get a fresh chance to look at another global market, and price accordingly. We have no real leadership in Asia because we do not have the critical mass to sustain ourselves as a global hub. We have many of the right ingredients: a strong stock market, good regulations, but a few softer features are also required.
We are not yet a key center because we have not yet mastered the intellectual property of finance. To do this we need to have not only leading-edge products, and a big hinterland with liberal economies, but also first-class individuals with global training and experience who can answer questions with confidence on a range of non-Greater China issues.
This is why Hong Kong needs a specialist financial university. It is almost impossible to find specialists with the knowledge that can be found in London or New York. These people are so specialized they could not survive as mere bank managers or corporate peons. Hong Kong is full of these people doing much the same thing.
The university would nurture people who might be experts in deep sea drilling, Swedish labor mechanisms, financial derivatives, gold mines or complex management structures. People who have time to do in-depth studies on particular areas of finance may not have an immediate practical use. But they may one day be part of the technology that lights up a new financial market. This has already happened in London and New York because they have been in business for more than two centuries. We can catch up.
Hong Kong has many attractions for moderately well-paid academics - such as low taxes, and an efficient economy. The advantage of having a pool of independent talent, unconnected with the big finance houses, who train their staff well, will enhance creativity. Our young people deserve training at this high level to reinforce the cycle.
We have made Hong Kong a center of academic excellence before. My own father came to Hong Kong in 1970 to expand the fledgling Hong Kong University. It is now one of the best in the world. It would be much cheaper and of deeper and lasting value than the HK$125 billion Lantau bridge.
The author is chief executive of Port Shelter Investment Management.
(HK Edition 04/17/2014 page9)